Day 13: Tuesday, 18th June. The sun is shining! Crew are well and comfortable. Stores are replenished. Philip and James have discussed the weather and we are briefed on the next leg. It is 0700 hours and a beautiful day to sail out of Lerwick straight to the Arctic. Estimated 10 days if all goes well. I notified our insurance company, Pantaenius, of our decision to cross the Norwegian Sea to Svalbard. Our insurance cover was adjusted to 82 degrees North, NORSE and SB. We could not go any higher north than Svalbard. We paid another AUD $ 5,000 to cover our crew for one month for Search and Rescue Insurance in case of a catastrophe at sea. We would be a long way from any immediate help! When we assisted James in delivering the 72′ SV 'Concerto' from Fiji to Sydney, we saw NOBODY through that entire trip. 8 days on our own! So, $5,000 for our entire crew to be rescued was a small price.
Lerwick; the seas are slight, winds 5 knots, barometer 1006. By 10:00 winds had picked up to 18-20 knots. The nights became very short, in fact 3 1/2 hours of twilight. We had 3 shifts, each for 4 hours in the day 0600 – 1800 then every 2 hours through the night 1800-0600. The Norwegian Sea was moderate as we motor sailed passed the oil platforms. At approx. 20:00 while Carrie and I were on shift, we received a radio call from a Norwegian surveillance ship. As soon as I responded with French Kiss, the gentleman was happy to confirm the name of our vessel and asked our intentions. Most people don't know Svalbard so I said we were heading to Tromso in Norway. He advised to keep well clear of the oil platforms, at least 500 meters away and to enjoy the rest of our journey. Our AIS would have given him the registered information on French Kiss, her Australian registration number, AIS number, length, draft, speed and heading. Enough information to report us to the coast guard if necessary. This is how we were tracked and easily found by our families through the Automatic Identification System on the app 'Marine Traffic'.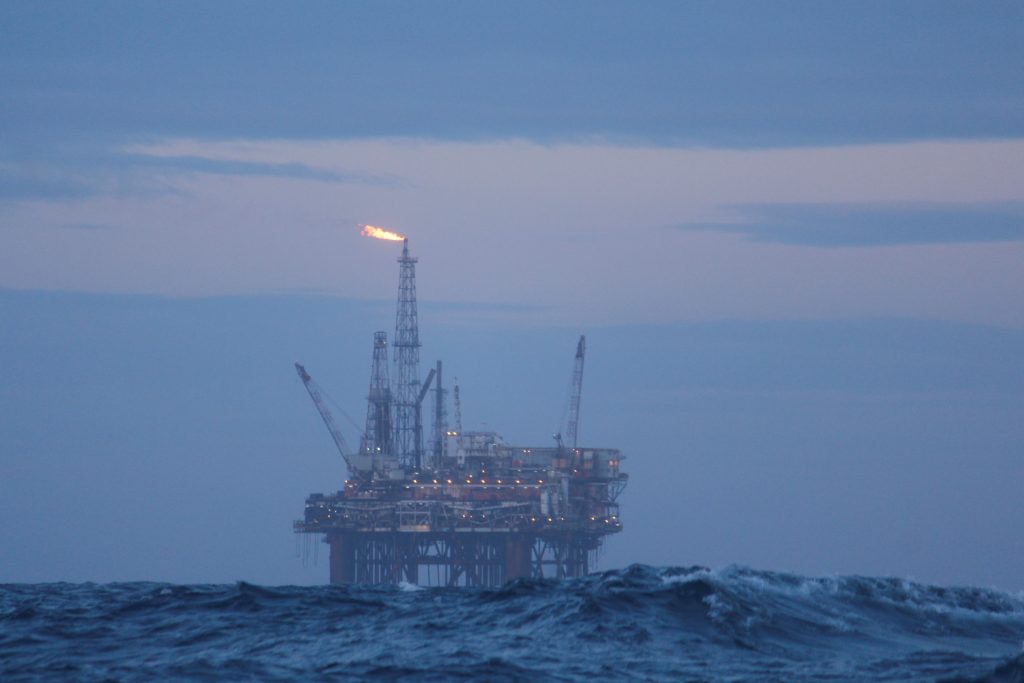 Day 14: Wednesday 19th June. The sun was setting at 22:54 and rising again at 02:22. The sea was calm. Wind dropped out to 5 knots. We furled in the solent and motor sailed.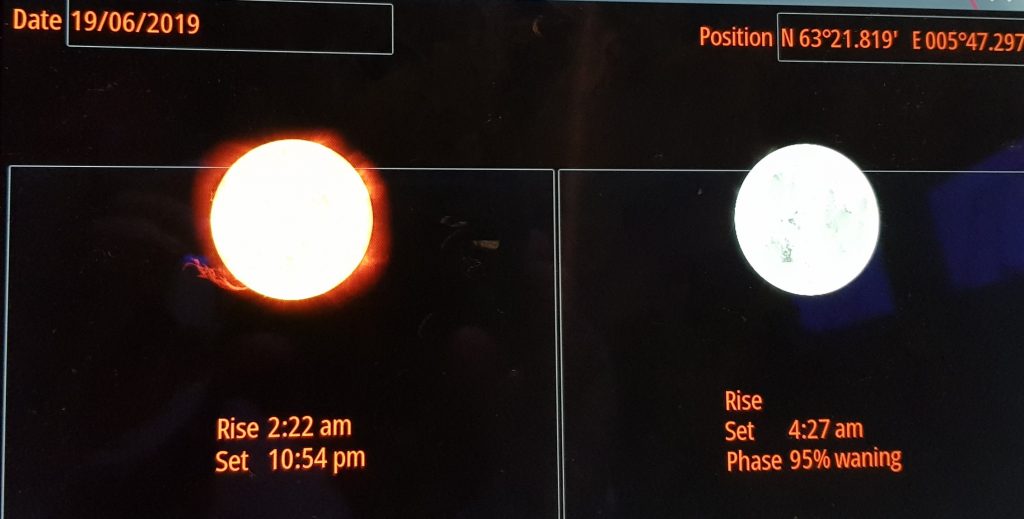 Day 15: Thursday, 20th June. A quite day. Calm seas. Winds 10 -15 knots. Carrie and I had a pack of trivia questions which we played to pass the time.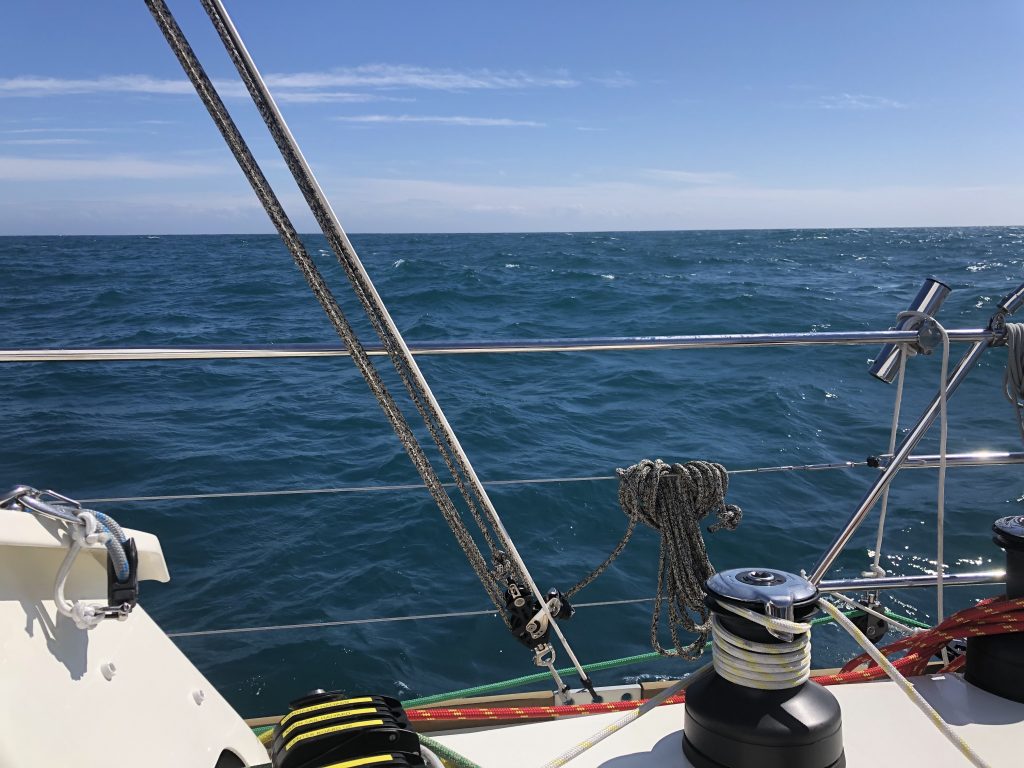 Latitude: N 65 10.7 Longitude: E 4 55.4 Excitement was mounting as we sailed closer to an imaginary line ….. N 66 33.39 – The Arctic Circle. There are five major circles on our planet. They change slightly every year. 1. Arctic Circle N 66 33′ 2. Tropic of Cancer N 23 50′ 3. Equator 0 degrees. 4. Tropic of Capricorn S 23.50′ 5. Antarctic Circle S 66 33′ . Tomorrow will be the summer solstice in the Northern Hemisphere. We will experience 24 hour sunlight. No darkness, no twilight, no night at all.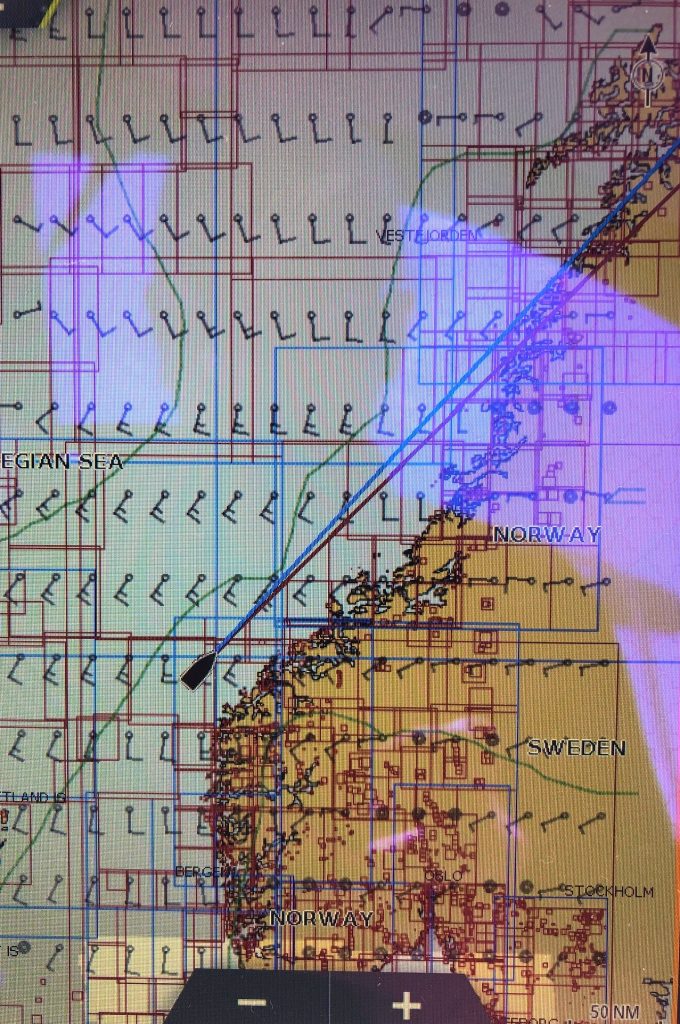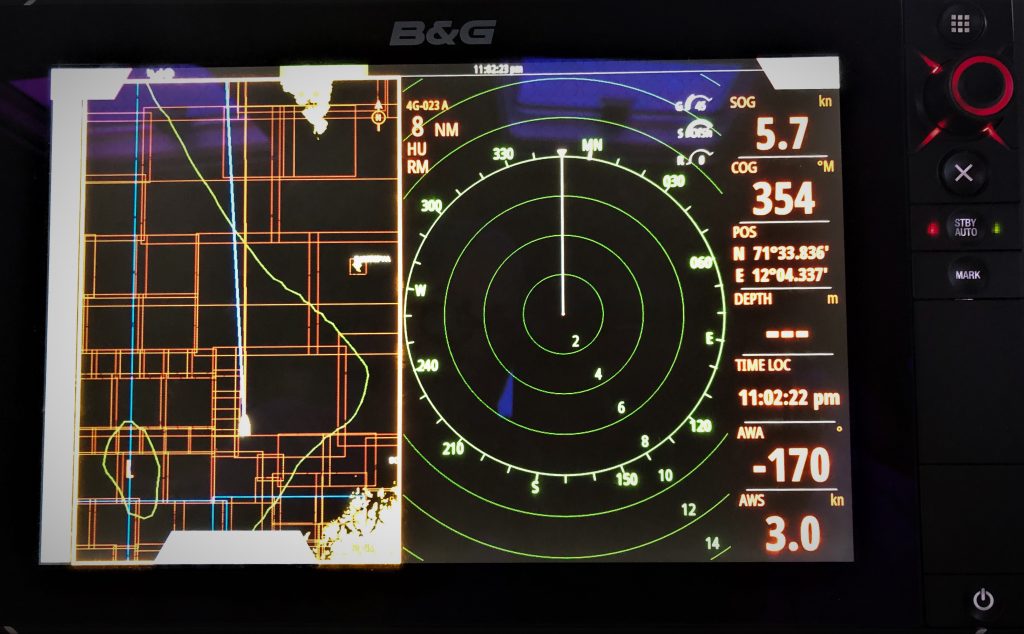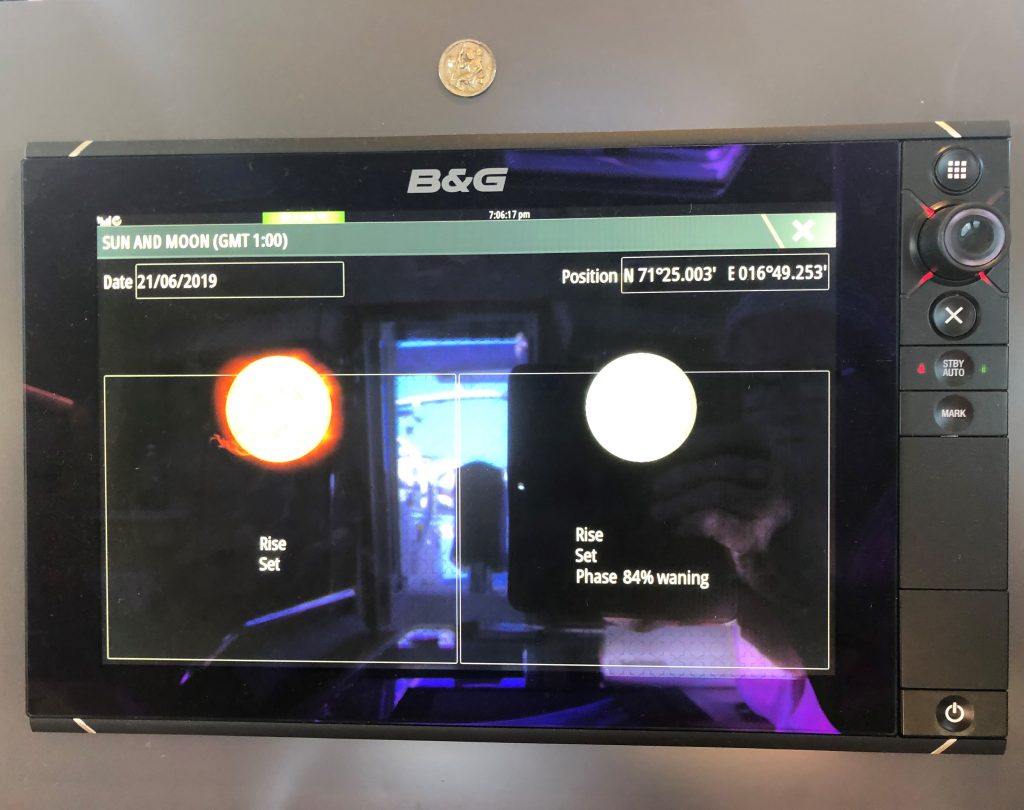 Day 16: Friday 21st June. Being distracted while filling the day tank became an issue. James, myself and Philip all had times when the day tank was accidentally left on, causing a loss of fuel. We made a rule to have another crew member double check when the day tank was being filled and turned off. We had all finished our night shifts. James went to bed at 0400. My shift 0400 to 0600 then Philip 0600 to 1000. We prepared our champagne ready for the big moment. James didn't want to be woken so we let him sleep.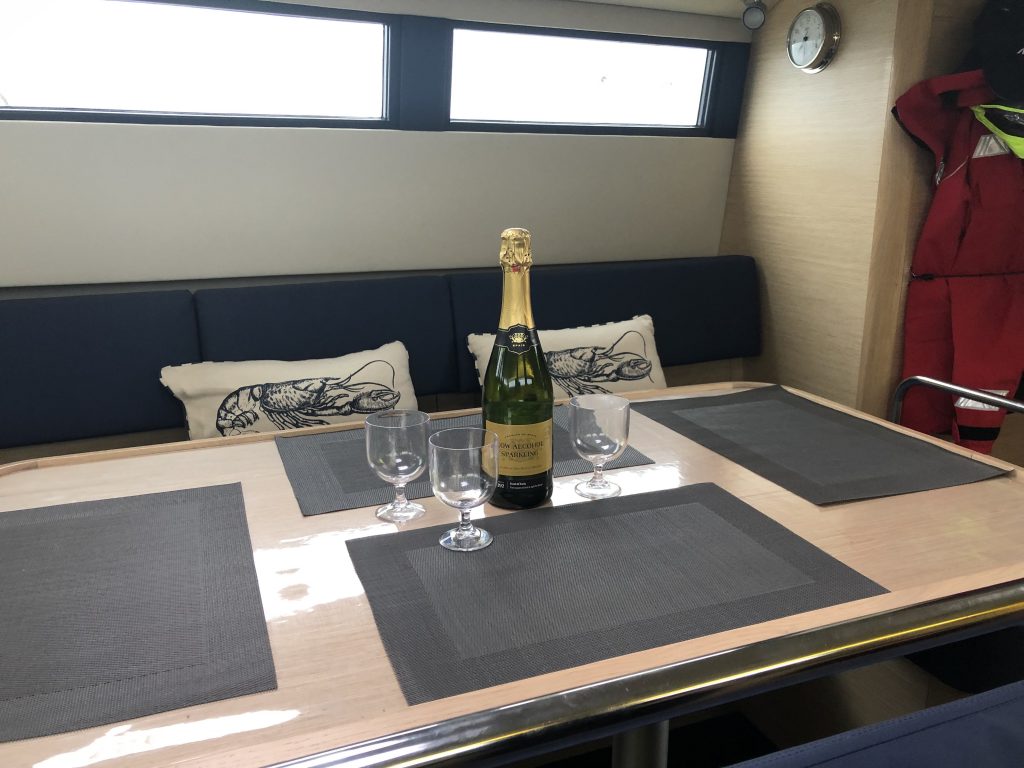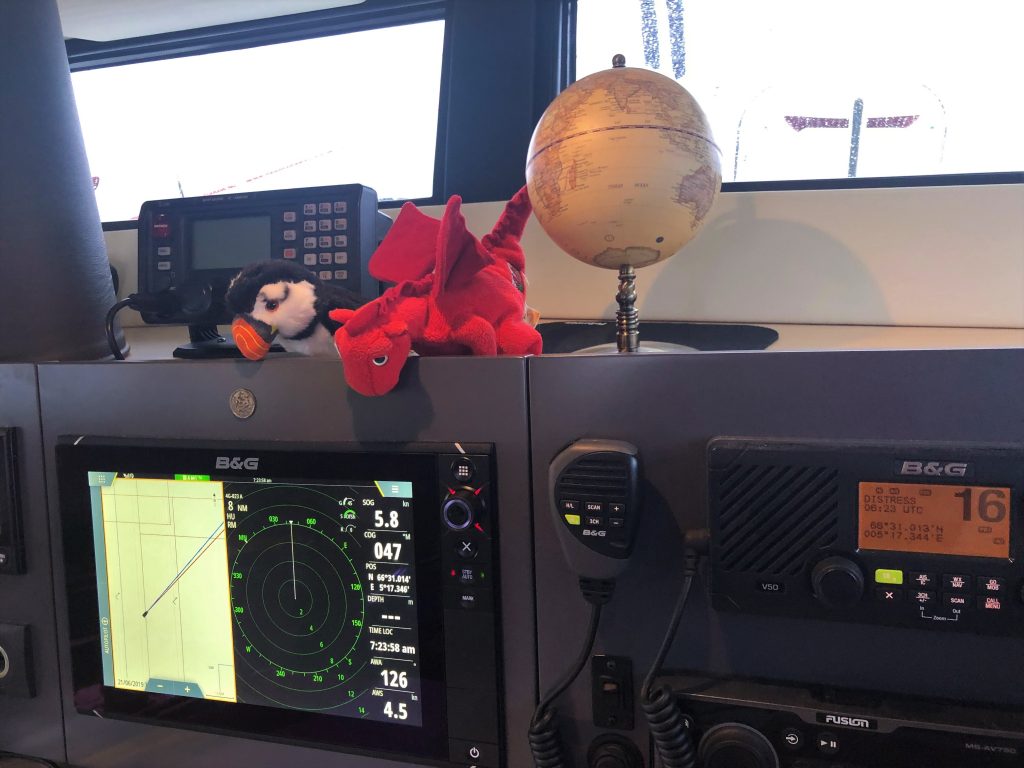 At 41 seconds after 0800 we crossed the Arctic Circle! What a great achievement! We were ecstatic though celebrated quietly with a bottle of French Champagne.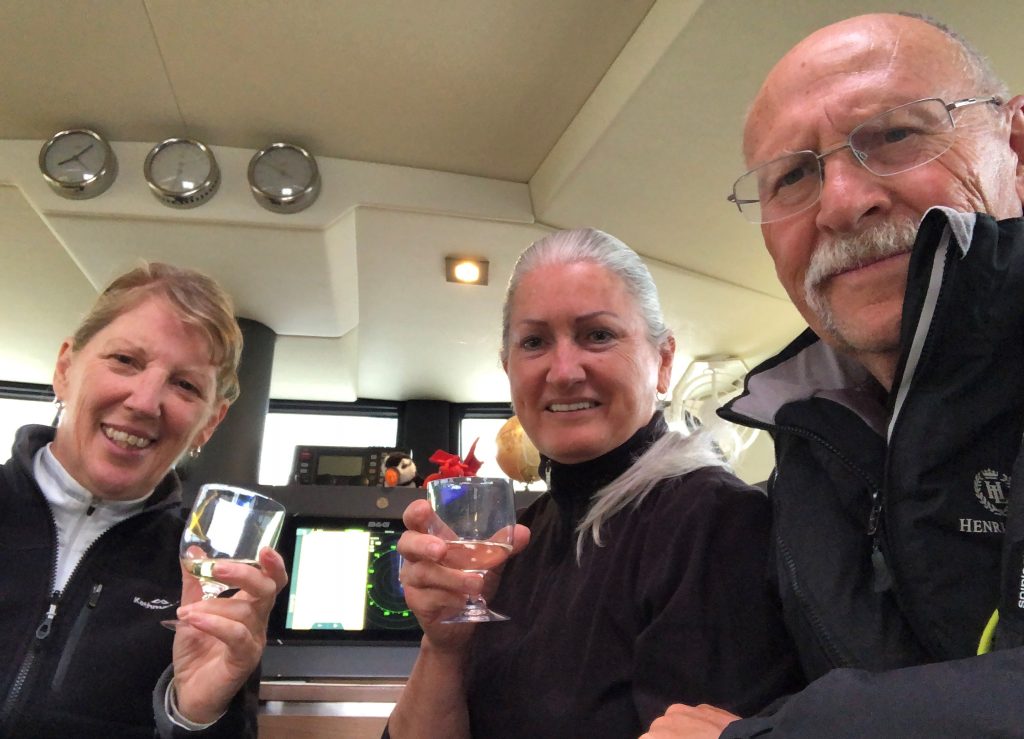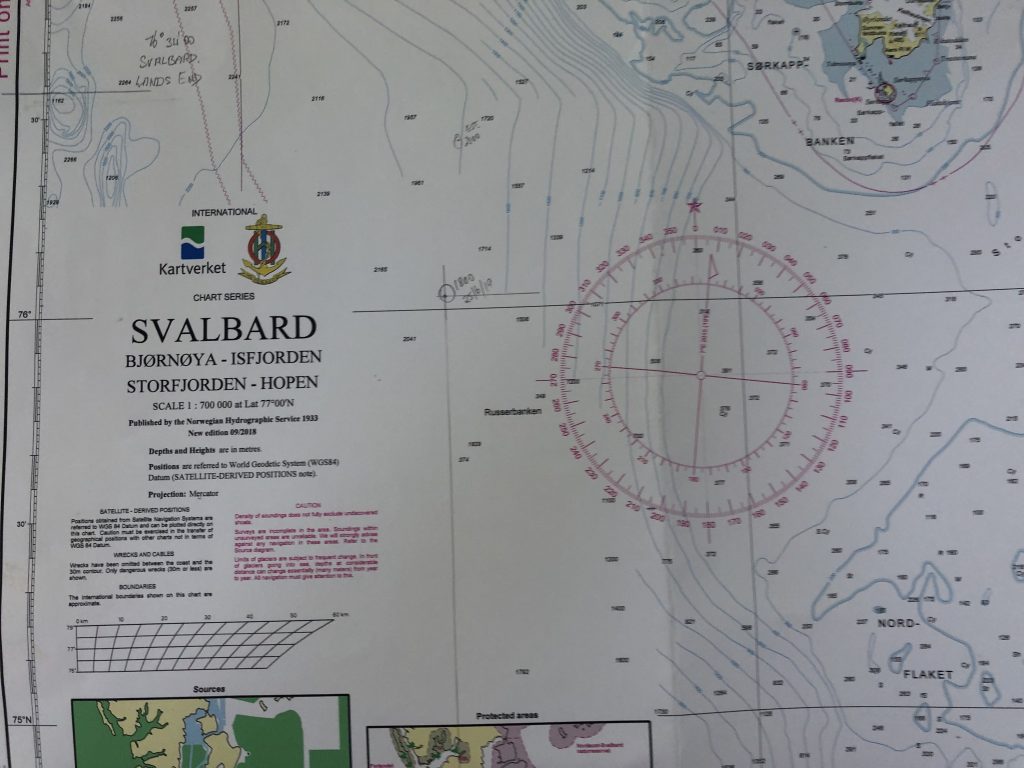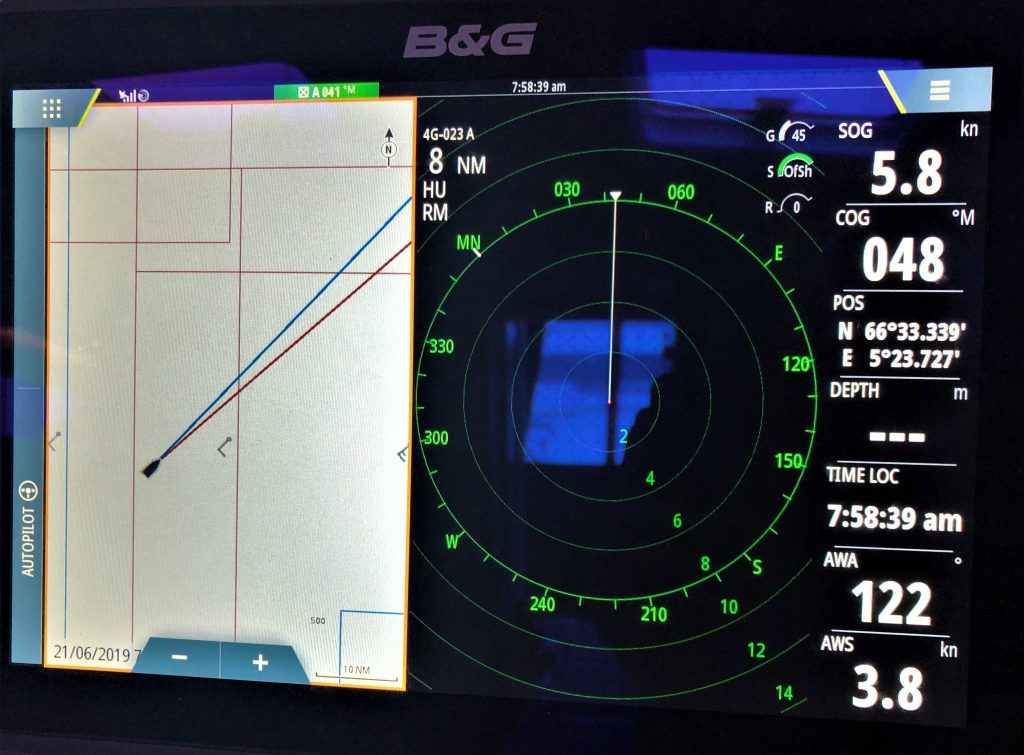 Day 17: Saturday, 22nd June. Winds didn't get over 10 knots. We left the mainsail up and motor running most of the way. We could have sailed … very slowly… at 4 knots but we all want to get up there as quickly as we can while the weather is good. I, for one, do not need to be bashed around in rough weather. So, rev the engine up!!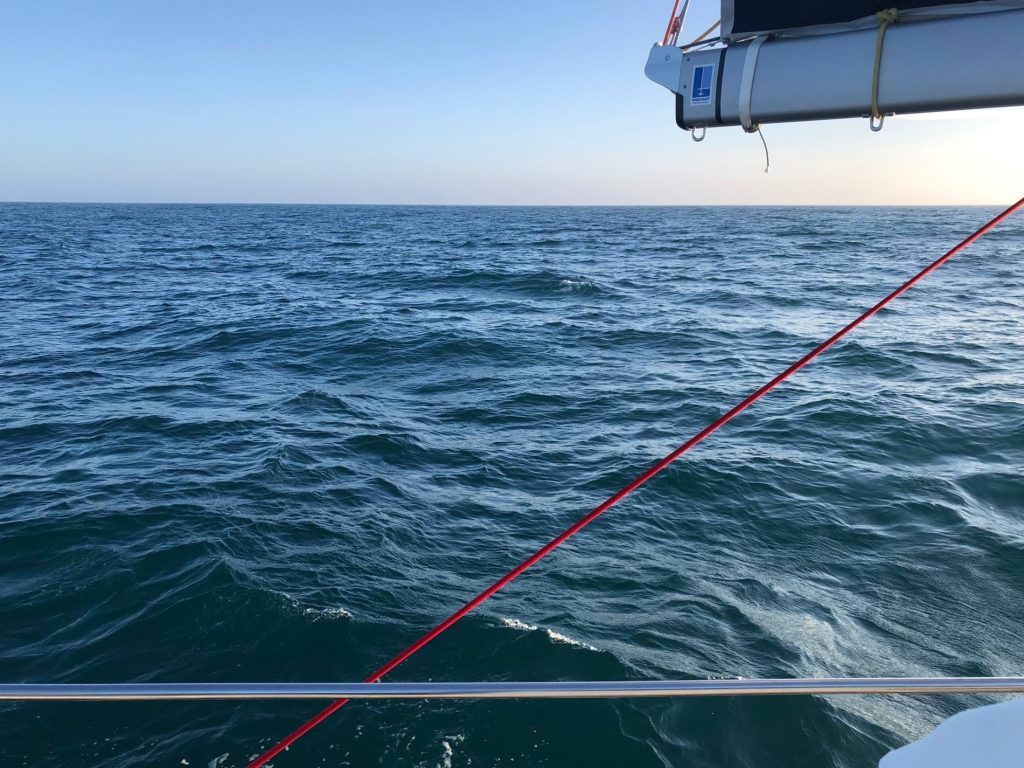 Day 18: Sunday, 23rd June. Changing shifts, sleeping, reading, eating, looking out, filling in the log book; changing shifts, sleeping, reading, eating, looking out, filling in the log book…. that is all we have been doing. Hello and goodbye between shifts! 6 days at sea and the first bit of excitement for the day at around 10am we crossed the N 70 degree Parallel of Latitude. The 'N' means north. Means we are north of the Equator. The Northern Hemisphere. The Equator is 0 degrees. The North Pole is N 90 degrees. It is on a 90 degree angle from the Equator. For ease, if you make a line at a 70 degree angle from the middle of the Equator (true measurement is the core of the earth) you will get a point on the earth where the line comes out. Drawing a line around the earth from west to east, all latitude lines are parallel to each other. That is how high up we are! Now, if you want to know exactly where we are, you have to know our Meridian of Longitude. These lines are not parallel but are all the same length, meeting at the Poles. 0 degrees 0 minutes of Longitude is Greenwich in London. The International Date Line is 180 degrees, passing through the middle of the Pacific Ocean, deviating around some islands and territories. Longitude is measured in degrees (W)est or (E)ast of Greenwich. Our insurance will not cover us or vessel beyond N 82 so we are not insured if we go to the Pole.
Ice maps are downloaded every day. The North West Passage is still iced in as far down as N 80 and nearly the entire east coast of Svalbard. We have reached N 71 38.68′.
Philip has been cooking all the dinners. Whether it was chicken, lamb or beef he did a super job cooking stews every night in his pressure cooker. 12 minutes and dinner was ready. To release the steam he held a piece of hose out the window so not to fog up the windows inside.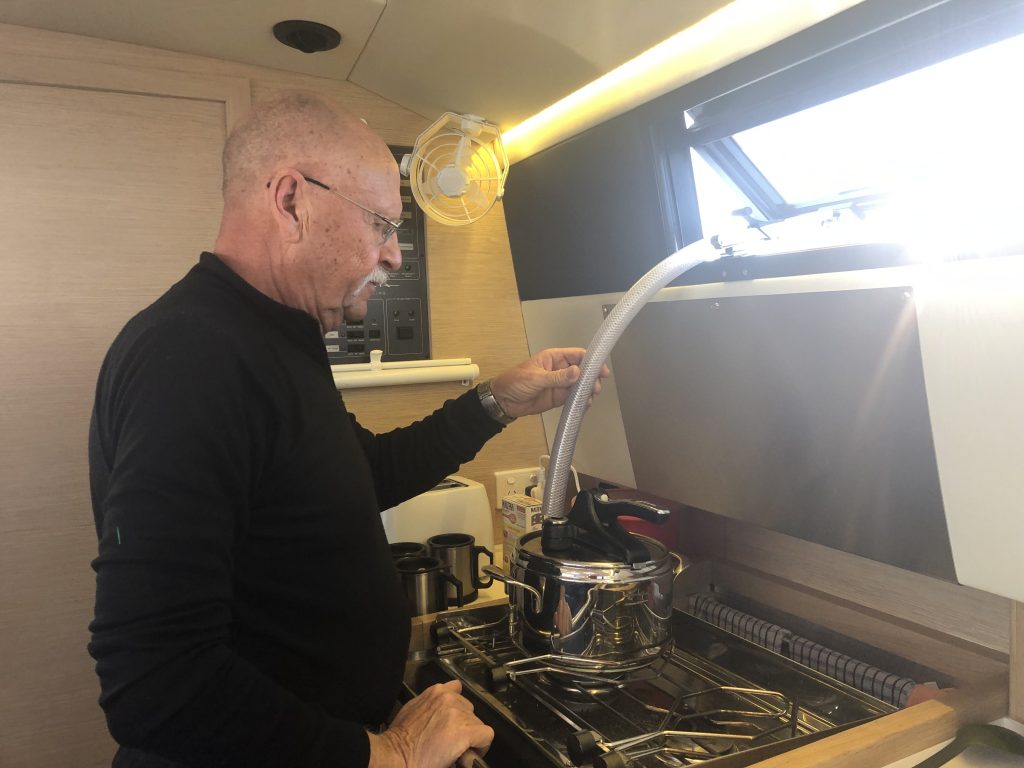 Day 19: Monday, 24th June. We have been sailing for a week. No sight or contact of another vessel since the oil platforms! Fog is appearing from nowhere, coming and going in patches. Visibility a few boat lengths. The winds are starting to pick up making silence with the engine off.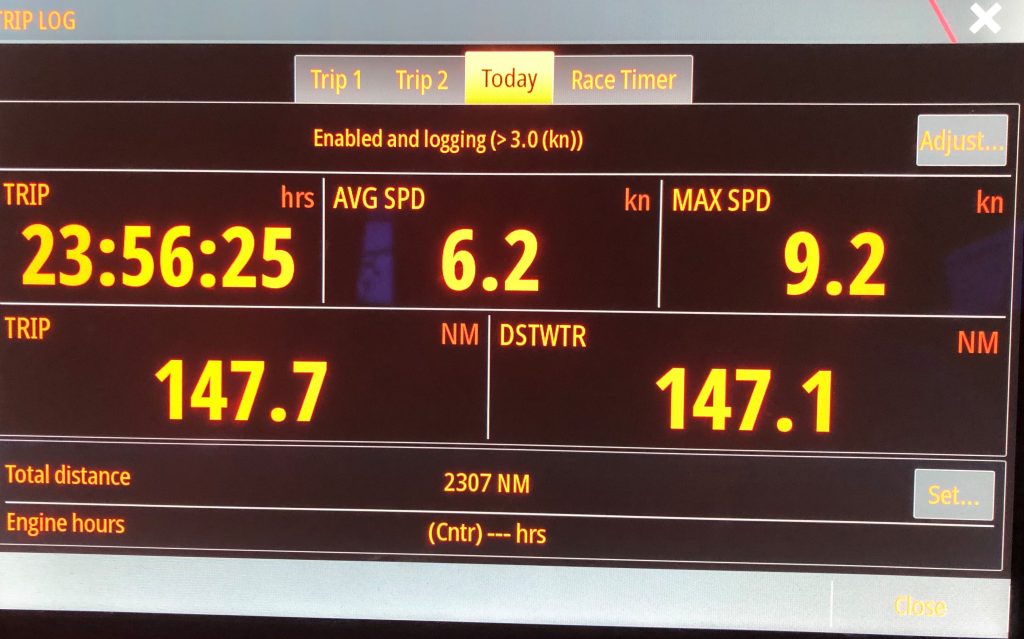 Max speed 9.2 knots. Minutes before midnight we are happy with 147.7 nautical miles for the day. Squalls were everywhere creating good 20 knot winds. Latitude N 74 05.6′
Day 20: Tuesday 25th June. Getting closer to Svalbard. Now the bet is 'on'! Who will see land first? Outside temperature is 14 degrees C. Winds are dropping to 10 knots. We are anxious to get there so engine is on at 1800rpm cruising at 7 knots. We think we have sighted Arctic Puffins so land is near.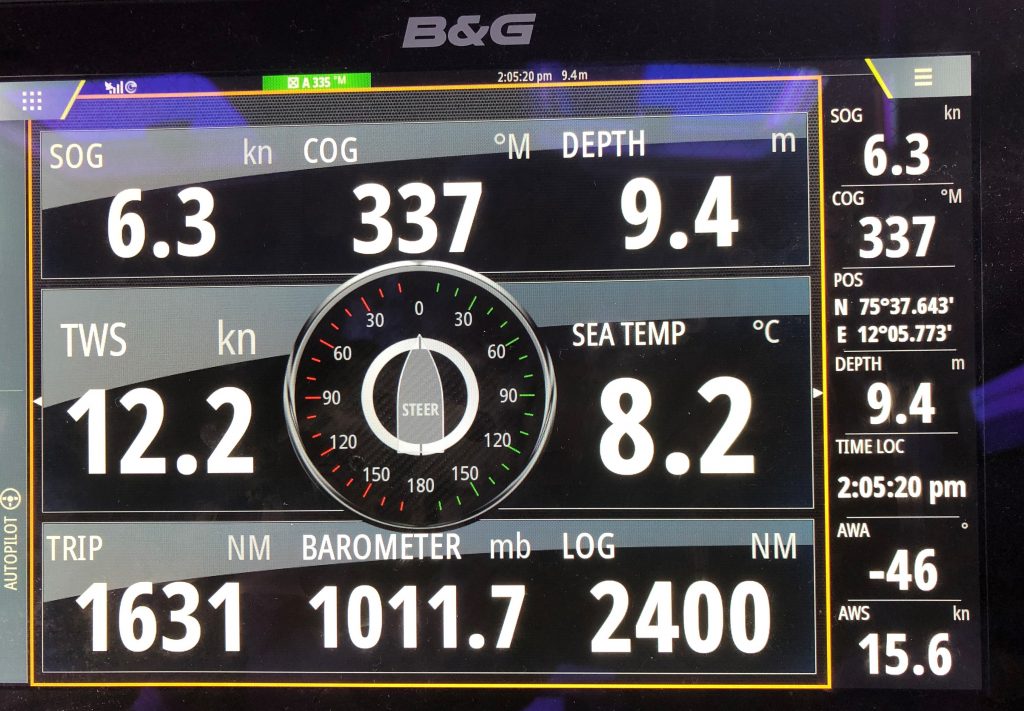 Day 21: Wednesday, 26th June. Though the sky is as bright as day, it's 5 minutes passed midnight. Clouds obscure the horizon but I am sure I see land. I use my hand bearing compass spotting land at 070 degrees. I measure on our paper chart 070 degrees from our position and there it is: Mt Hilmartjellet!!!! Land Ahoy! We have made it to the Arctic – Svalbard.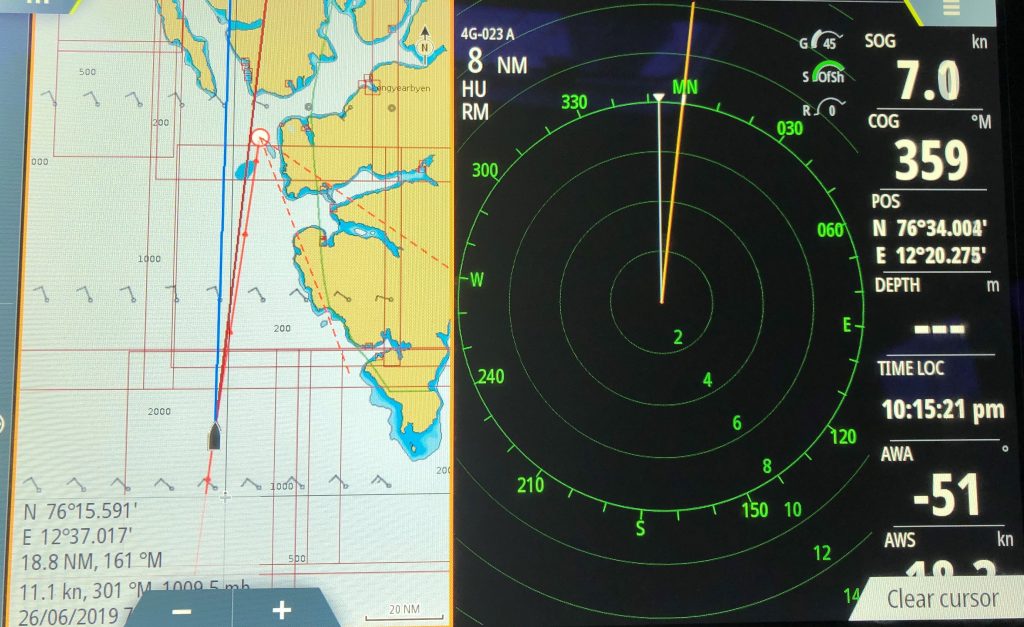 We have mobile reception, Carrie speaks with Kris and her family and James speaks with Amber and Poppy. It's a special day today, not only reaching a 10 year, long time goal, it is James and Amber's little girl, Poppy's 2nd birthday! Happy Birthday Poppy! She grabs the phone off her mother and hides in her cubby house so she can have Daddy all to herself. She has a little doctors case, puts the stethoscope on the phone on her father to check he is healthy. Last week she told her mother, 'I'm going to find Daddy very much!' She's only 2! Amber does so well to manage their new baby boy Julian and Poppy while James is away. It's a long time and they all miss each other.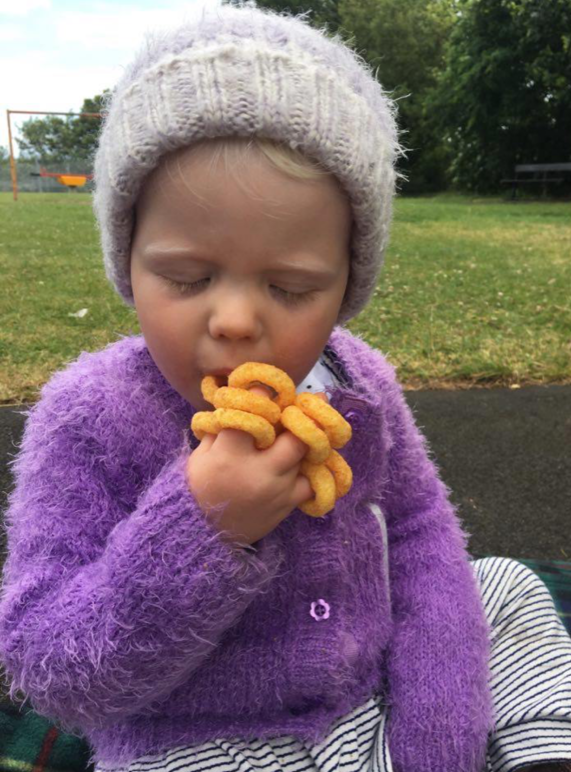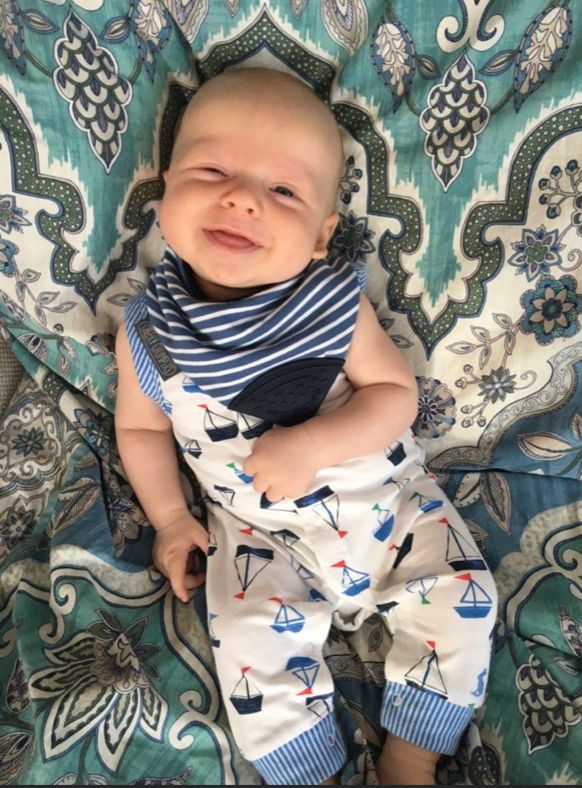 It takes us the rest of the day, 17 hours and 20 minutes to reach the capital, Longyearbyen, the northern most settlement on the planet. Population just over 2,100 mostly from Thailand, Sweden, Russia and Ukraine. Land mass 61,022 kms squared. Polar bear population 3,000. The coldest recorded temperature 1961-1990 was -46.3 C. The hottest 21.3 C. The hottest between 2000-2017 18.5 C. Average of 5-10 C while we were there. At 1720 hours, all hands on deck as James manouvres French Kiss onto the pontoon. It's a tight squeeze though he gets us in. He squats down to take a deep breath saying, 'F*** that was stressful!'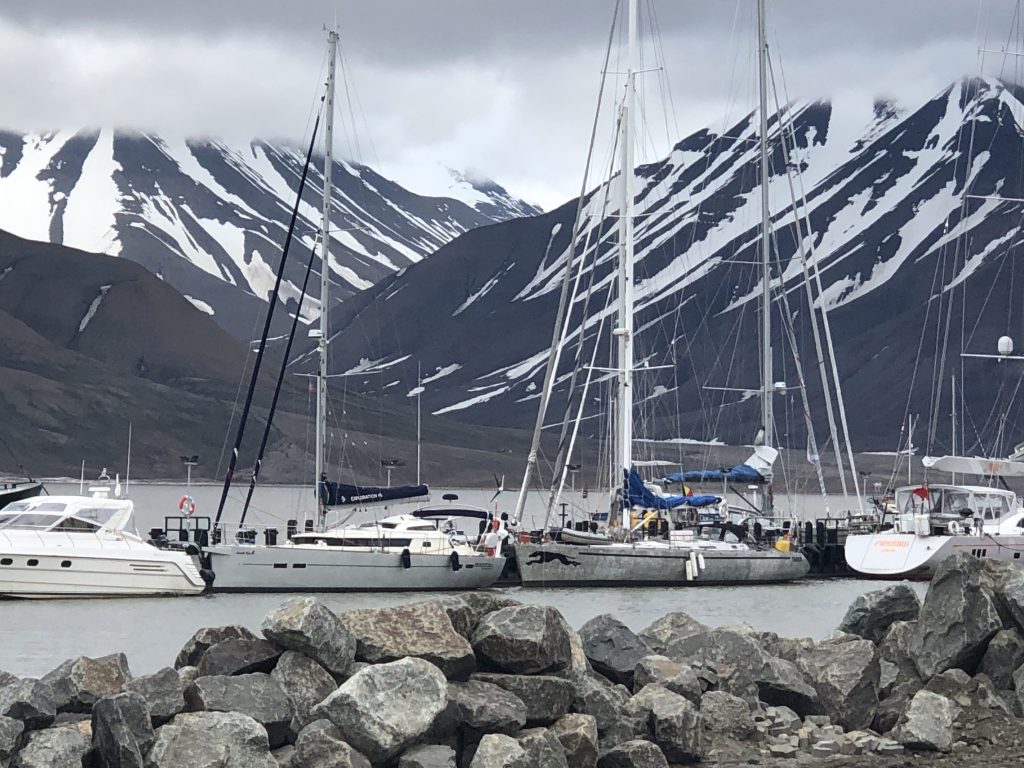 There is no marina in Svalbard. No onshore power, showers or laundry. We shower on board and take a walk into town. It's so good to walk on land. We have been at sea for 9 days. Philip's pressure cooker stews were good but we were so looking forward to a steak. Eventually after a 15 minute walk we find the best restaurant EVER! It was warm and cosy with wooden furnishings covered in seal skins. Steak, chips and burgers on the menu! Even whale steaks. Against our beliefs, whale has been eaten in the Arctic since the Inuit arrived. They are allow to take 300 Minke whales a year. We all had a little taste of Minke whale. The flesh was red and looked just like beef steak.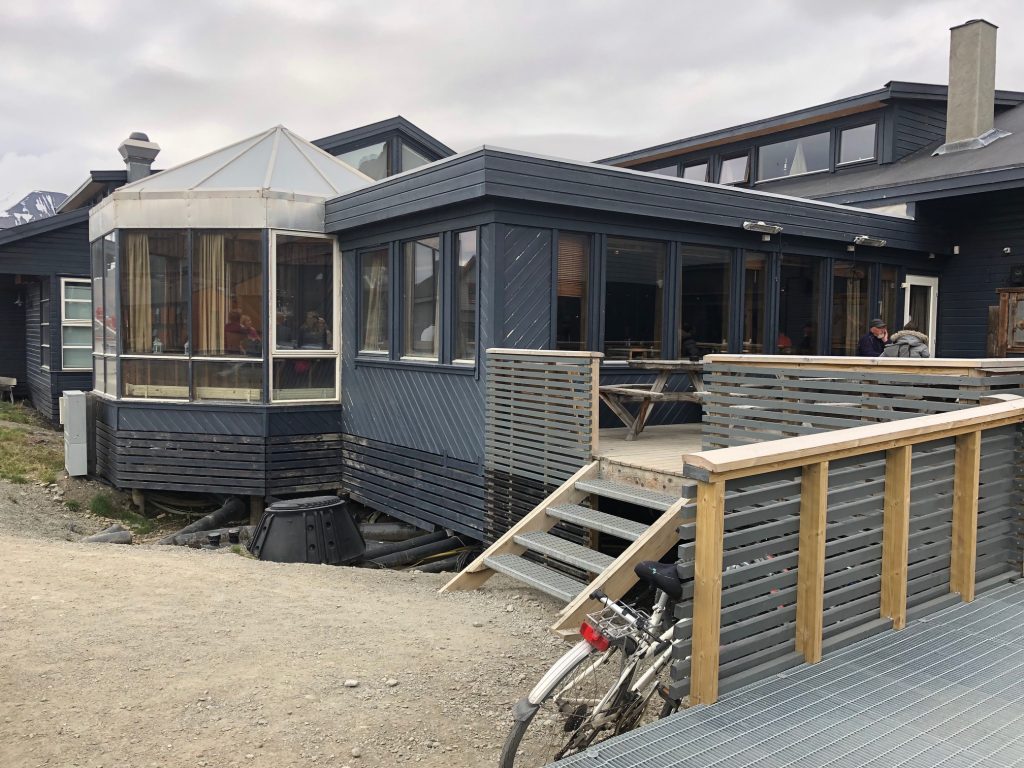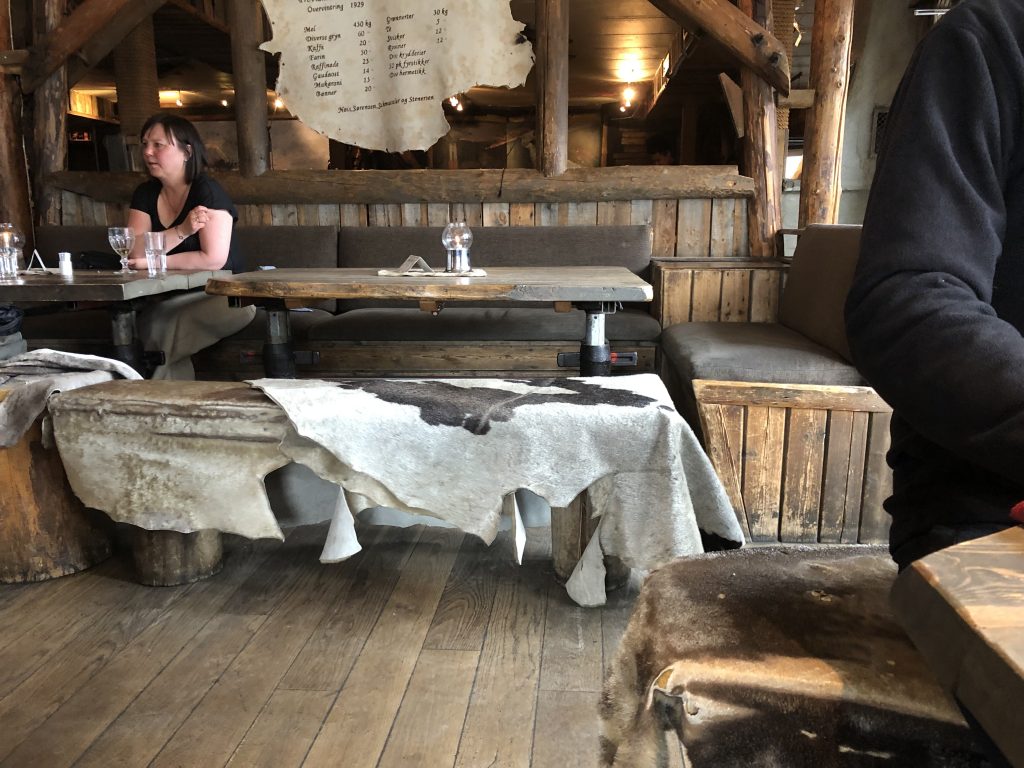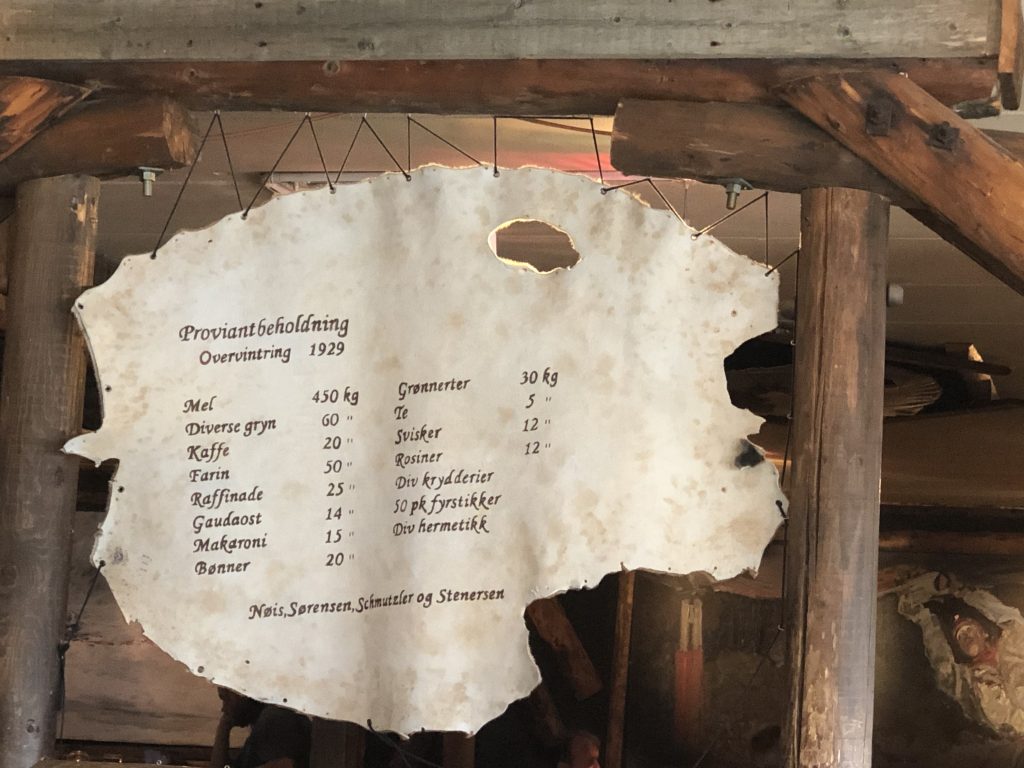 PROVISIONING INVENTORY OVER-WINTERING 1929 Flour: 450kgs Various grains: 60kgs Coffee: 20kgs Gauda east: 14kgs Macaroni: 15kgs Ground nuts: 30kgs Prunes: 12kgs Raisins: 12kgs Matches: 50 packets Div hermetikk – Various canned foods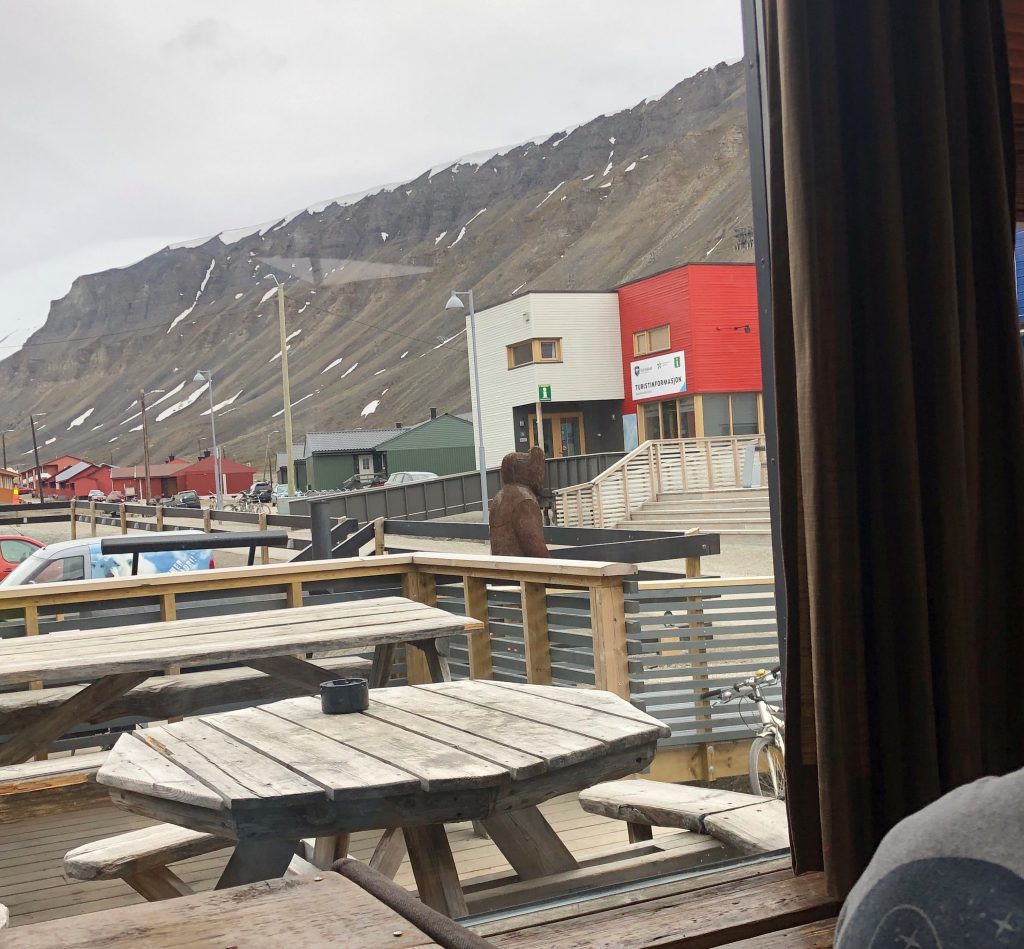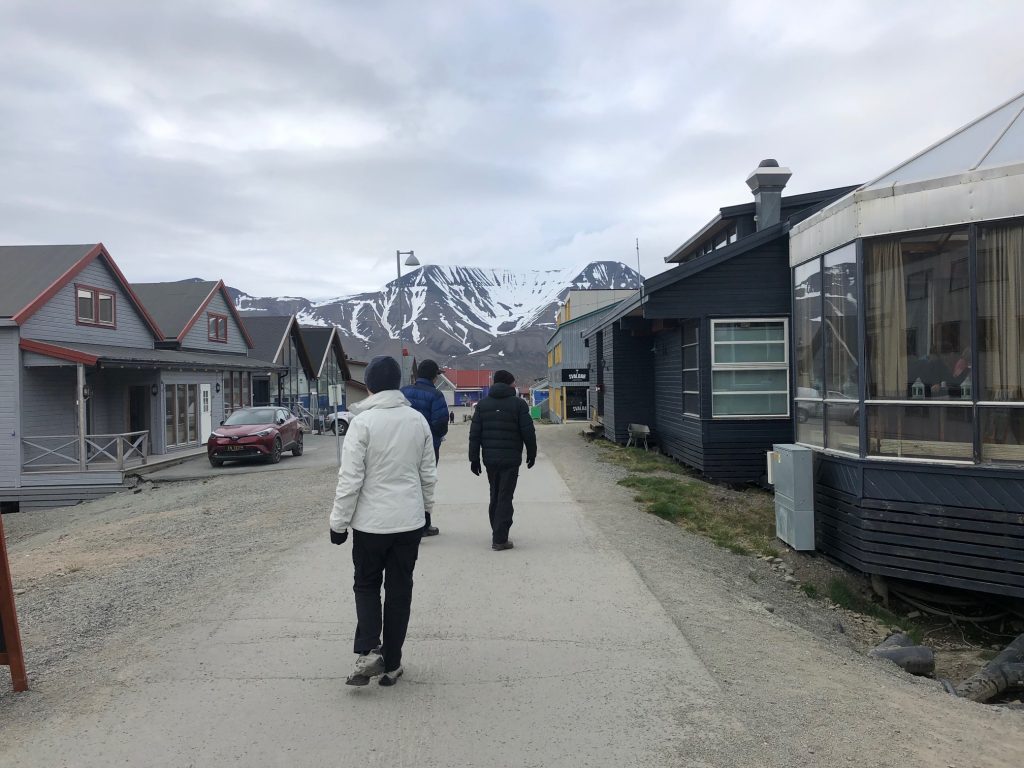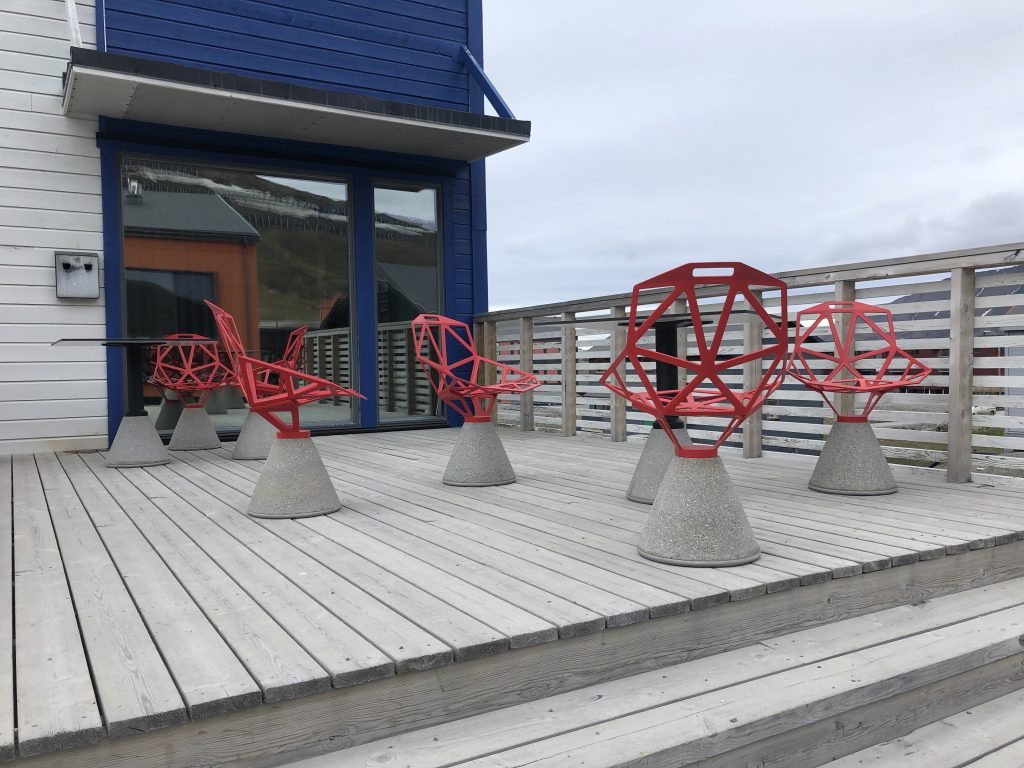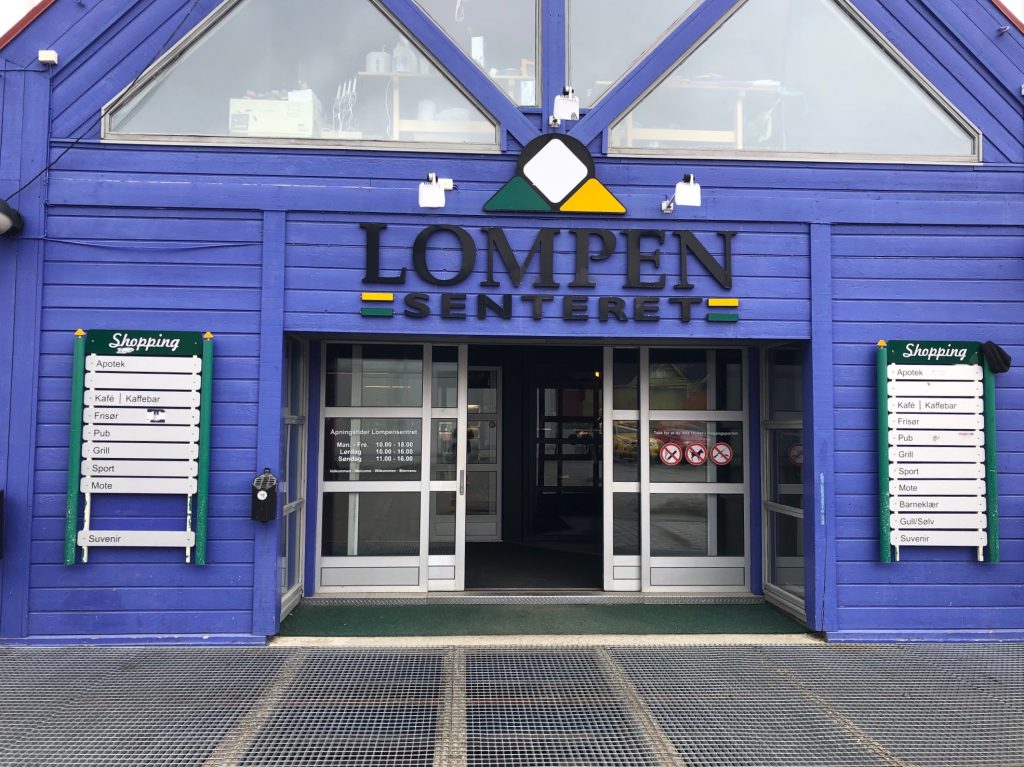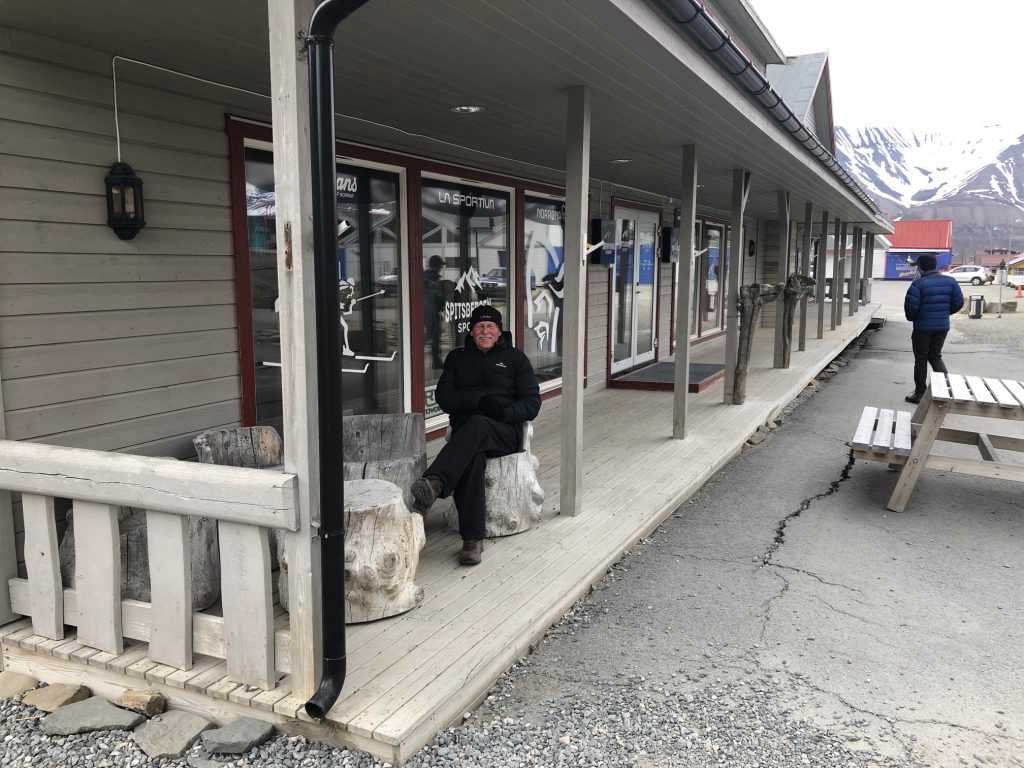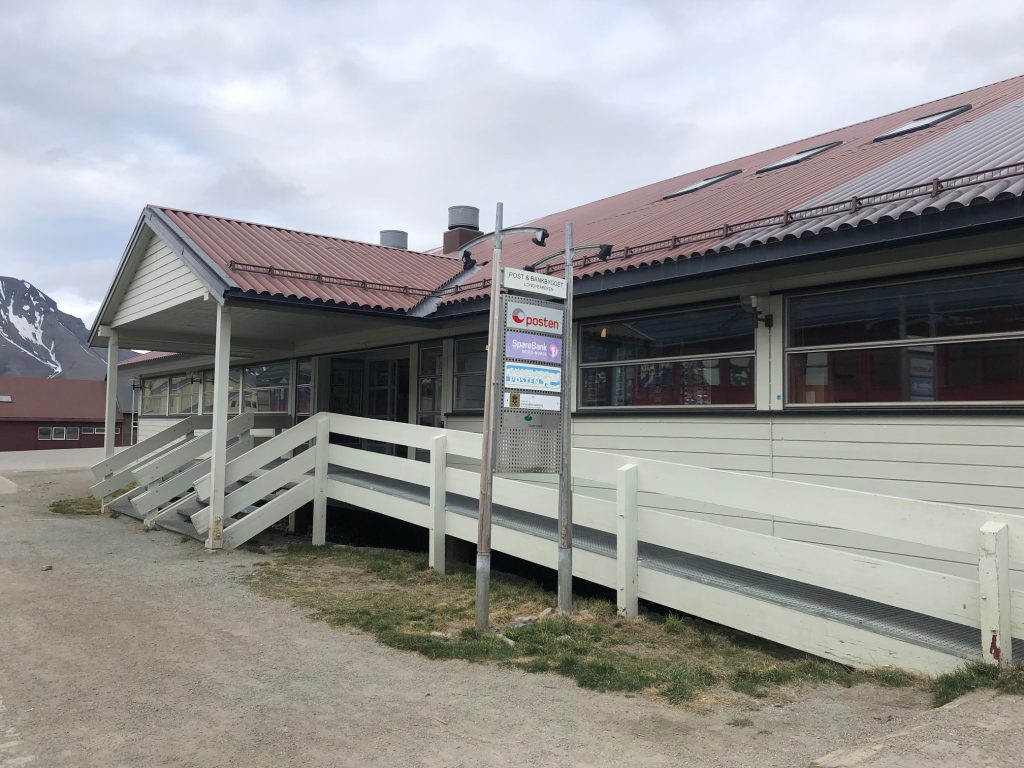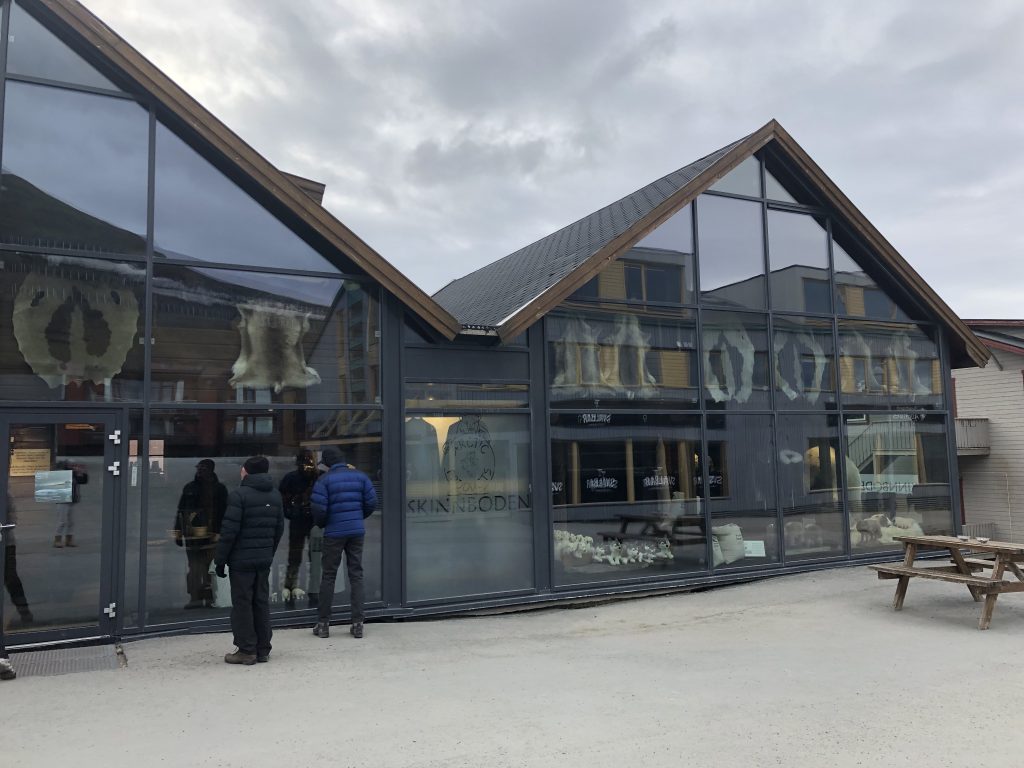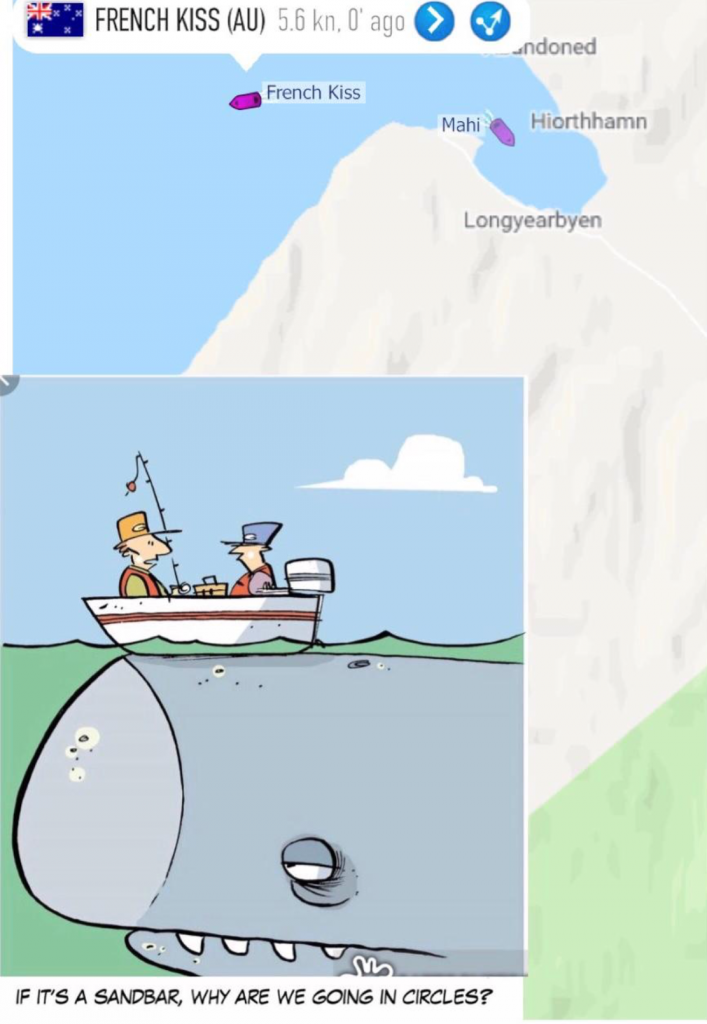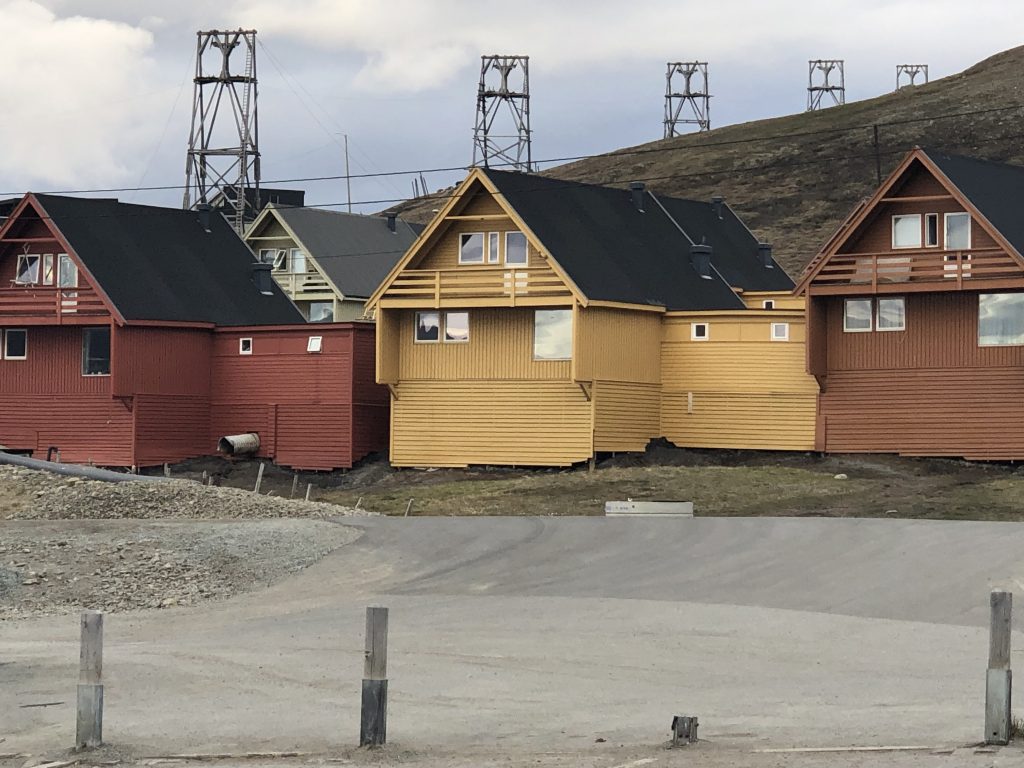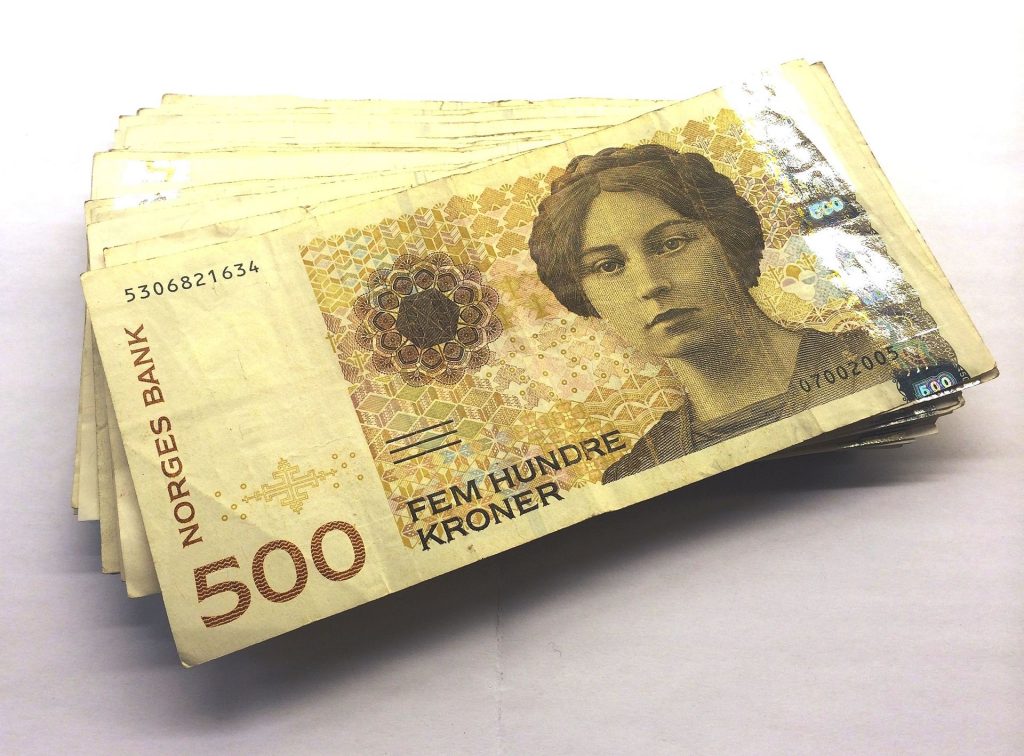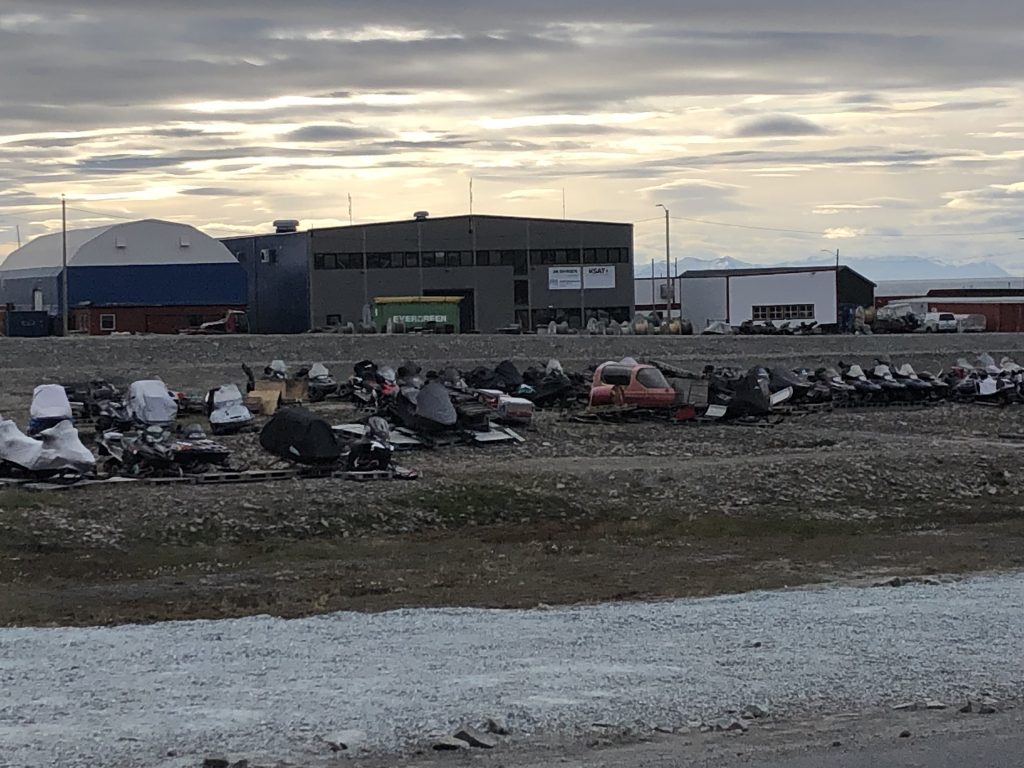 The Governor of Svalbard or Sysselmannen pa Svalbard (Norwegian) represents the Norwegian government in exercising its sovereignty over the Svalbard archipelago (Spitsbergen). We contacted the Sysselmannen's office weeks before advising them of our estimated date of arrival. By law, everyone has to carry a rifle when venturing out of the town parameters. We intended to hire one as soon as we arrived. All proof of Search and Rescue insurance, yacht insurance, passport details of all crew on board, safety dry suits purchased for each one of us and details of our travel intentions where forwarded well before we arrived. Their emails were damning as if we would be refused stay if the above wasn't fulfilled. In Australia it is customary to fly a yellow flag as you do when you arrive in any new country. Around the world it's known a quarantine flag. When you tie up you do not step off your vessel until the Australian Boarder Patrol and Bio-Security Police come on board and give you a clearance to get off. All food items are checked and confiscated if considered contaminated by Bio-Security. Philip and James had gone straight to the Sysselmannen office to report our arrival and came back so disillusioned. They showed no interest in seeing the search and rescue insurance, contaminated food or items on board and worst of all, we were too late in submitting a rifle permit and were not allowed off our yacht at any anchorage outside Longyearbyen's pontoon. Philip was so disappointed! The following day we decided to take a boat trip around the island and visit sights. It was well worth seeing a polar bear, Arctic fox and various bird life.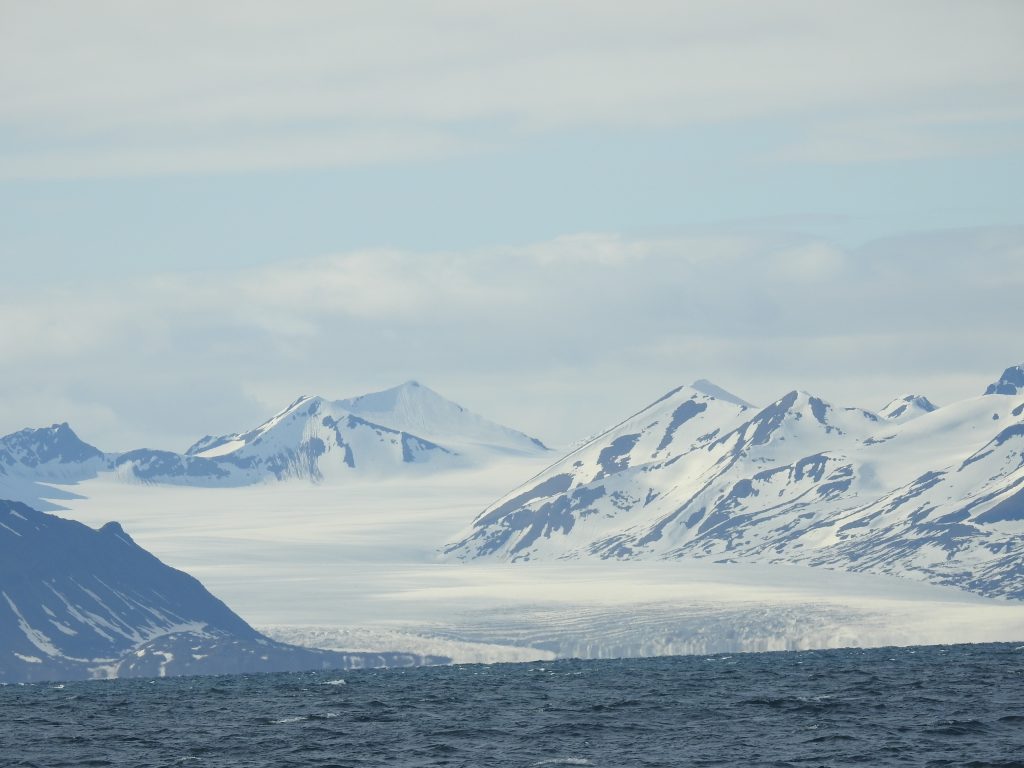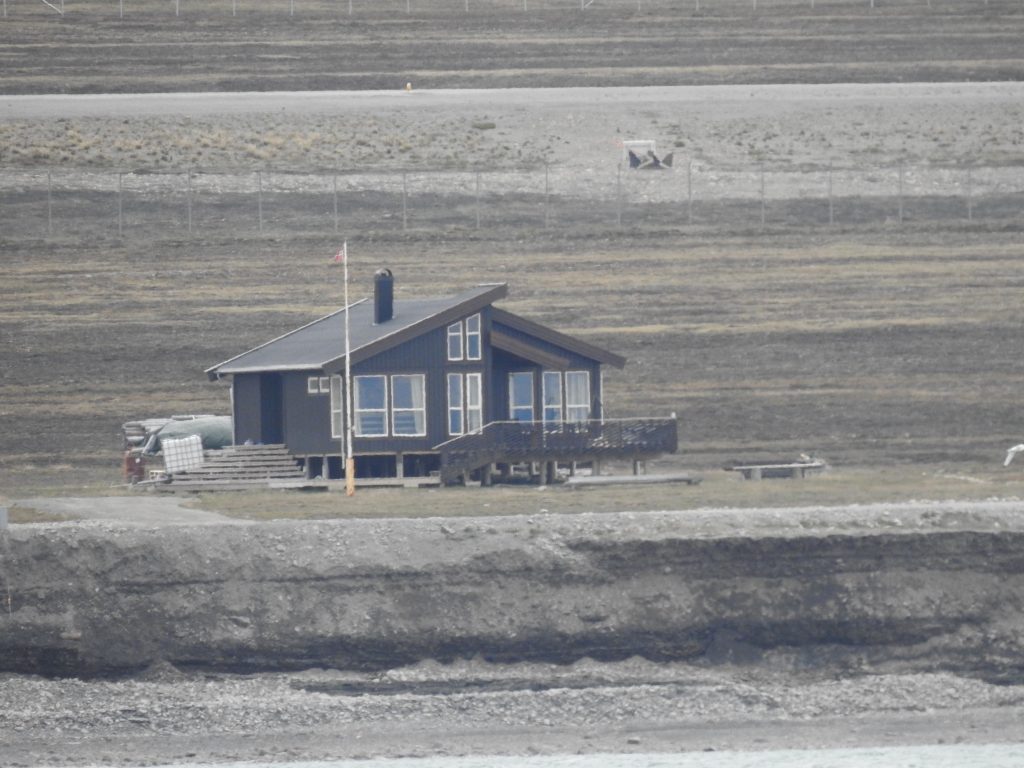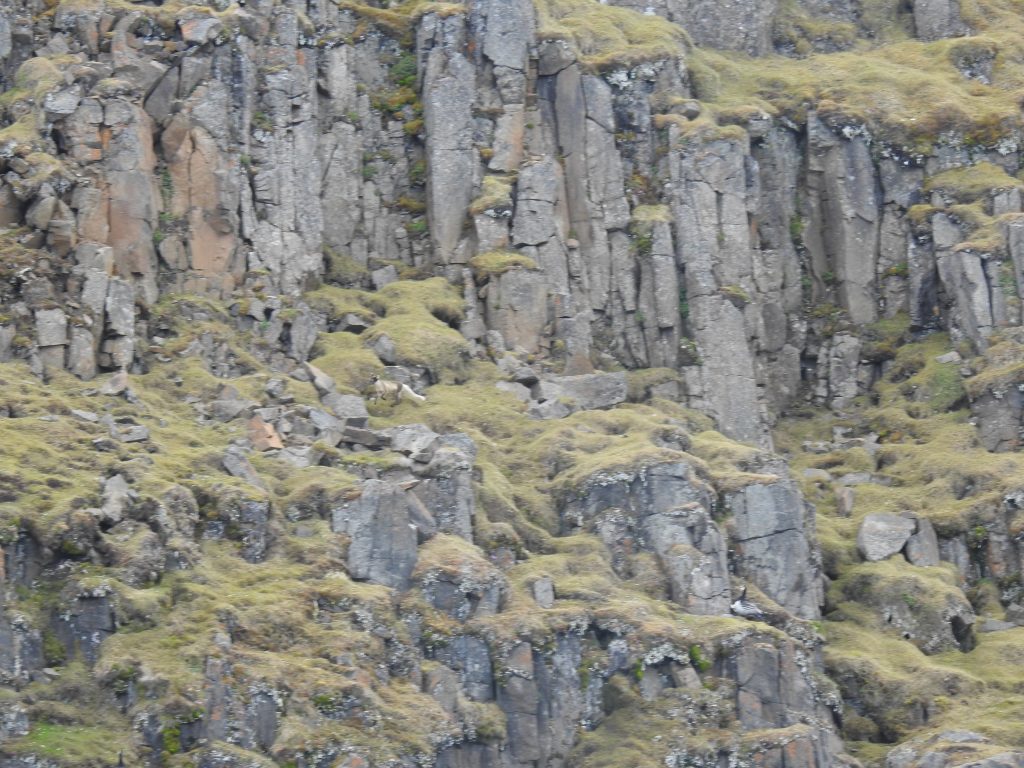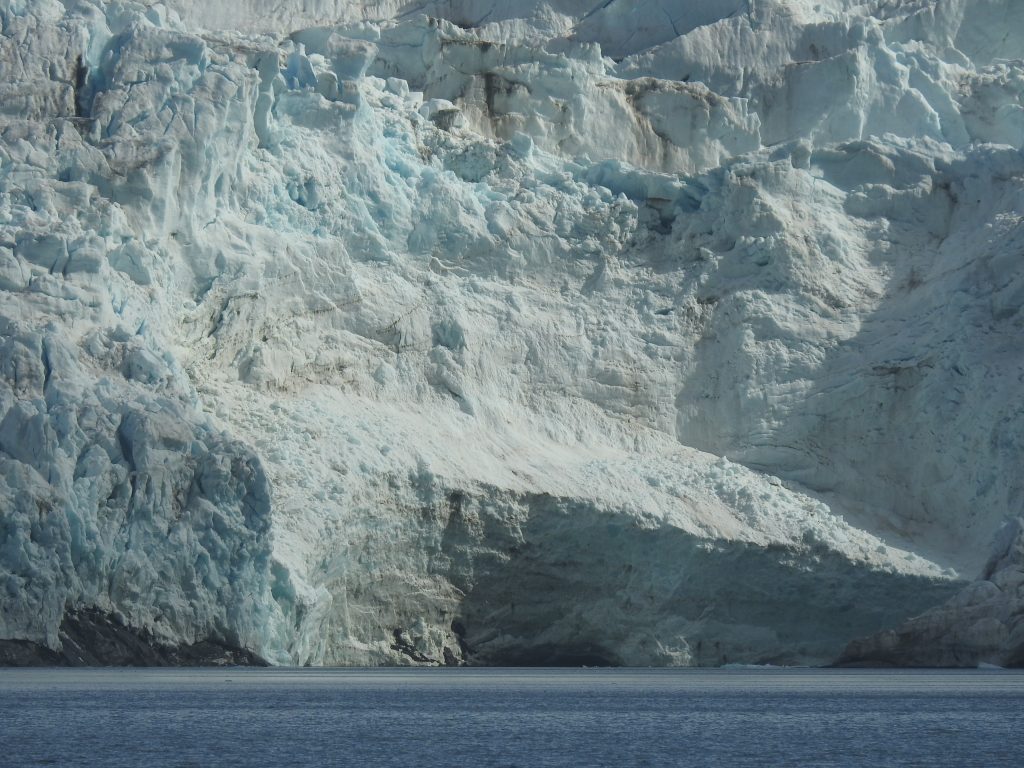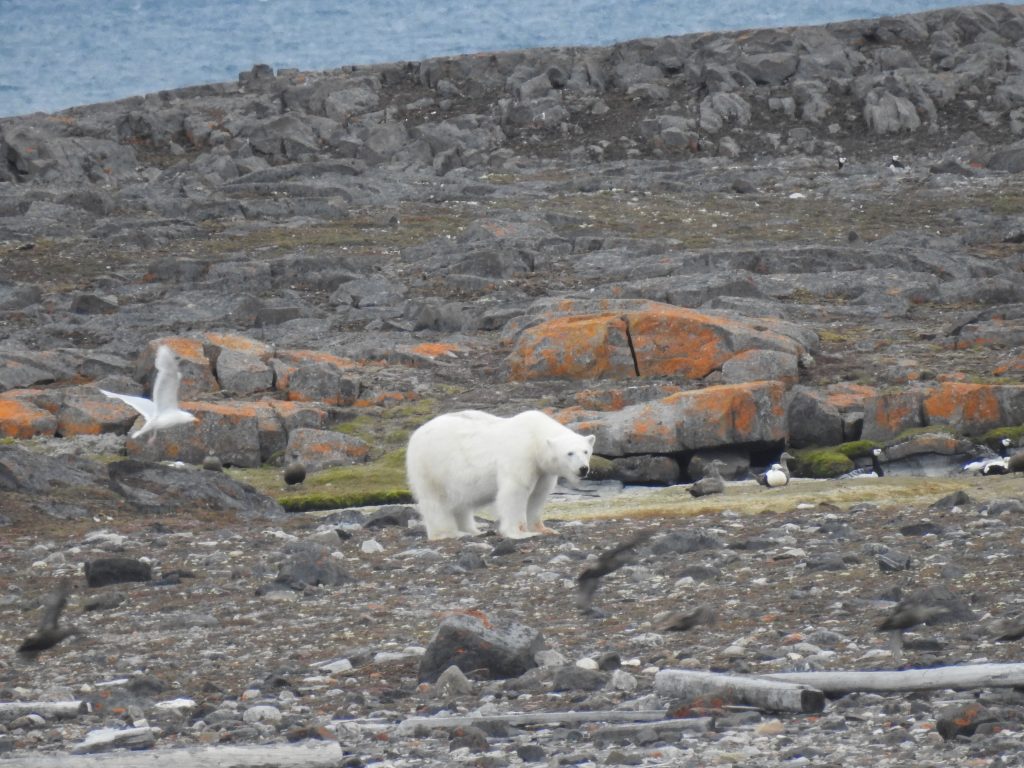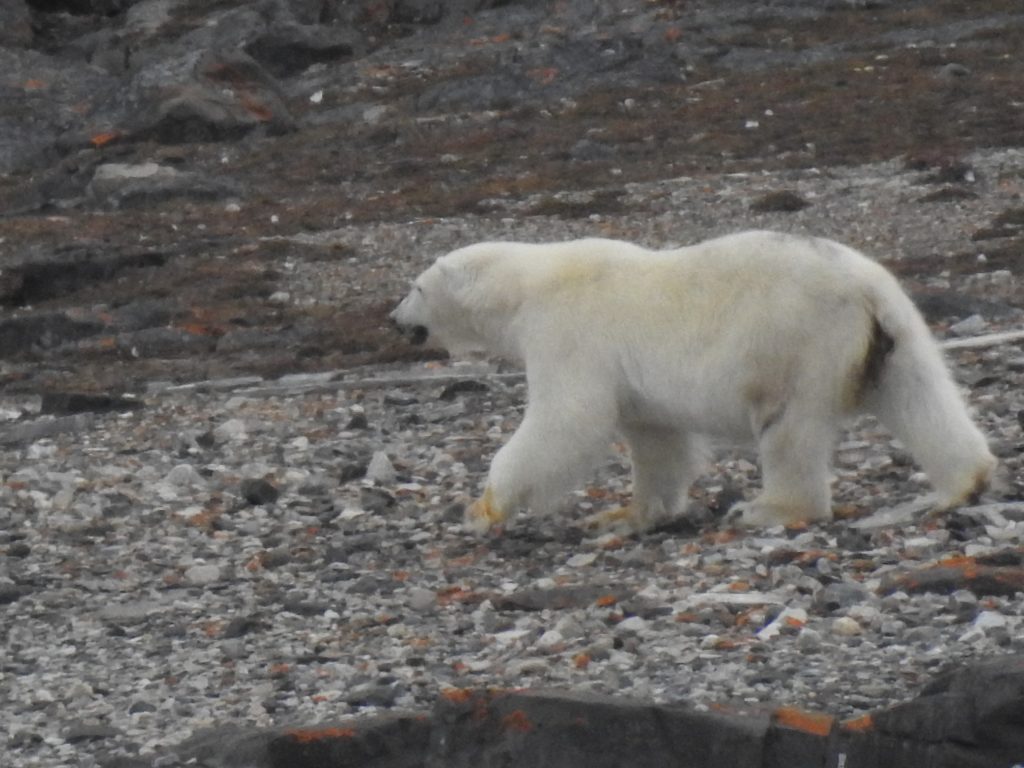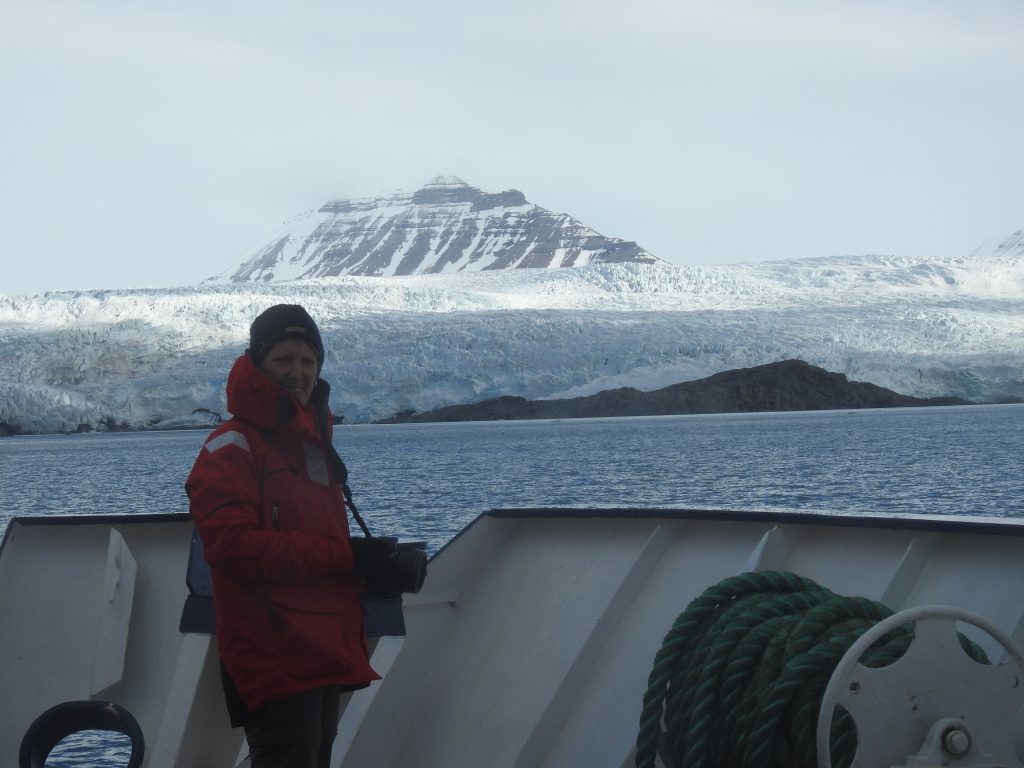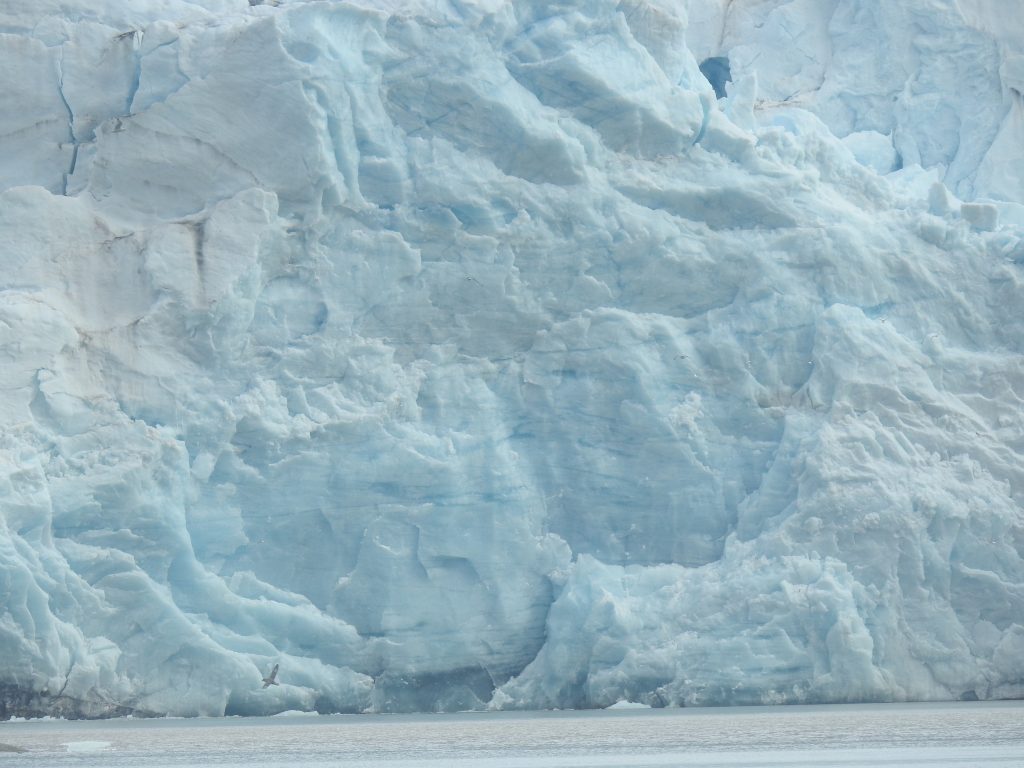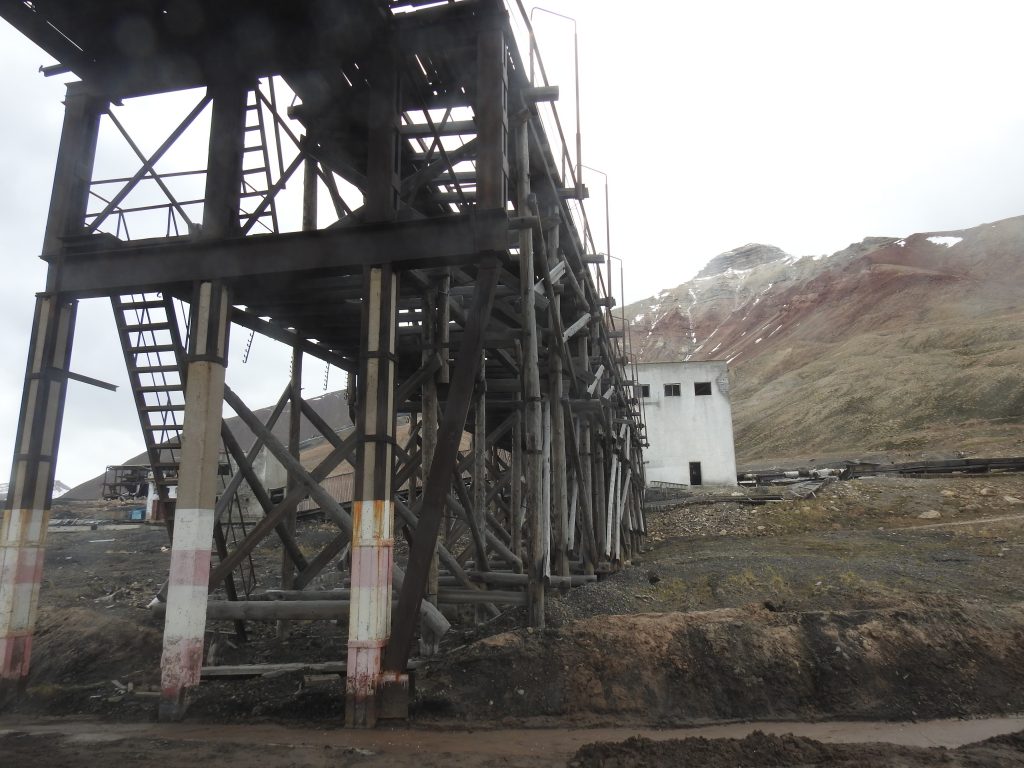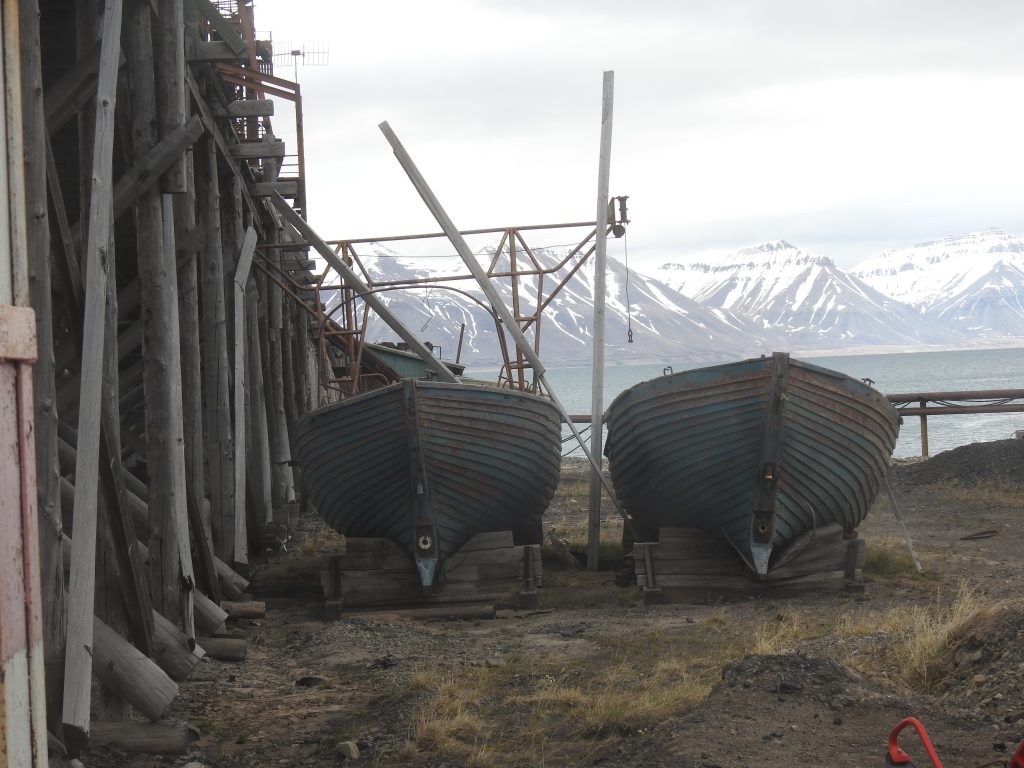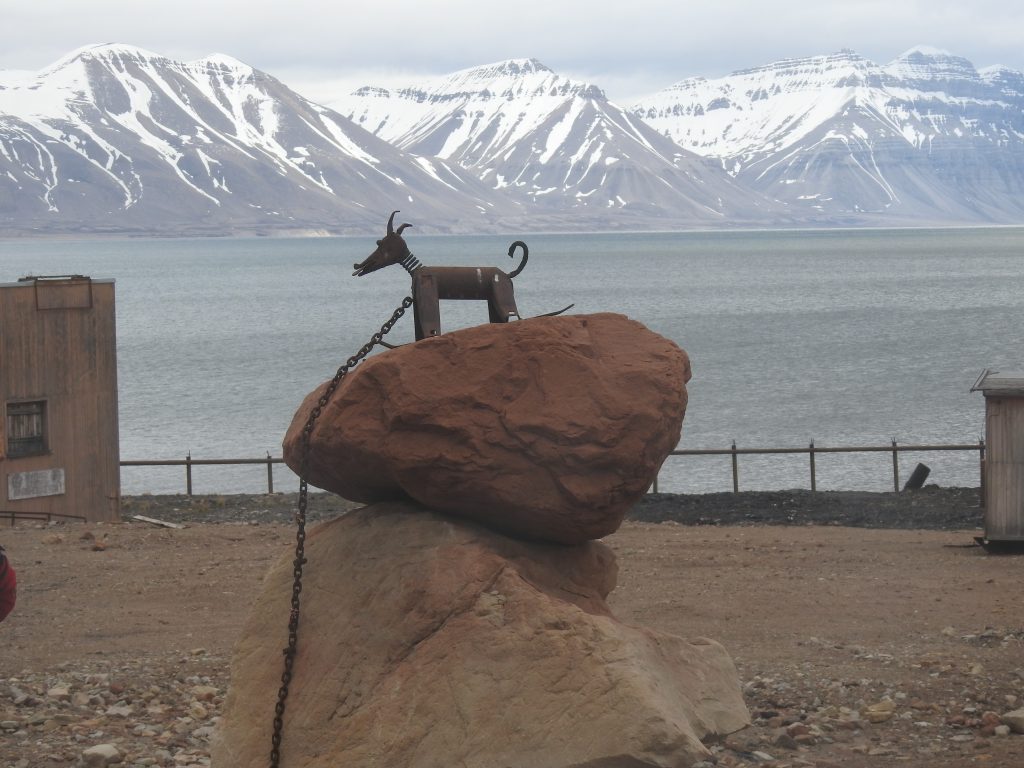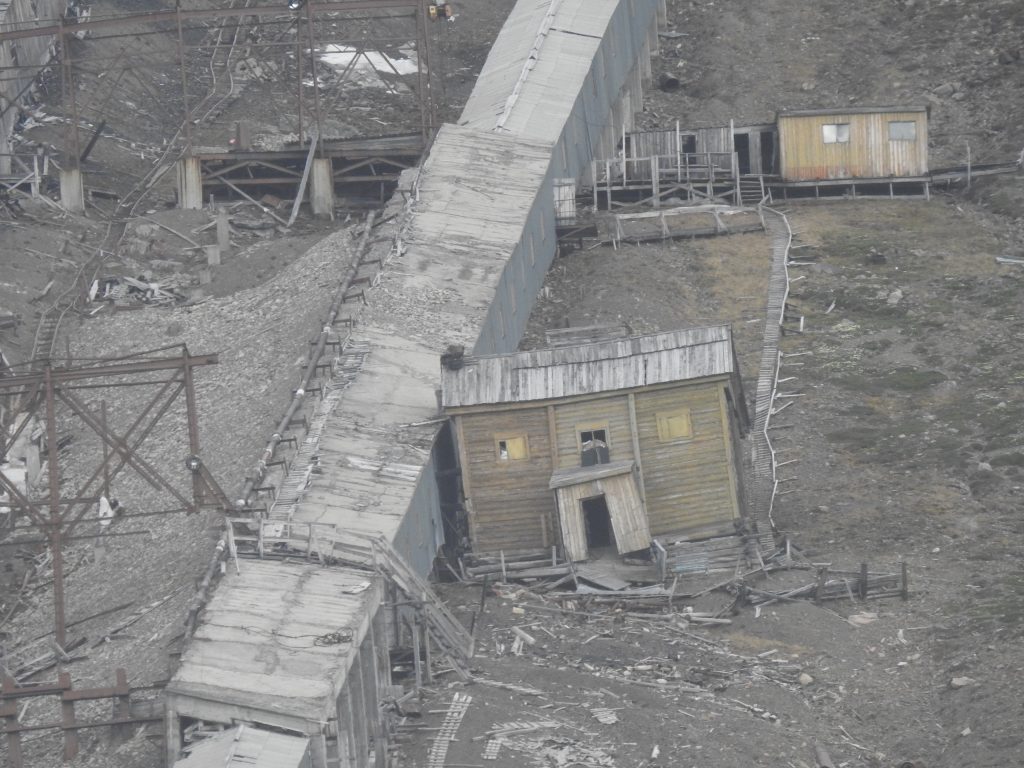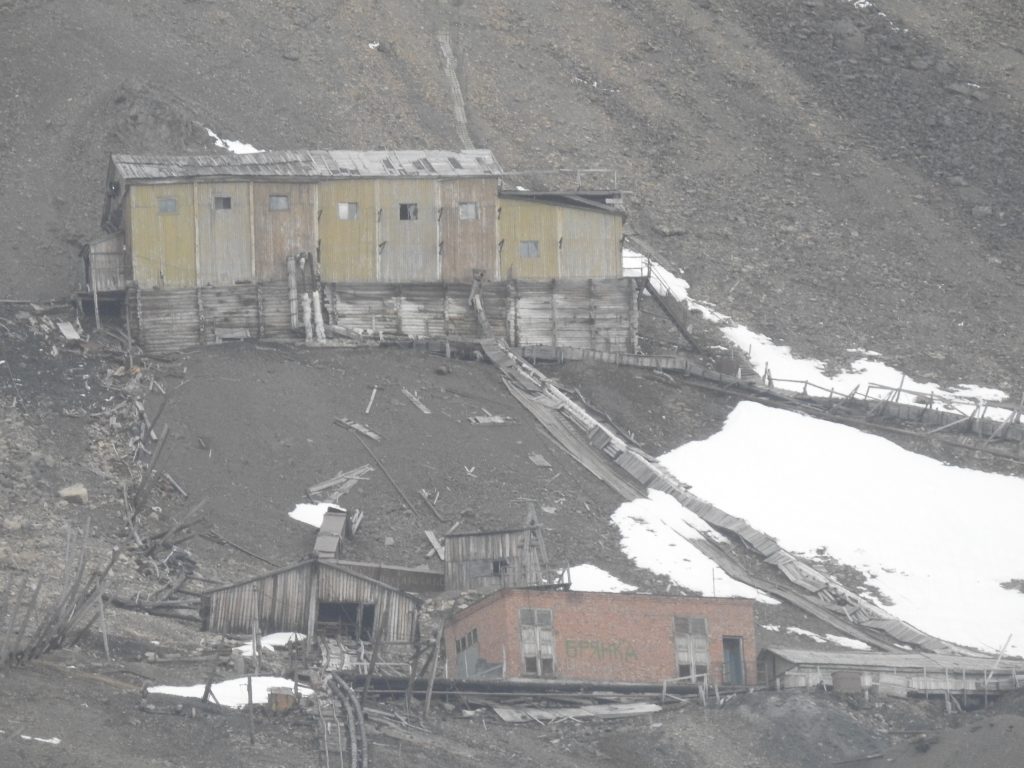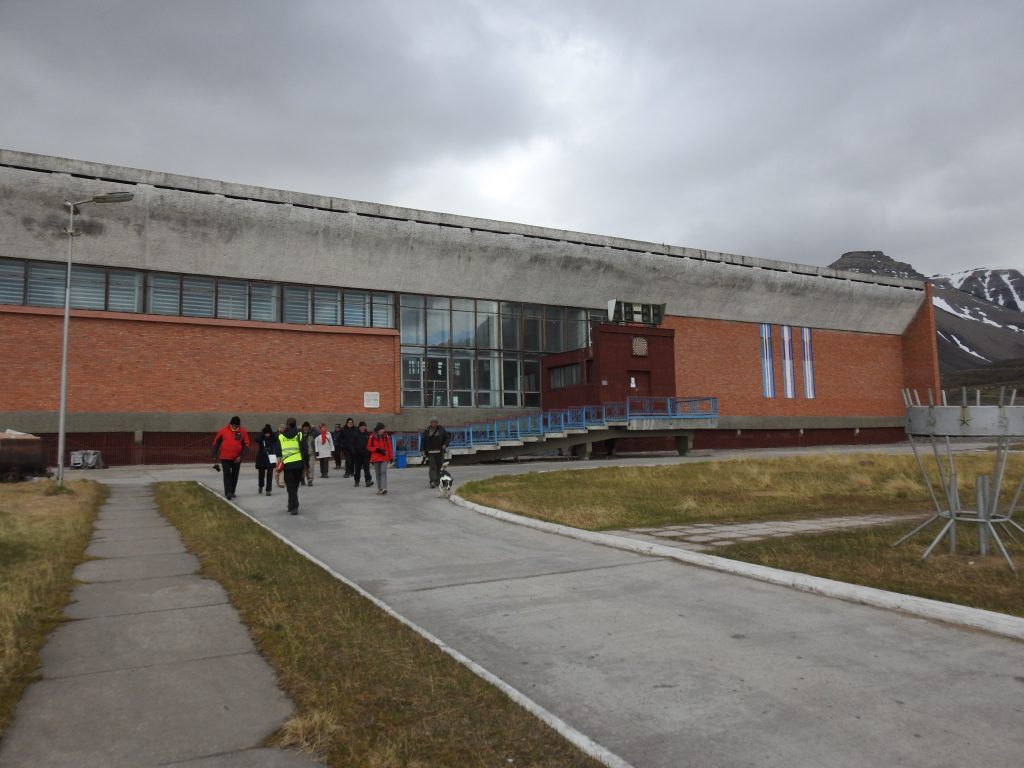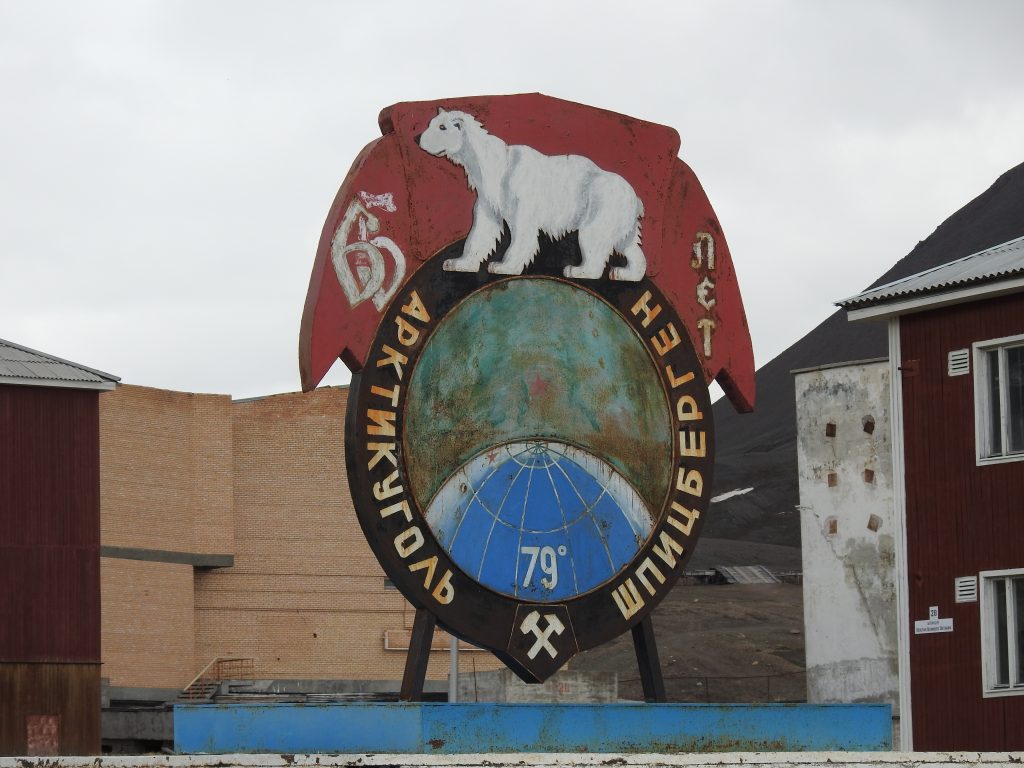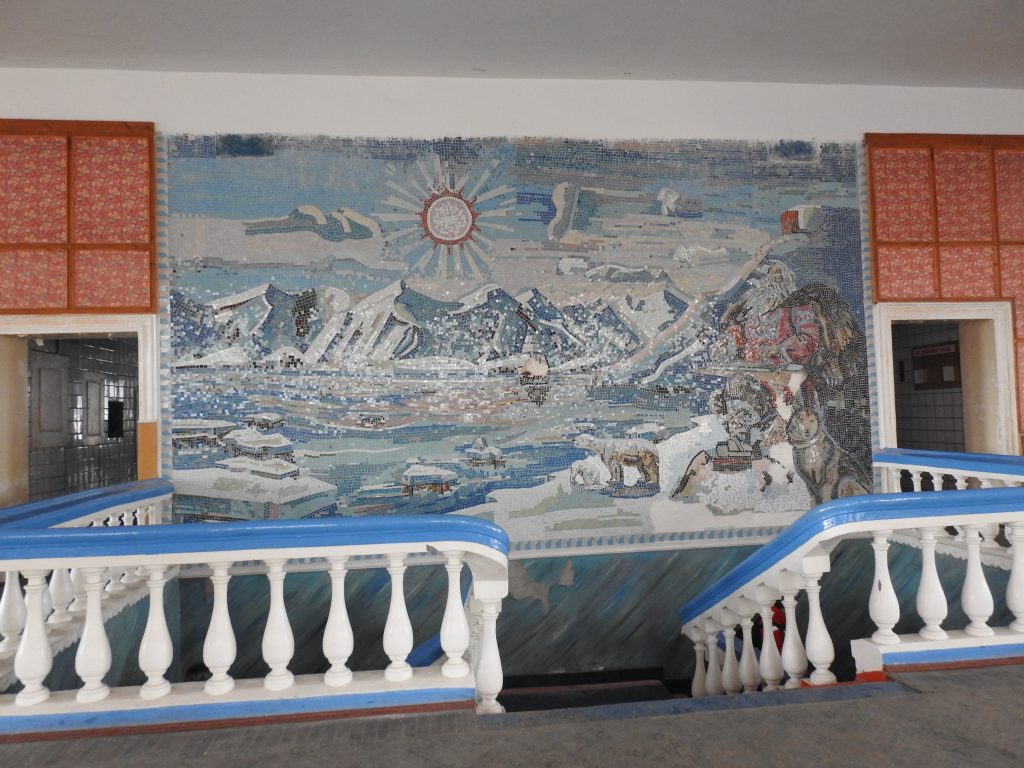 Live theatre

Basketball court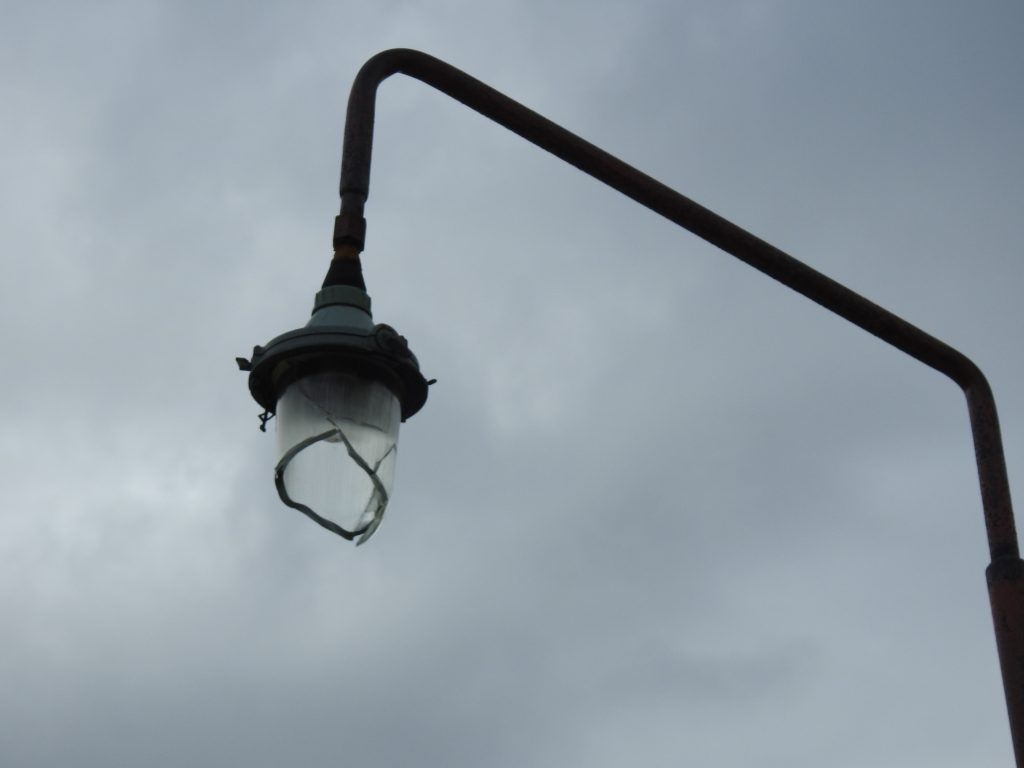 Children's

play

ground

Heated water flowed through the wooden pathway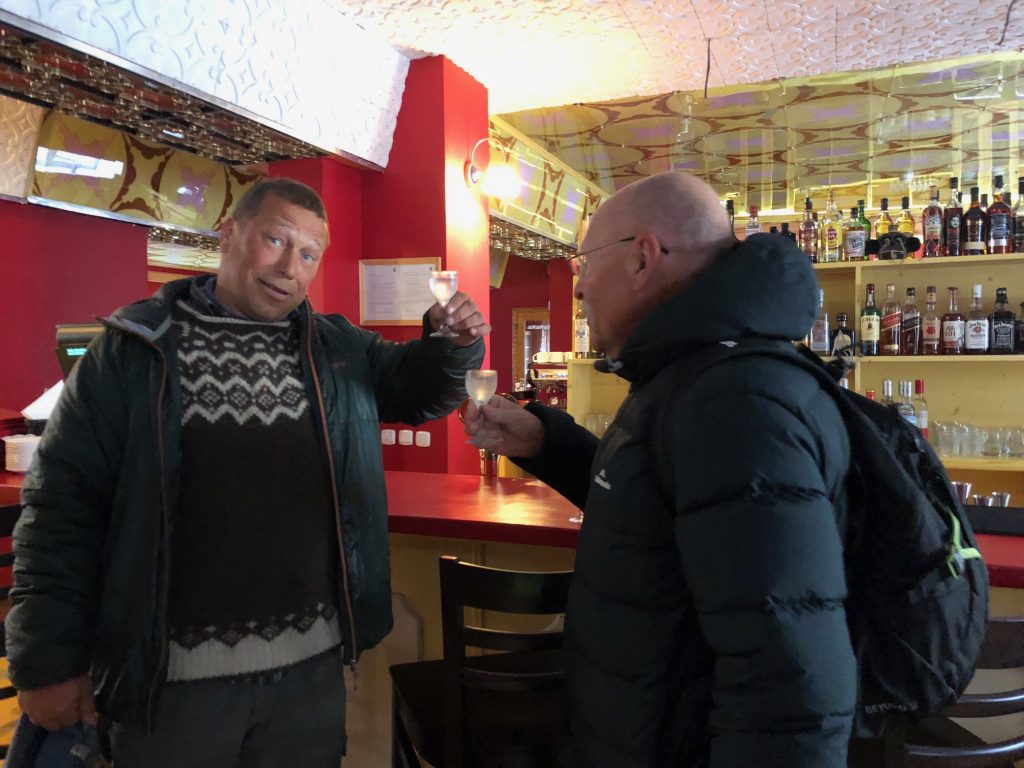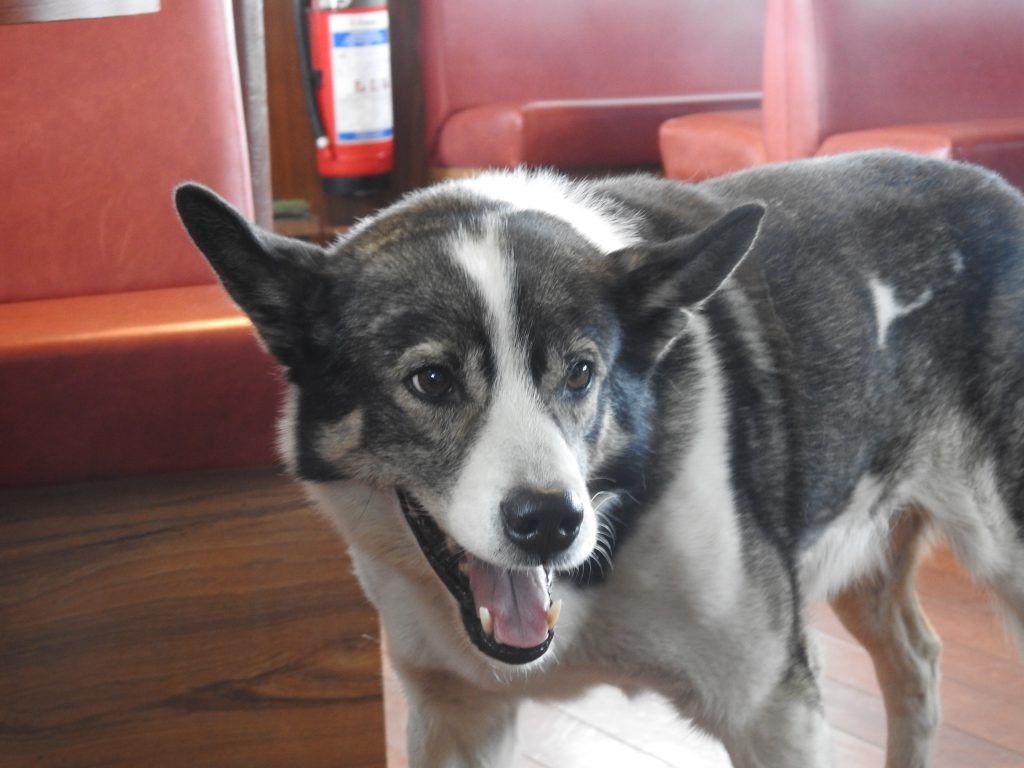 Our tour guide asked us to stay close to him so he can keep an eye on everyone as polar bears could be in the area. The dogs here are great at sniffing out polar bears from a good distance. If we did venture off, it would be at our own risk but he totally warned against it. Taking photos proved a bit of a problem if you didn't keep one eye on the dog and his owner. Carrie and I found an antique telephone attached to a pole and chair on the side of the road. We couldn't walk passed without a photo. Lagging behind, we quickly caught up to the delight of our guide, he said to me, 'What part of stay close to me didn't you understand?' He delighted in repeating the question. I gave some feeble excuse as Philip was urging him on. He then said, 'I have always wanted to say that,' with a smile on his face.
Natural erosion on mountain tops
We also visited the Svalbard Global Seed Vault also known as the 'Doomsday Vault'. It was closed to the public but the taxi driver took us as far in as allowed. Renovations were being done and the area was closed off. The vault is an attempt to ensure against the loss of seeds in other genebanks during large scale global catastrophes. It is 130 metres above sea level. This is the estimated height should the ice melt and seas rise. It was considered ideal because it lacked tectonic activity and the permafrost helps to preserve the seeds which are packed in special three ply foil packets and heat sealed to expel moisture. The floor area is approx. 1,000 square metres. Storing seeds is free to the end user. Norway and the Crop Trust pay for operational costs. Primary funding for the Trust comes from organisations such as the Bill and Melinda Gates Foundation and various governments worldwide. I am sure we were told their are three sections to the vault. Only one is being used at the moment. Once one million seeds are in that section they will open the next. Locally mined coal is used to power the refrigeration units that cool the seeds further to -18 degrees C which is the international recommended standard. If the equipment fails, at least several weeks will pass before the facility rises to the surrounding sandstone temperature of -3 degrees C. It is estimated to take two centuries to warm to 0 degrees C. I was determined that the vault could preserve most major food crop seeds for hundreds of years. Some, including those of important grains, could potentially remain viable for thousands of years.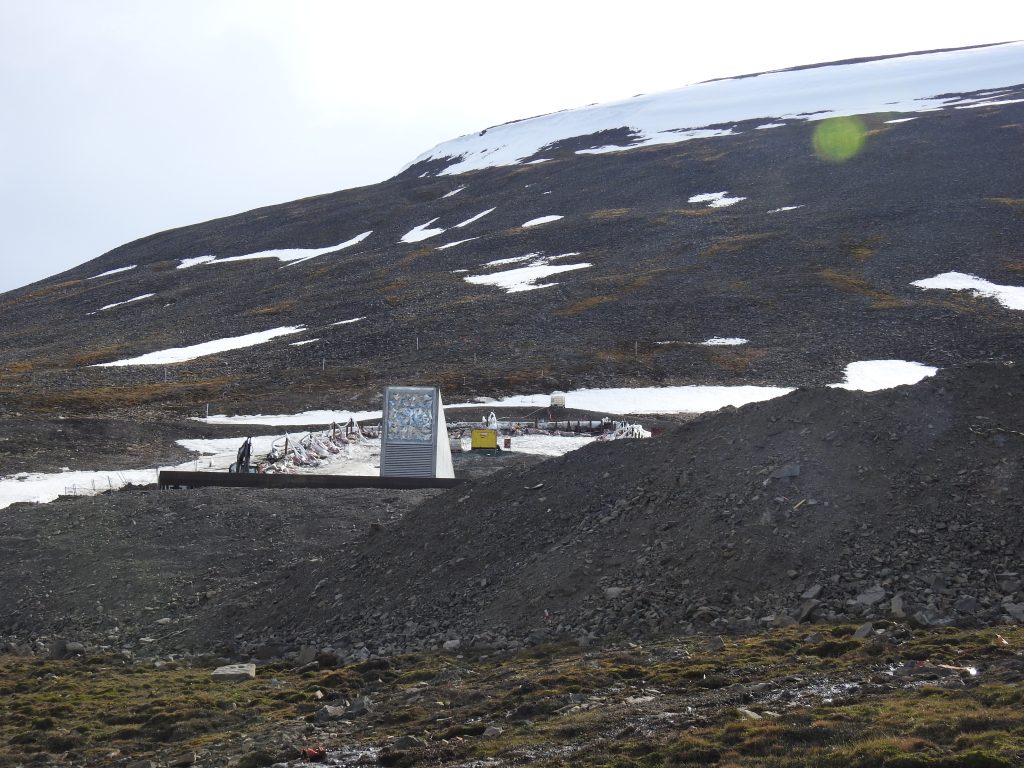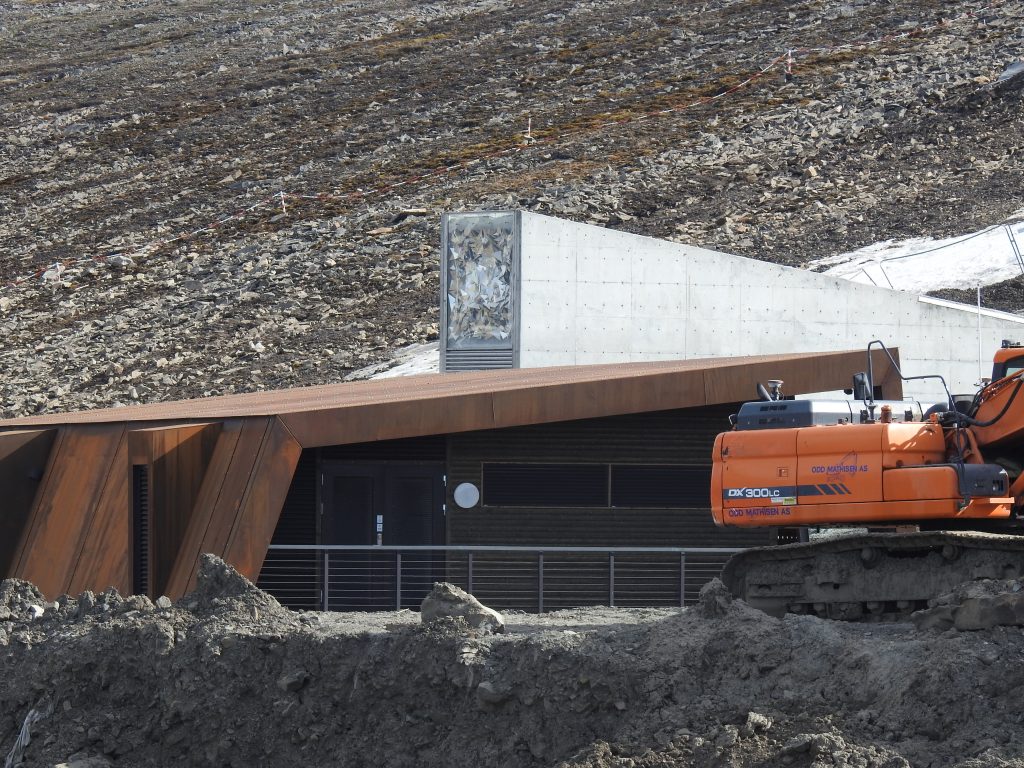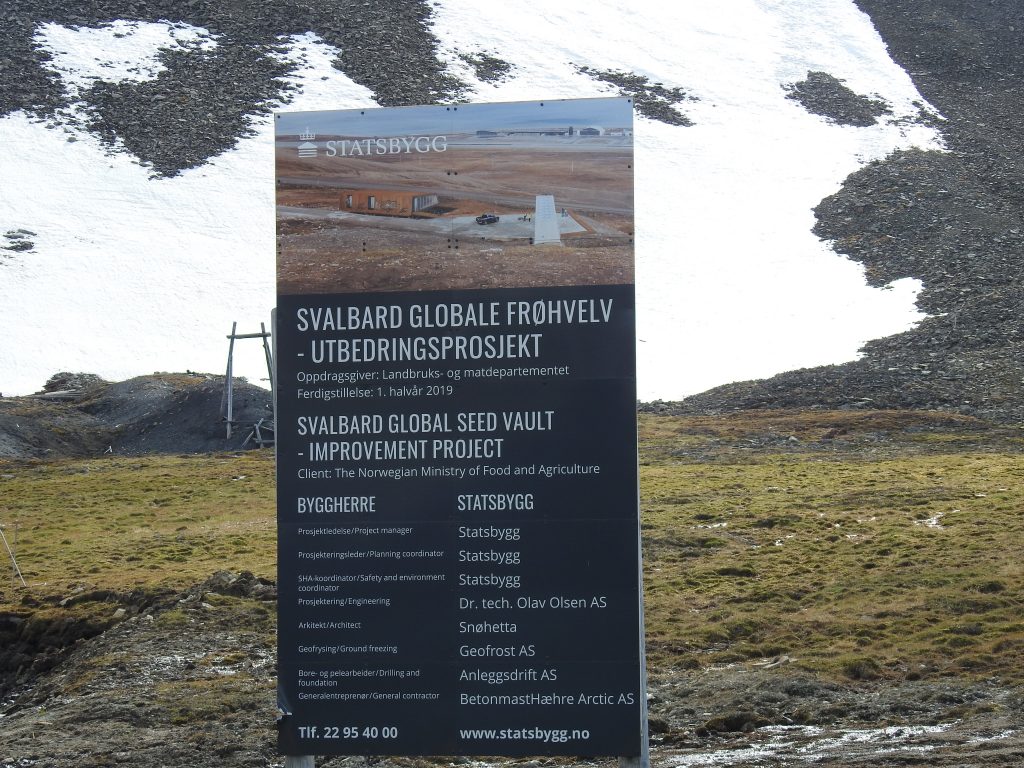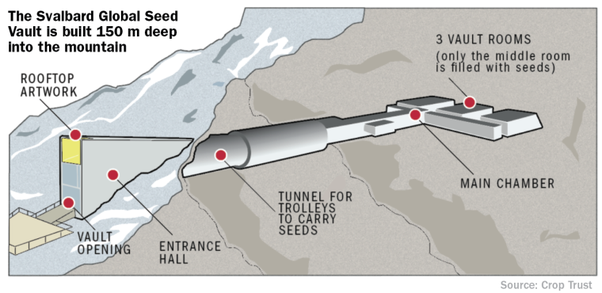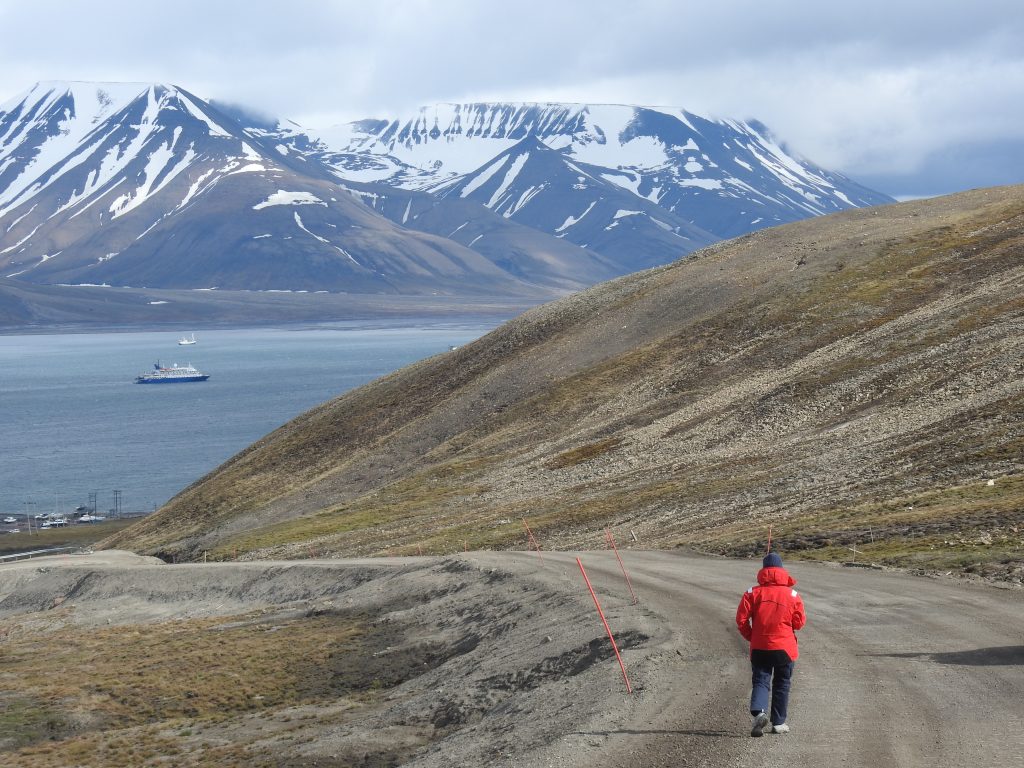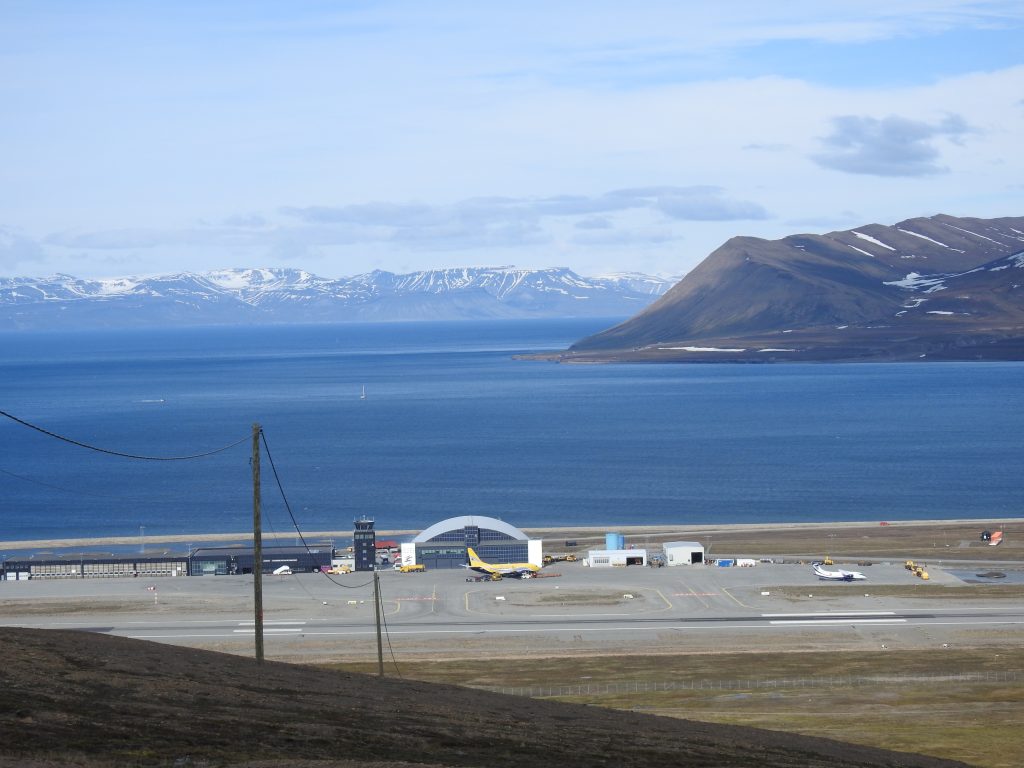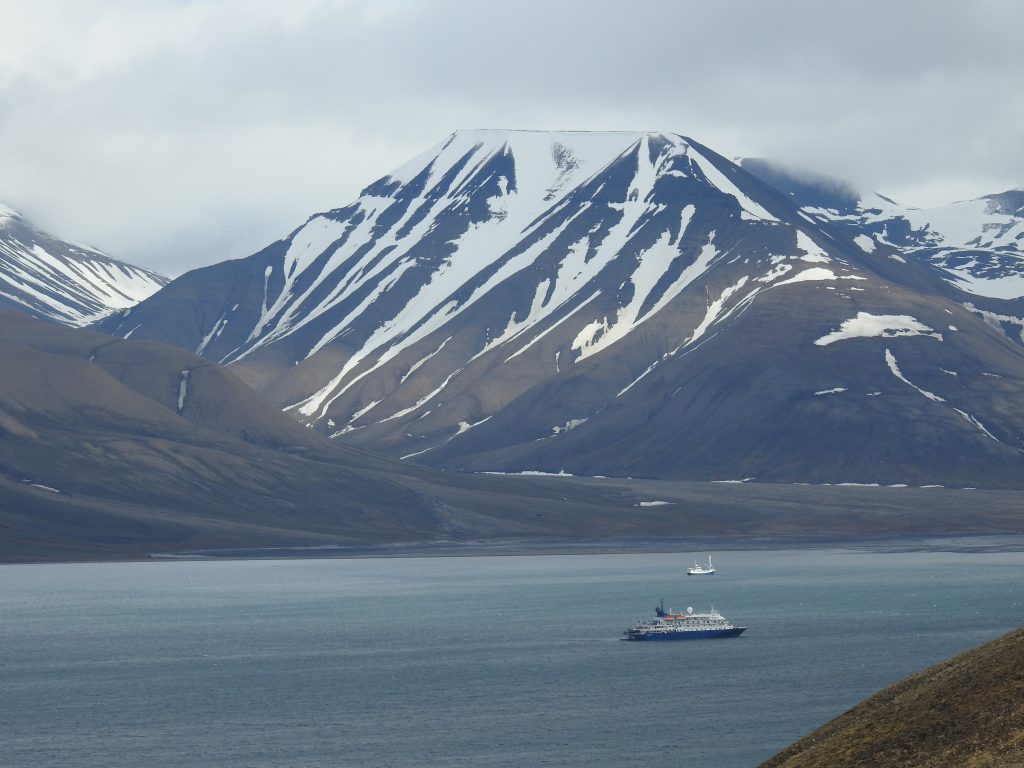 This seems crazy but Svalbard is rich in fossils. The largest plant here is a shrub that grows only a few inches high. Why is there so much coal? Coal is the byproduct of carbon from rain forests. Around 60 million years ago the climate was warmer. Vast swamp lands were home to forests of oaks, redwoods and maple. Nearby islands even have ancient aquatic dinosaurs. Philip wanted to find something for our children. It wasn't hard. There were fossils everywhere and no limit on what you took. The only problem was how much were you prepared to carry home. I was busy Face-timing family while Carrie found extras for me. Our guide's name was Jorn. Jorn Dybdahl. He had traveled extensively and said Australia was one of his favourite places. He absolutely loved his time there surfing around Byron Bay area. He hired the best polar bear detecting dog in Svalbard. The dog's name was so long he could never remember it so called him Pete. Pete was very shy he said and not very people friendly but could smell a bear from miles away. He didn't have hair like our dogs but thick fur. As I face-timed Aston and Ashleigh they asked for a closer look at Pete. I went up to his face with my phone and he got very friendly and jumped all over me. As I sat on the rocks near him, he jumped on my back. Jorn pulled him off and made him behave. It showed there was some people friendliness inside Pete….it just wanted to be allowed out!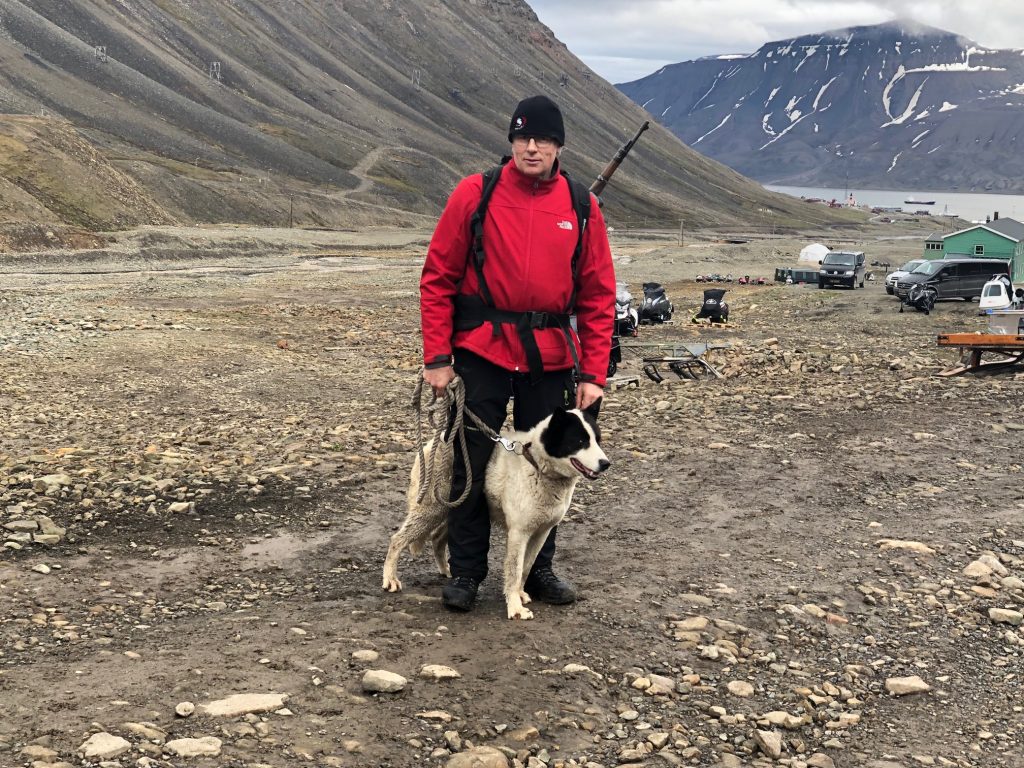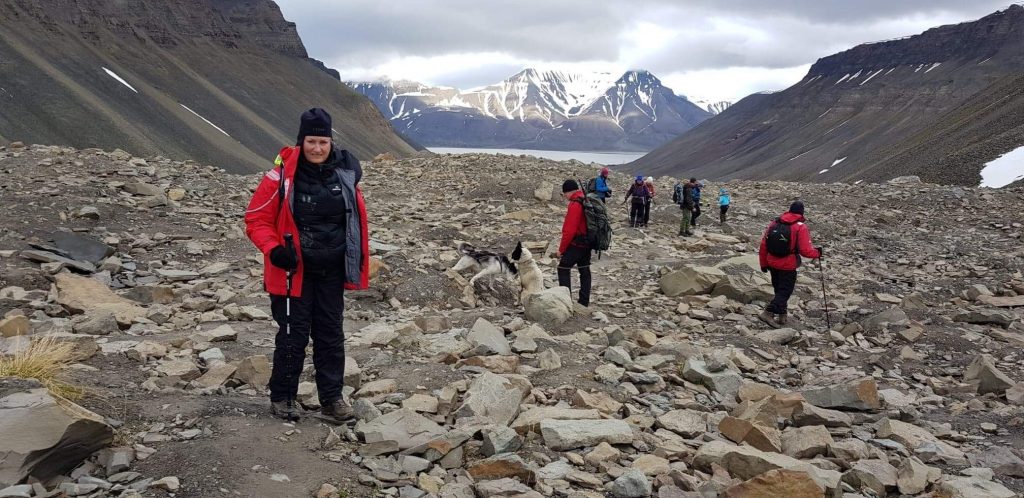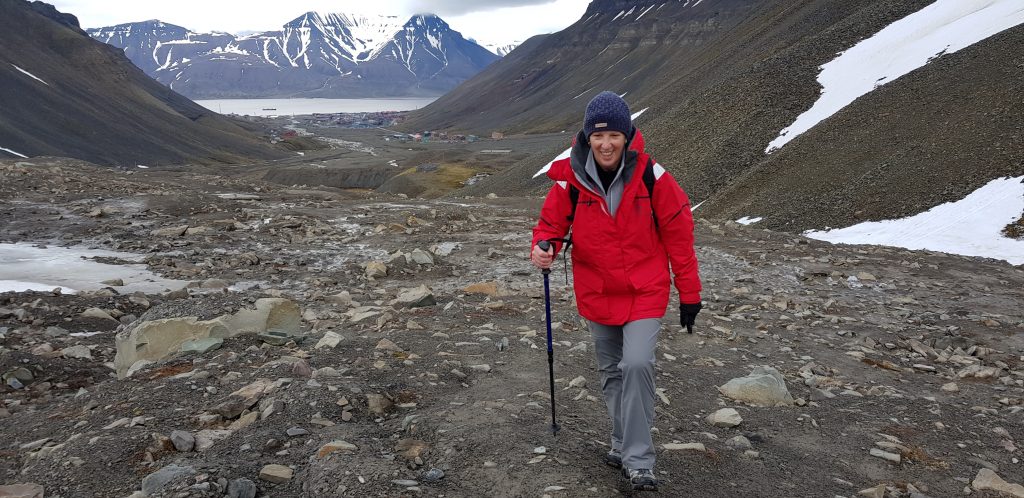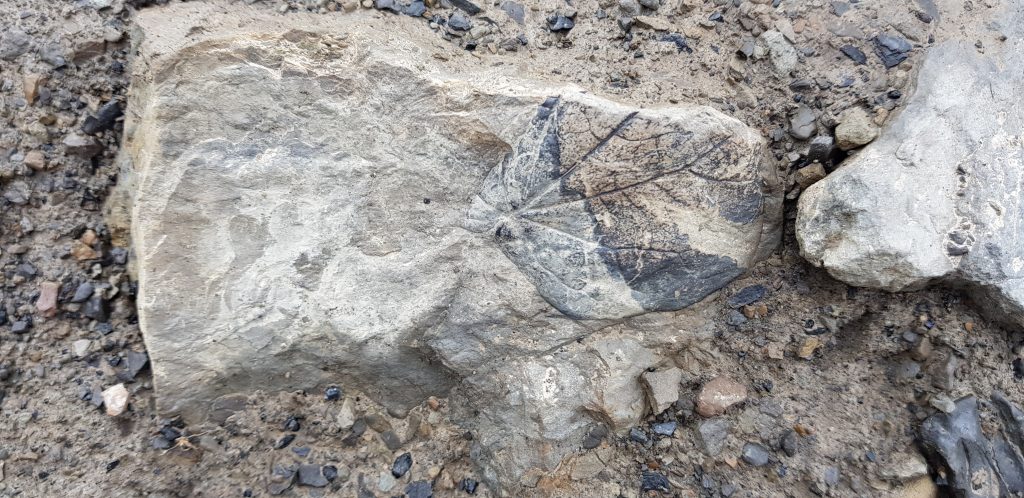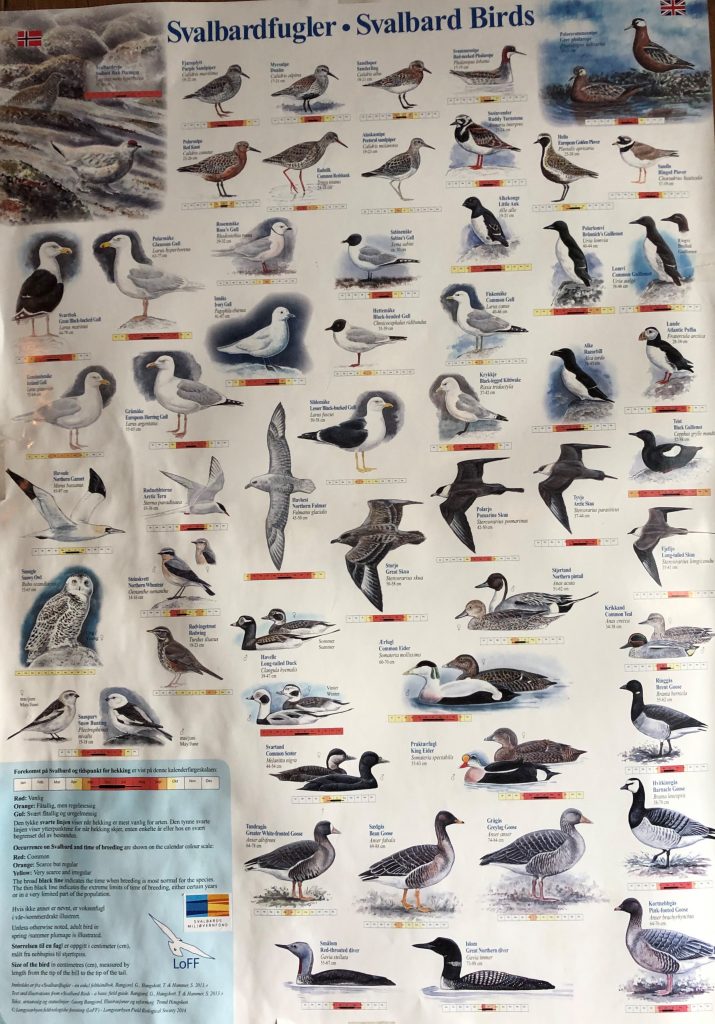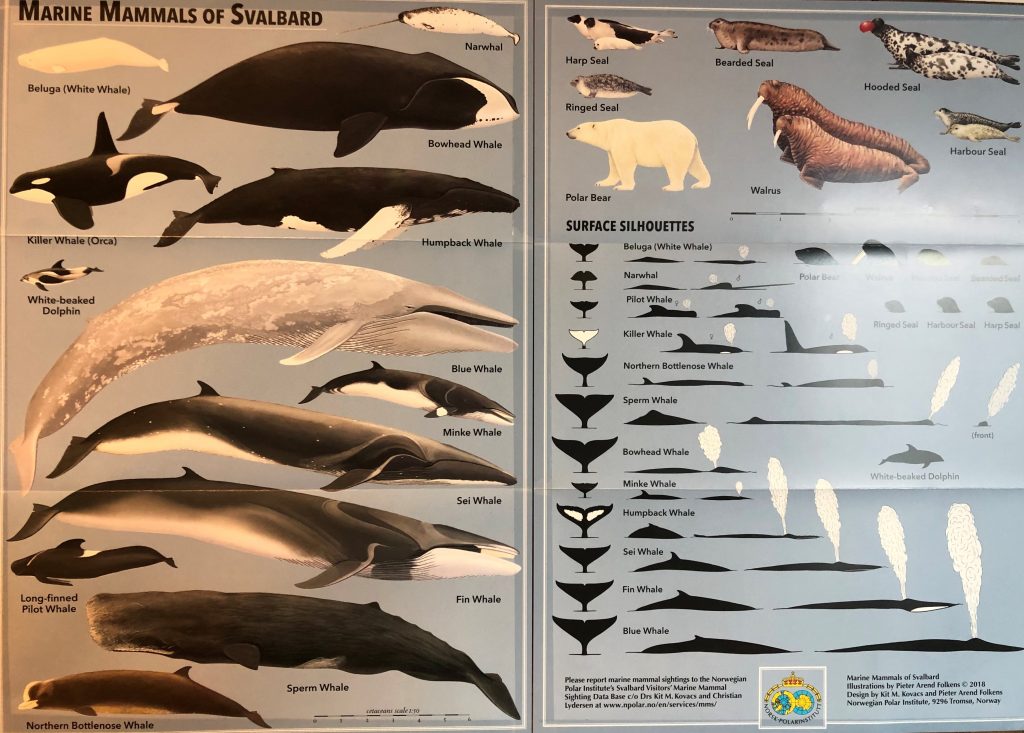 Washing and finding a laundromat was difficult. When we did find someone the cost was AUD $300.00. With no laundry facilities for sailors and visitors, they were not shy in charging.
Day 29: Thursday, 4th July. Happy Independence Day to all our American family and friends!
Time to leave Longyearbyen. The ice pack is still sitting as low as N 80. Carrie and I provision the yacht and make French Kiss ship shape for departure.
At 1030 James logs 'Freedom of the Seas', just exiting Isleford. 1815 Anchored in a bay called Eidembukta! Philip and James have decided to sail as far north as possible. Tomorrow is Operation Walrus and Beluga Whales.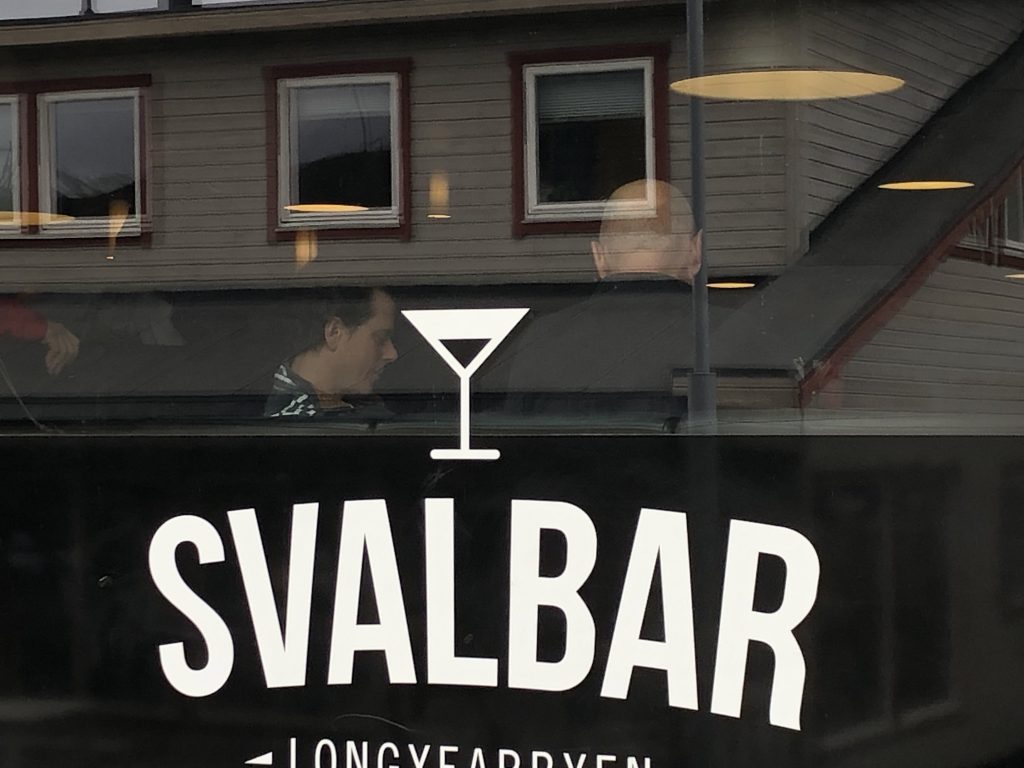 Day 30: Friday, 5th July. Today we are searching for walrus and beluga whales. We leave the main island of Svalbard known as Oscar II Land and sail across to Prins Karls Forland which is an island off the west coast. James has done his research and knows the walrus are on a sandy point jutting into the sea at Poolepyten. As we get closer we see long brown shapes lying along the beach. It's exciting!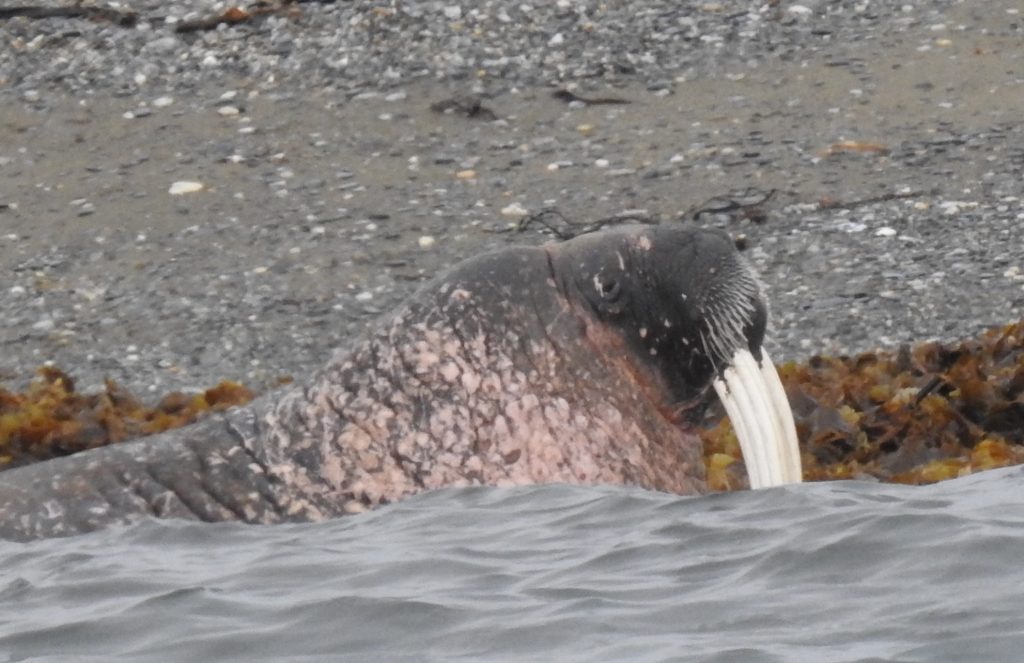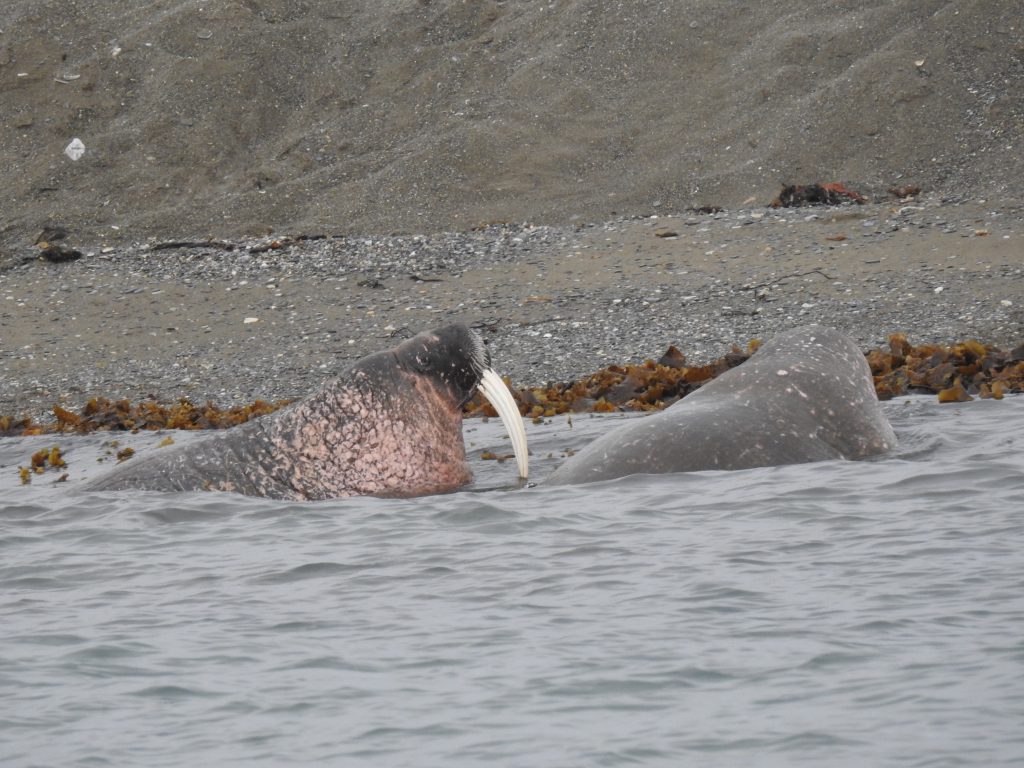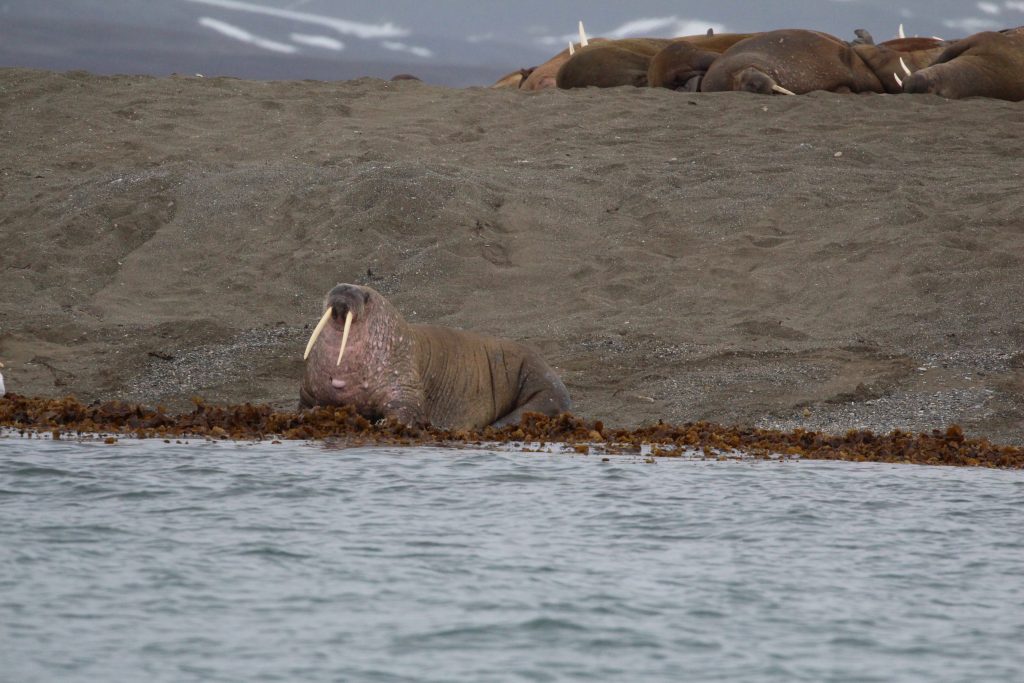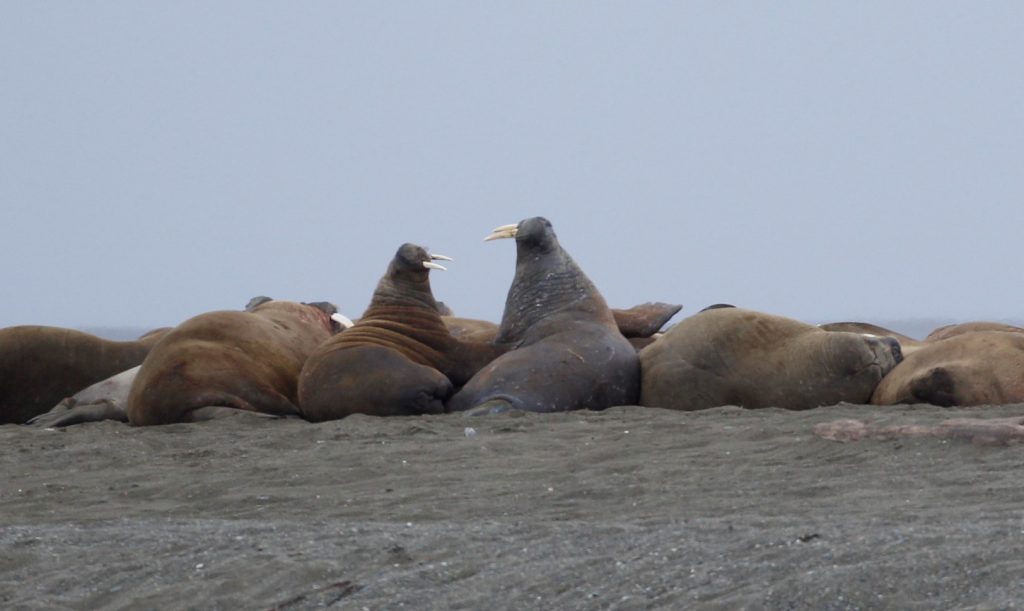 Operation Walrus successful! The water may not appear rough but taking us up and down the beach line was making James' stomach churn. After 20 minutes it was enough. Cameras down! All of a sudden it was all over. We had reached N 78 26.0′. The ice pack stopped us from going much further. James turned the bow southward. Let's go home!!
Tonight we relax and enjoy a roast meal.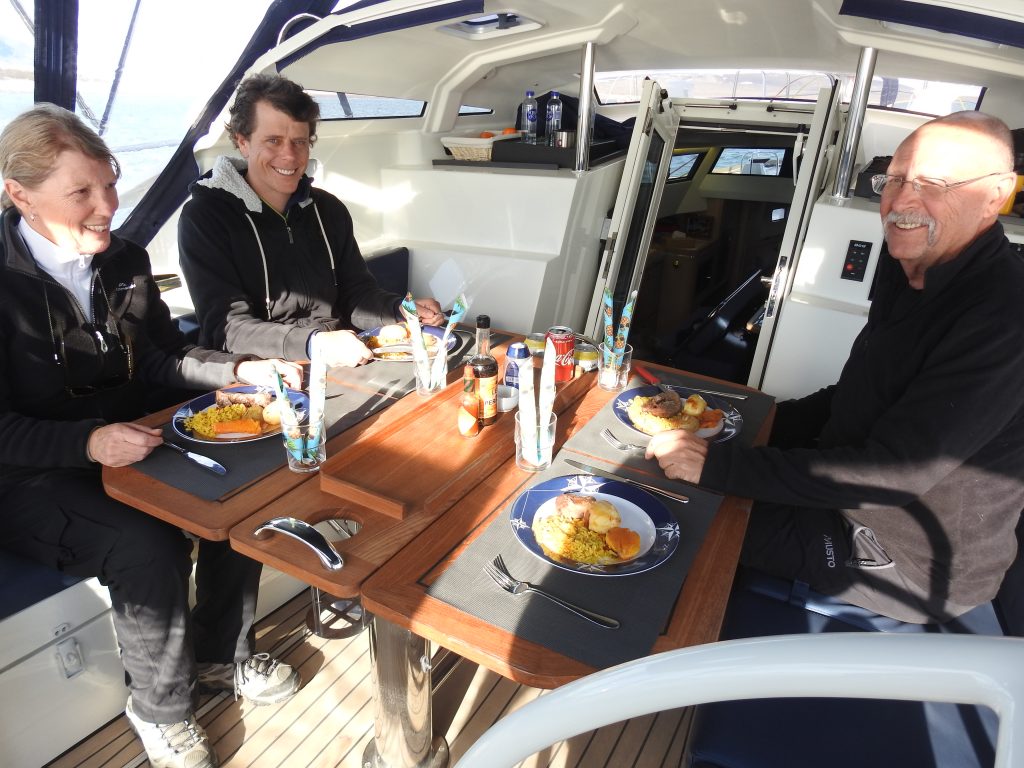 Day 31: Saturday, 6th July. We had a calm night as well as day. The seas were calm as we sailed south. Happy birthday to Carrie's husband, Kris. He has been our 5th crew member watching us on webcams as we have sailed in and out of ports along the coast. Amazing technology!
The wind started to pick up later in the afternoon especially as we passed glaciers. The katabatic winds falling off the glaciers gusted up to 40 knots. With all the excitement then all hands on deck, the log book wasn't filled out and the day tank not checked. A calm little bay was close by to anchor over night but we just had to avoid rocks on the lee shore also close by. The wind is howling, the motor is running, James has the helm, Philip controls the sails and Carrie and I surveying the passage keeping French Kiss at a safe distance from the rocks and ice. All of a sudden the engine stops! I rush down to the navigation table and check all instruments. The day tank has run empty and the engine starved of fuel. I yell to Philip, the day tank is empty. I start the pump to get fuel across from the main tank. Philip pulls the floor up and starts pushing the manual fuel pump on the engine. He pumped like crazy. It reminded me of the saying when water is flooding into a boat, 'Nothing moves more water than a scared man with a bucket'! Anxiety forces your eyeballs from the day tank to Philip to James and back again. James is steering French Kiss hard off the rocks. Its a few minutes of controlled panic. Finally, the engine turns over! We all give a sigh of relief and slowly motor into our anchorage, Bellsund.
The scenery is perfect. We have our own glacier right in front of us.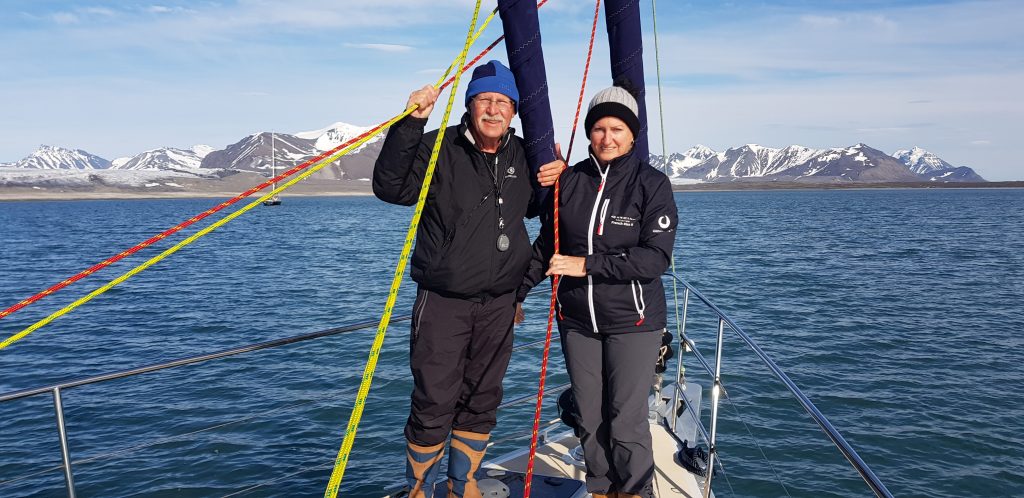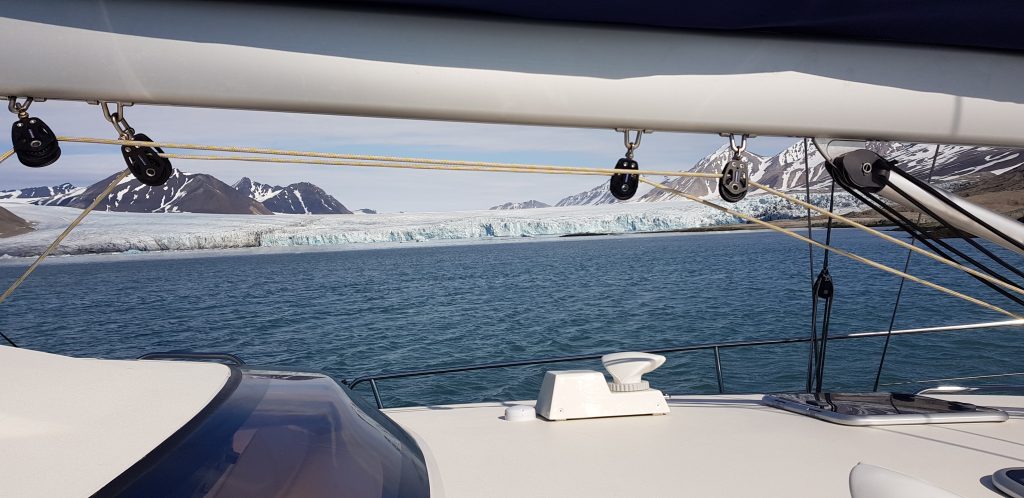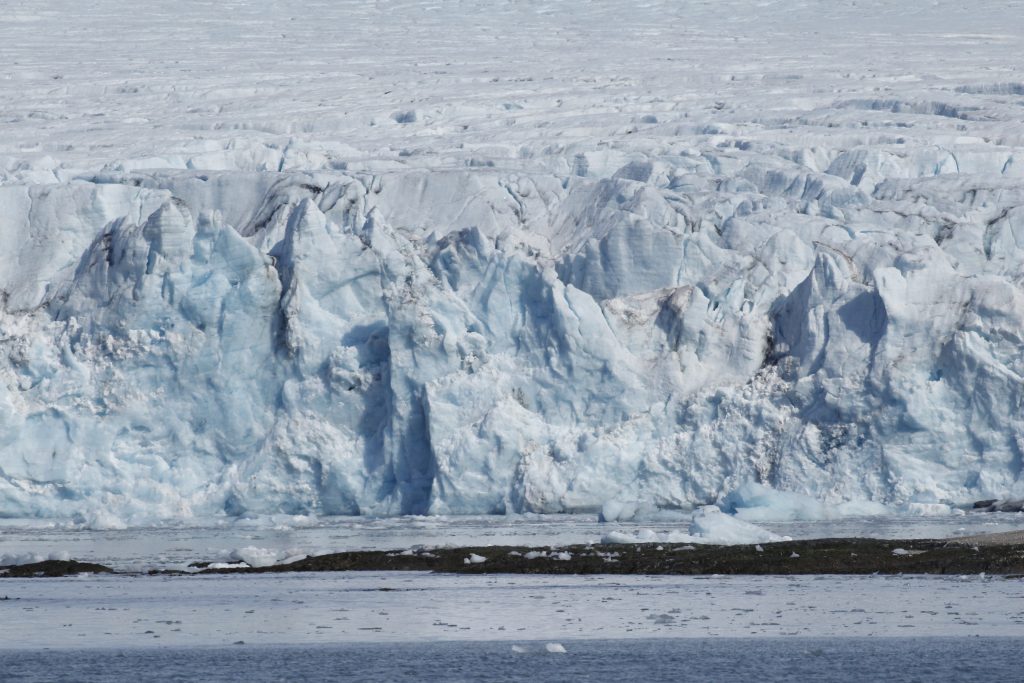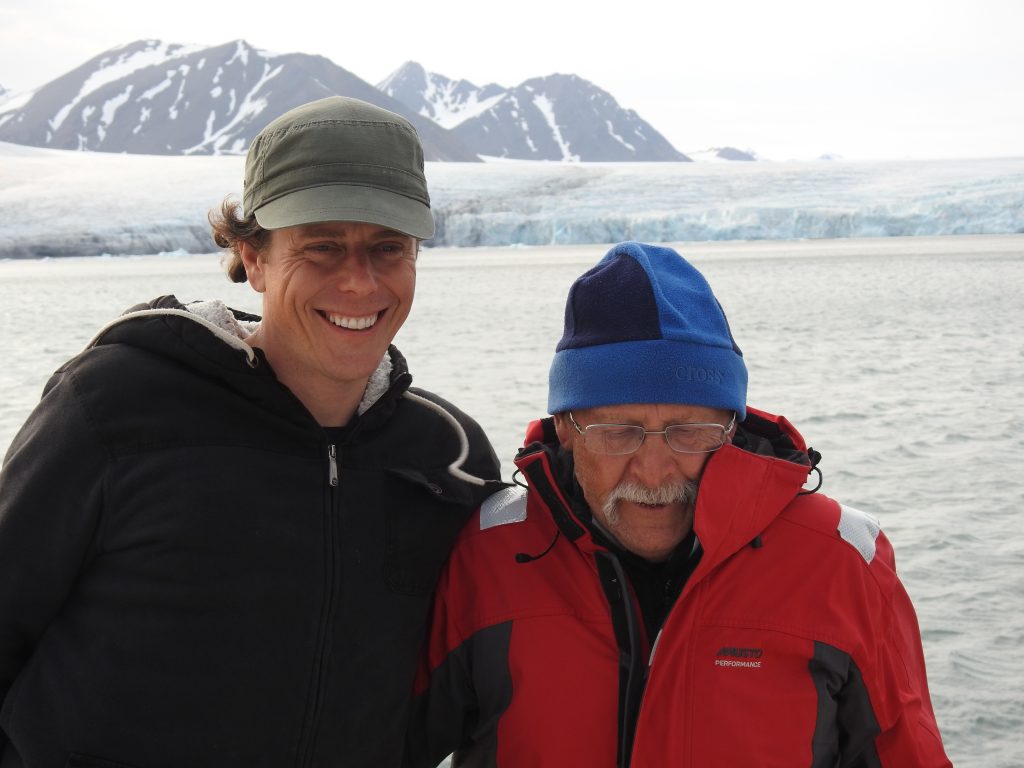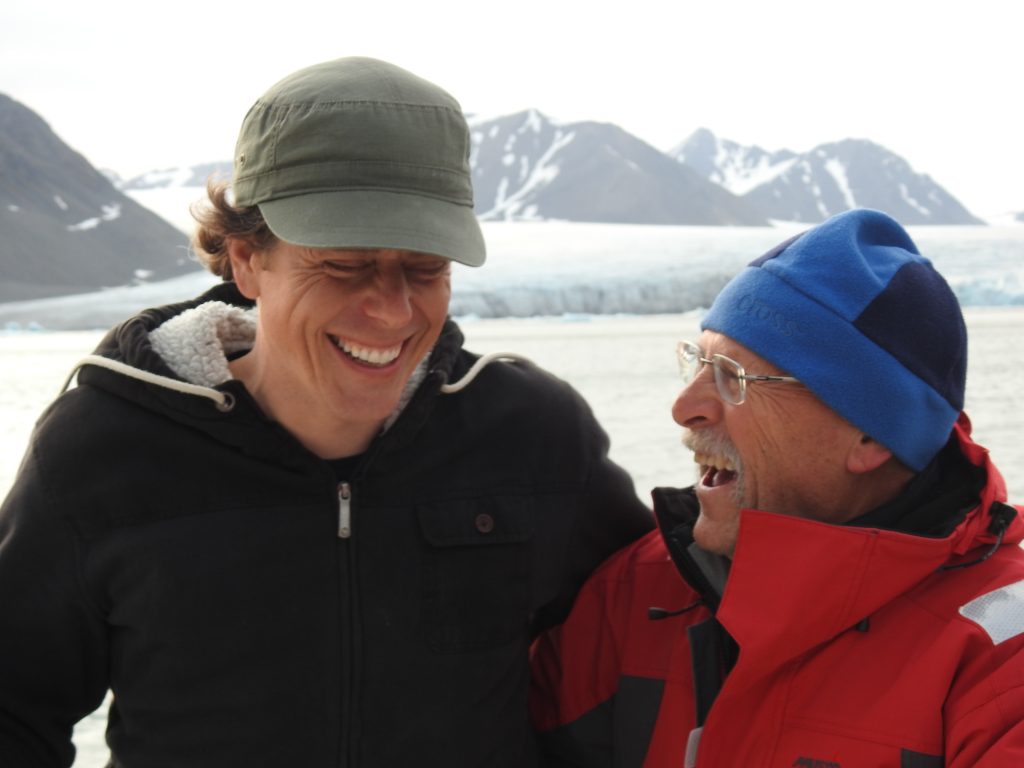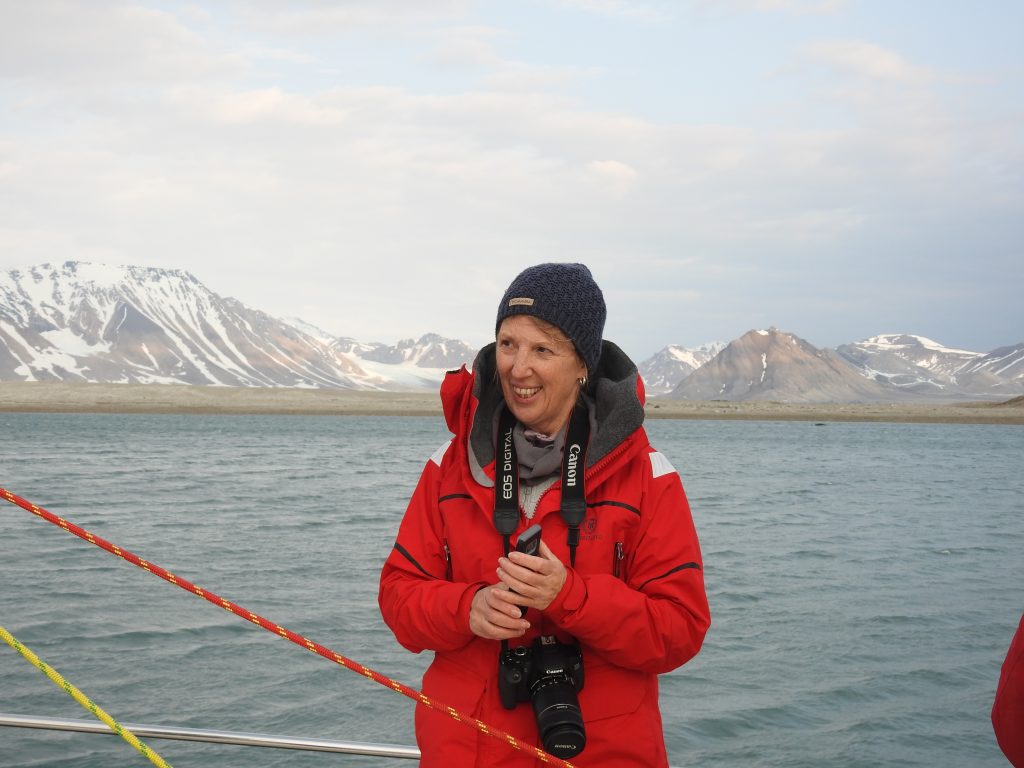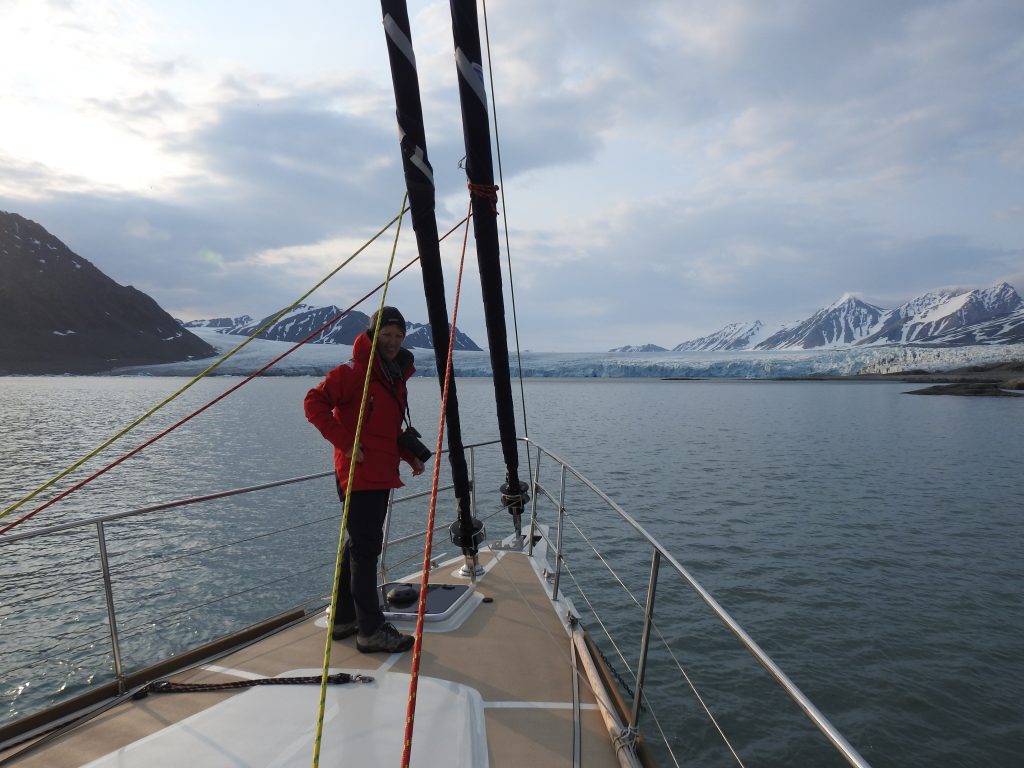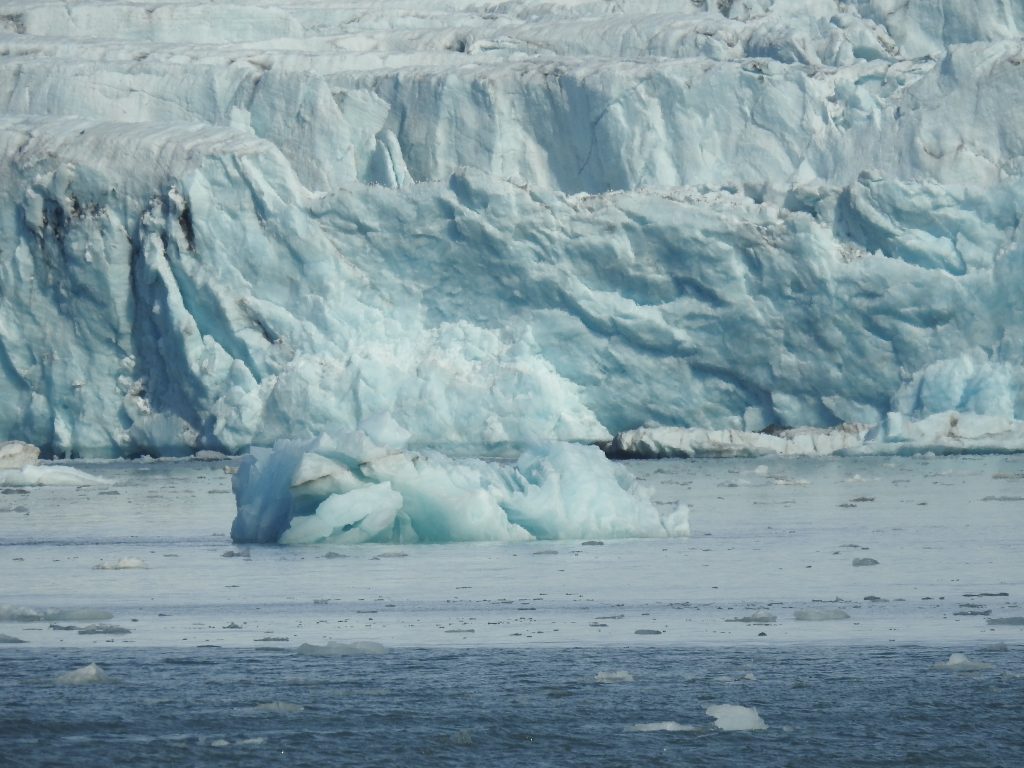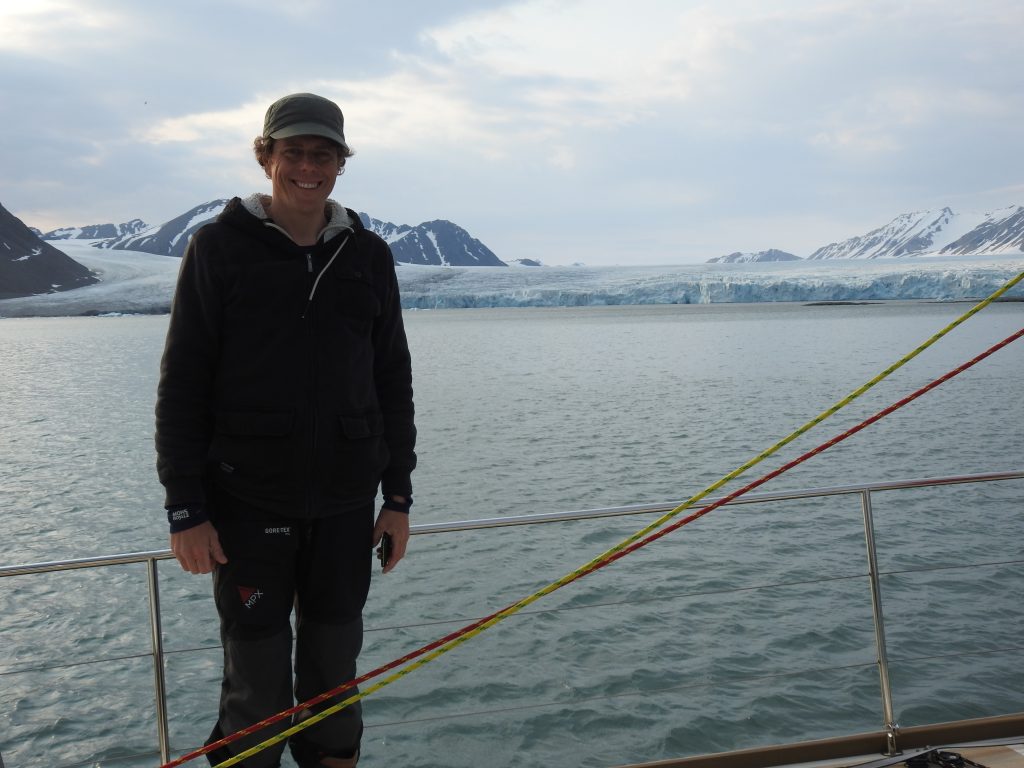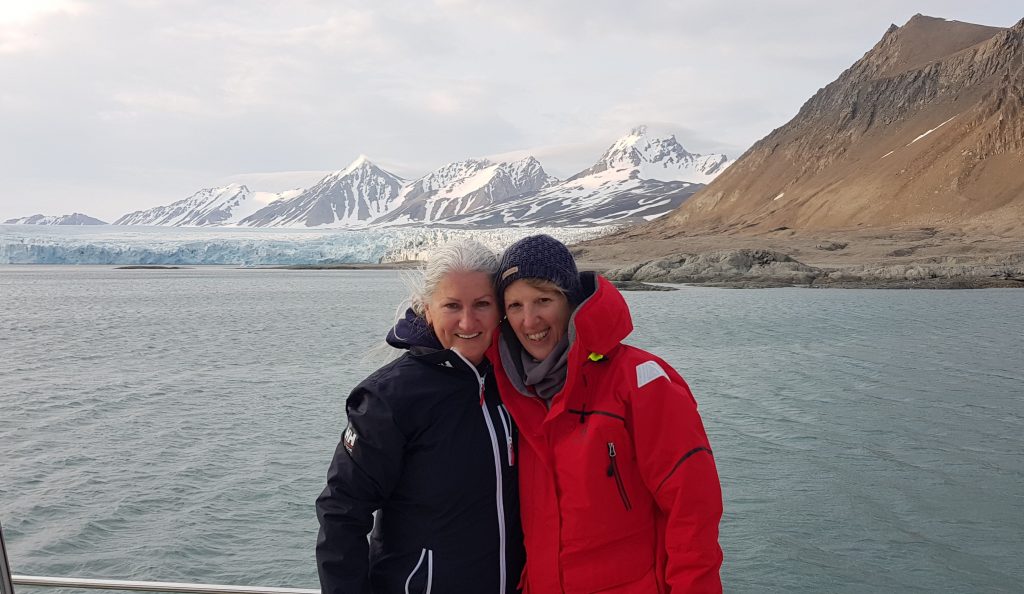 Philip wanted photos of French Kiss so he and James decided to take the tender out a little way to get some good shots. He was very proud of his choice of motor on the tender. It was electric and didn't need fuel. He just plugged it into power socket and charged it up. If we were anchored or tied up to a buoy, a trip into the marina only used about 5% of power so it was brilliant. Carrying diesel in a 20 litre container is a worry. The risk here was polar bears and no rifle to defend themselves. It was cold, they organised the tender, jumped in and motored off. We don't know if it was the cold weather but the motor didn't like whatever it was and decided to go slower than the current. Philip started snapping photos and a little anxiety set in. James warned Philip this wasn't working as planned and pulled out the oars. I've never seen two men paddle so fast! If they floated to the shore, polar bears could be a real serious issue!!! The photos tell the story better ……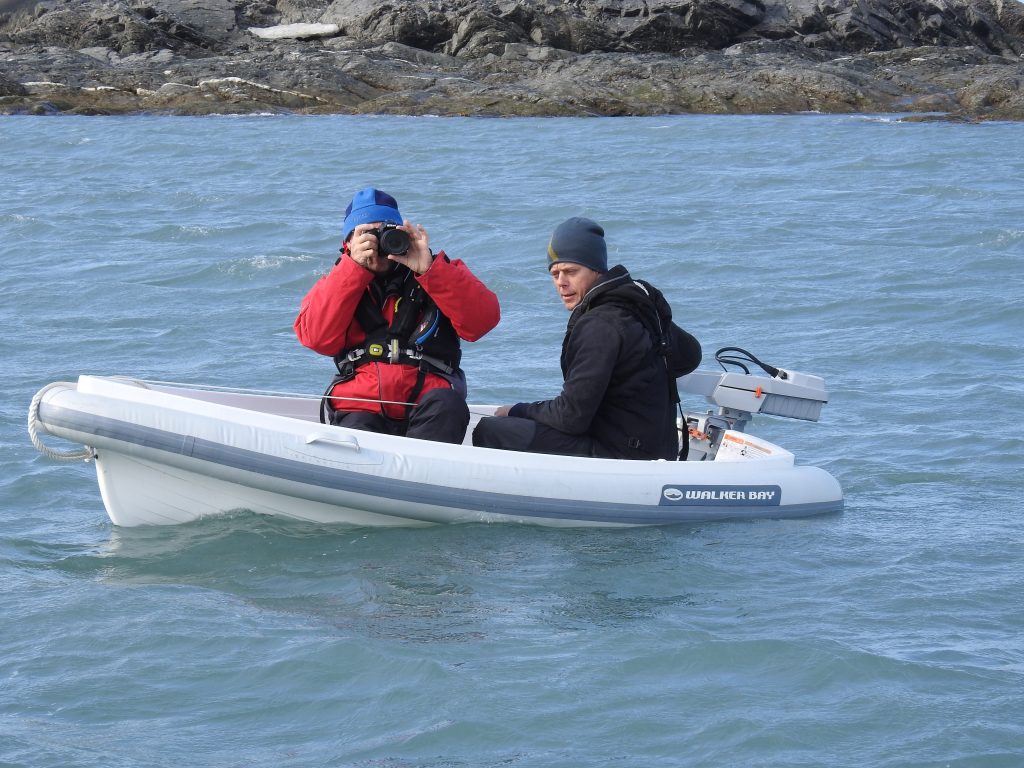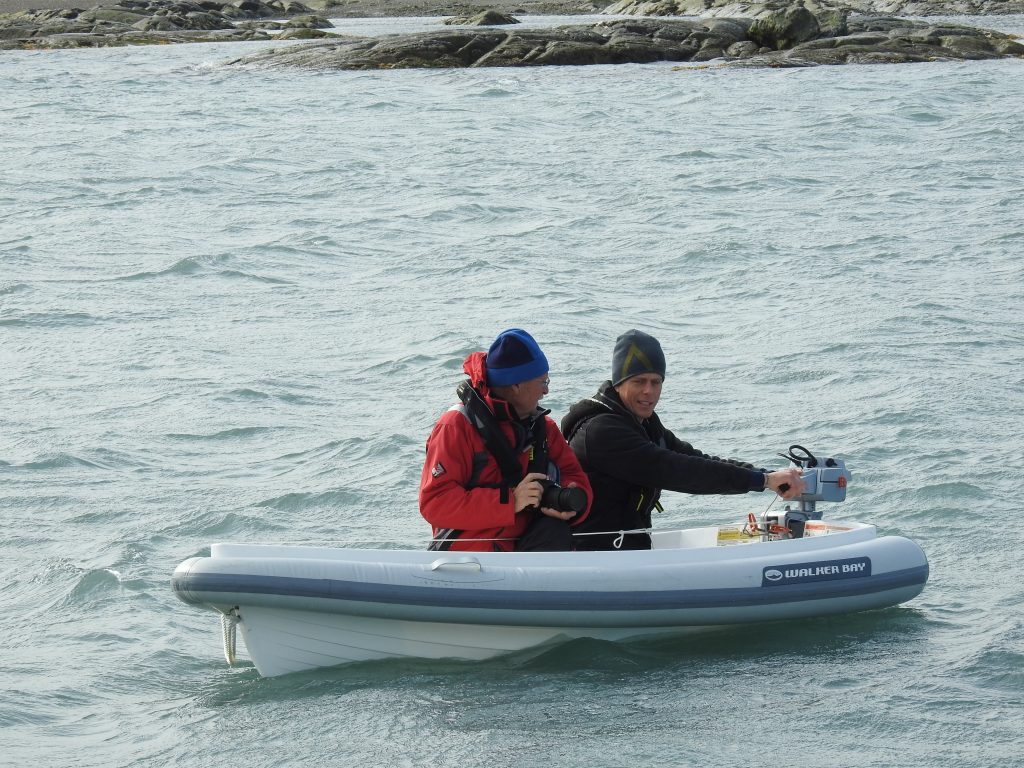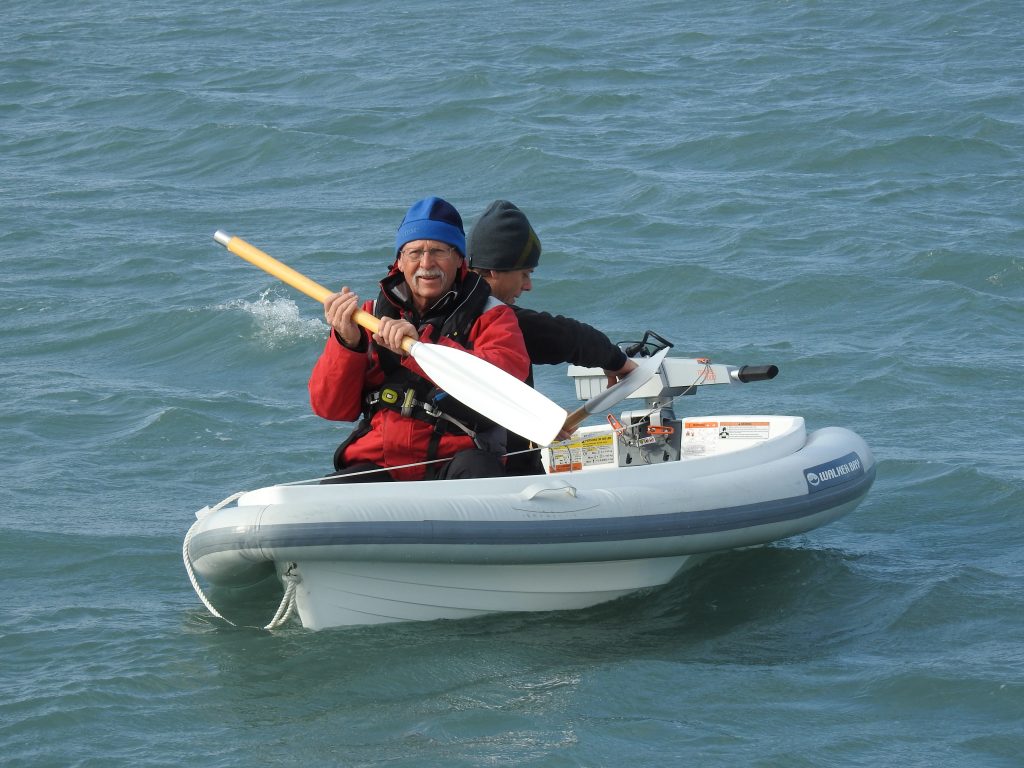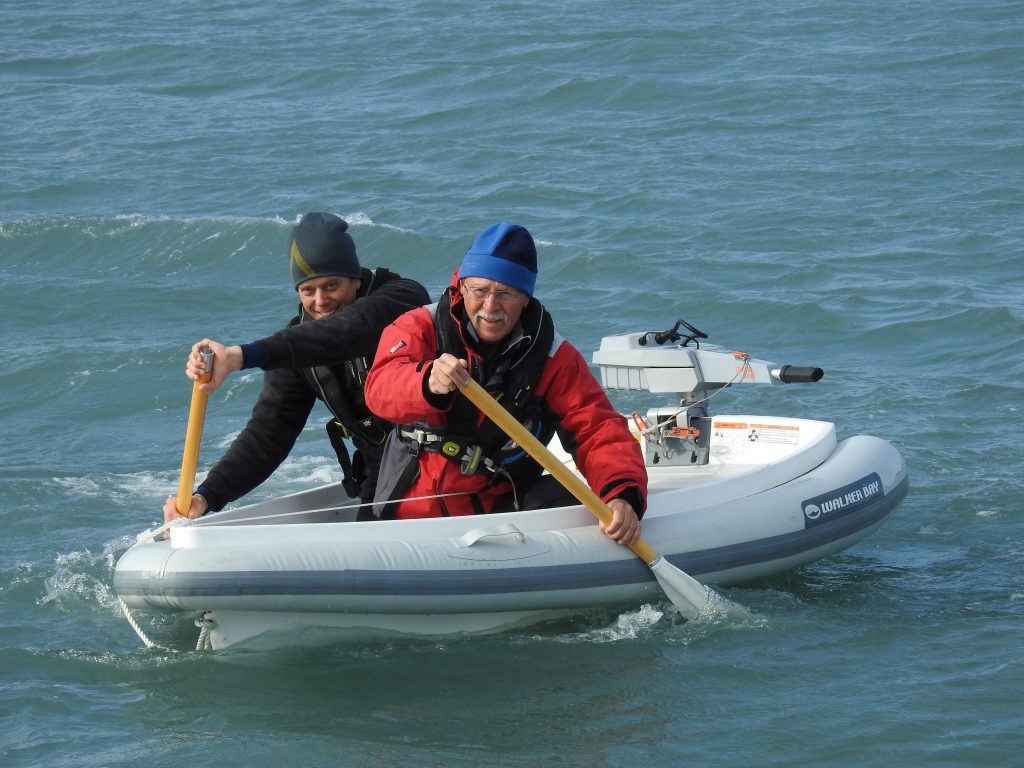 Day 32: Sunday 6th July. It's a clear calm day. Nice start on our way to Tromso. It will take approximately 3 days to cross the Barents Sea. All I could think of was the TV documentaries where fishing and crabbing trawlers tackled the roughest seas on the Barents. We were so fortunate to hit good weather. James was looking forward to flying home and seeing Amber and the children from Tromso. At 1400 we cruised out of our delightful little bay saying goodbye to Svalbard for the last time. Passing the rocky shoreline with small pack ice wasn't a concern.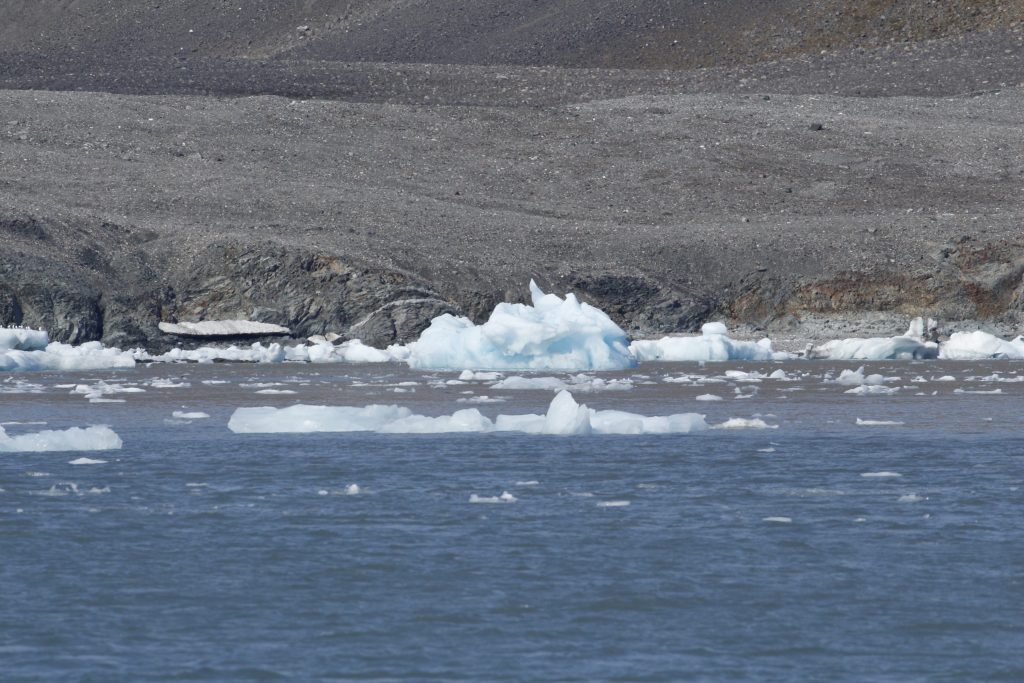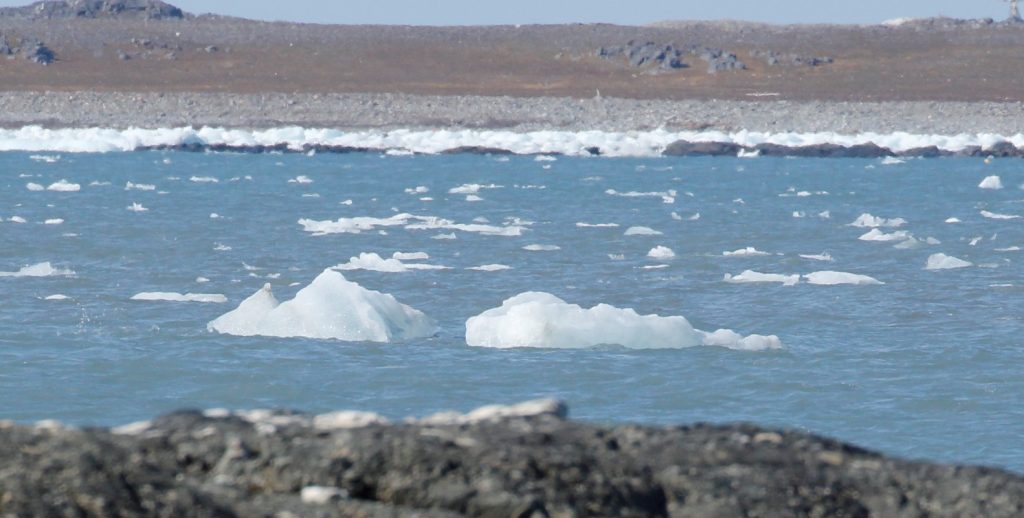 We headed out to open ocean. Autopilot on. Everybody taking in the whole experience of the passed 2 weeks, processing the awesomeness of what we had done. All of a sudden, back to reality! A few metres off our starboard mid ship floats a clear transparent iceberg. Goodness, we thought we were clear of them where we were. I have better long vision than Philip so I volunteer to station myself on the bow. I stay for about an hour as we pass many more bergs until they are well and truly out of sight.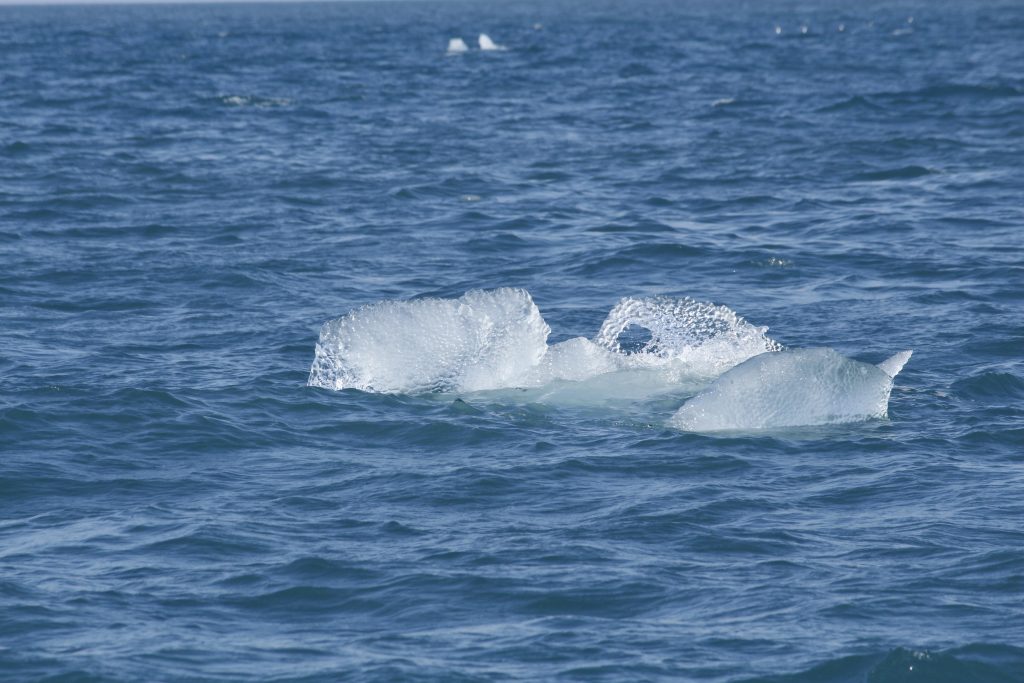 At midnight, on Philip's shift, we were woken to 'Oh my God, check this out!' In the distance was an iceberg approx. 30 metres high. We were really shocked at what we saw which reinforced the necessity to keep a vigilant lookout.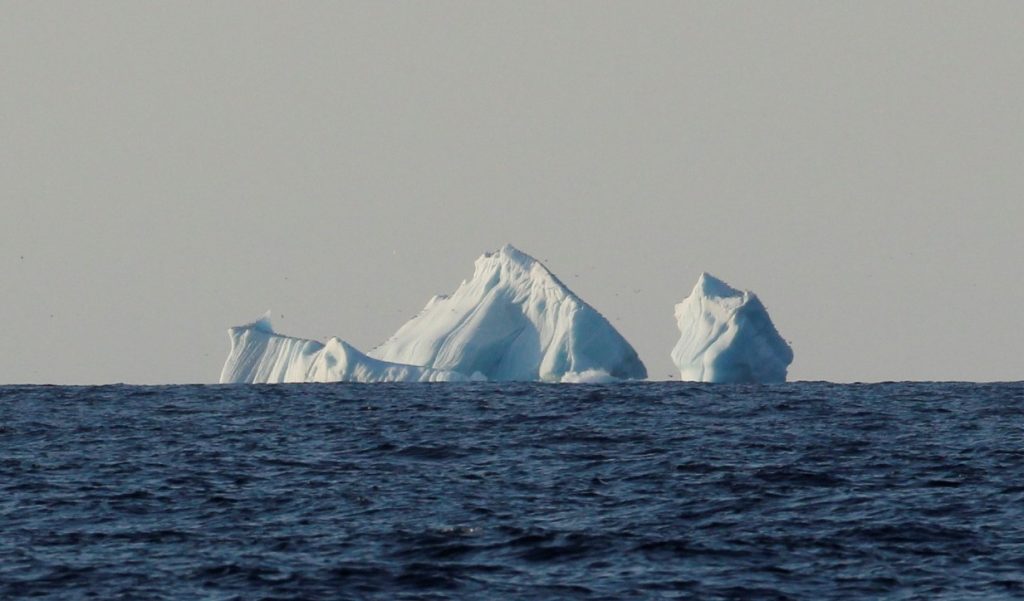 At this point we had been sailing for 10 hours. We still were not clear of icebergs.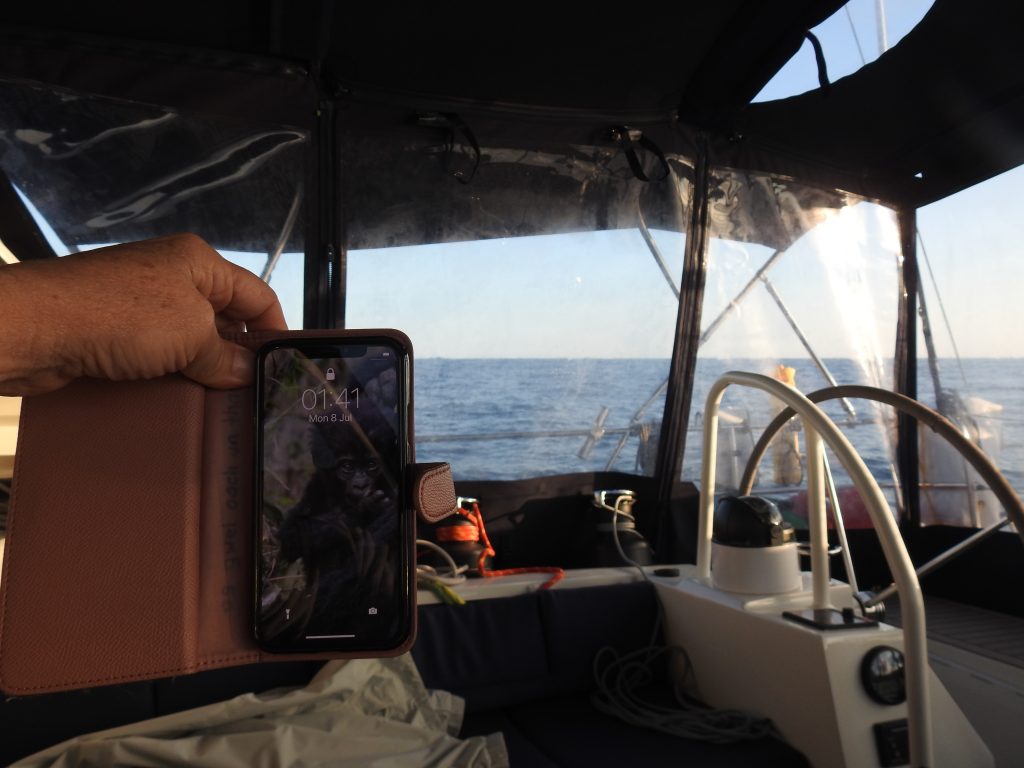 Day 33: Monday, 8th July. Dolphins entertained us for sometime. They are playful and an absolute delight to watch especially when they are the only living creature you encounter for days. James spotted a whale passing Bear Island though generally we didn't see them too close but a lot of blows in the distance. I checked my whale chart as some were so massive they had to be Blue Whales. The gush of mist from their blowhole was huge. The Blue Whale is the largest animal known to have ever existed weighing in at approx. 170 tonne and up to 30 metres long. We expected to see more sea life but as we have learnt in Africa, you are in their territory which they know well and are not just sitting on your path waiting for you to pass. If anything they are avoiding the noise of the engine. Seagulls, Terns, Skuas seemed to follow us everywhere, even when days away from land. At times, they would swoop towards our sails and around the mast as if it were a tree. They were constant company along the way.
Philip's eye appointment was booked in Tromso weeks before. We motored when needed to keep good time. His monthly injections were running a little over the due date. We are crossing the Barents Sea on our way to Norway. James is feeling a need for space, a nice bed to sleep and some time out. We decide to book into the Raddison. It was so conveniently close to the wharf. I manage to book us a room each via the internet. Three days more to sail and we are all back on our shifts. By now Carrie was very capable of doing a shift herself so we were able to have a 9 hour break between our 3 hour shift. The sail across the Berents was surprisingly calm and very pleasant.