26th February – 5th March, 2019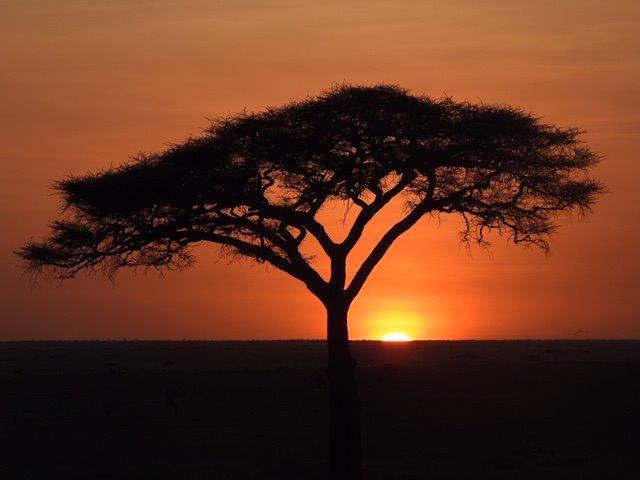 It's always good to be back in Africa. This trip we met up with friends, Jennifer Martin from South Africa and her sister Caroline Van Rensburg from Scotland all meeting at Nairobi International Airport for our flight to Kilimanjaro.
So excited to see our friend and guide Solomon Mkumbo (Solly) who was waiting for us. We stayed the night at River Trees Lodge where we had a very pleasant night with Solly's beautiful wife and my three Tanzanian grandchildren. The following days we drove through the Central and Southern Serengeti, spending the last two nights at a lodge near the Ngorongora Crater.
Solly made sure we saw the Big 5, the Great Migration across the southern area where half a million wildebeest calves are born and a quarter of a million taken by lion, hyena, jackal, vultures and other predators. Not comforting to see, a few tears shed by us girls when a baby springbok was caught by a female hyena and her cubs, though no different to the poor creatures trying to cross the Mara River during our last visit, being taken in such a gruesome way by crocodiles. Life here is just eating and breeding. Every living thing is food.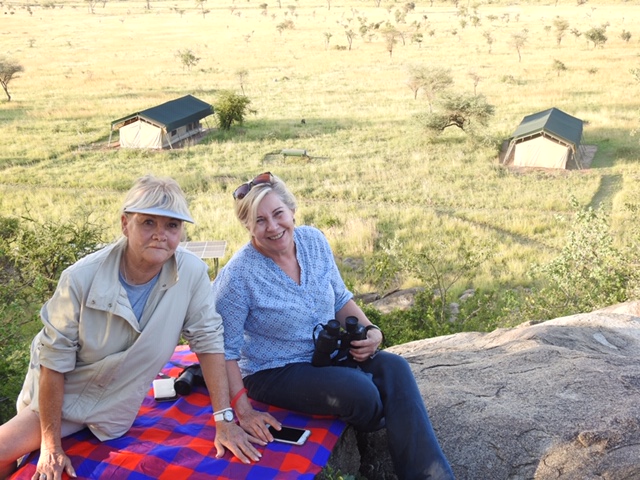 Our entire trip was wild. Lunch was had out on the Serengeti plains surrounded by mainly wildebeests, lions, hyena, zebra and gazelles. Our tented accommodation was unfenced only protected by Masai Warriors. Lovely people living a simple life. They take nothing from the earth. All plant life is for their cattle which is a show of wealth. They eat only meat for breakfast and dinner which has been preserved in sheep fat. They drink milk and only when celebrating do they mix it with blood. Masai can have many wives. Their children sleep with the mother until the age of approx. 10 when they are taken away for 2-3 months to be taught how to be men, protect their village from predators especially lions and finally to be circumcised with any available knife. Once they are healed they come home to stay in another mud hut for young men their own age.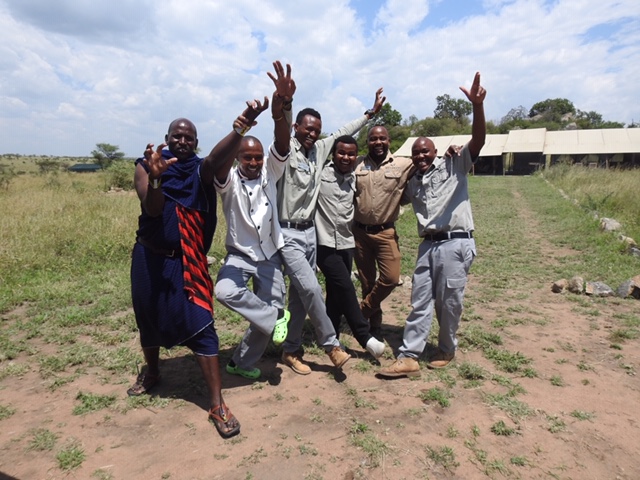 Solly is well educated and experienced with African wildlife, flora, birds, Masai and tribal customs; even gave us a star gazing session one night with his laser light. An amazing man! He answered every question we had and said no question is a silly question, we could ask anything. Philip didn't think so! He said some questions are 'kak vra'! In Afrikanse, a really crap question and an award should be handed to the worst 'kak vra'. Well, what happens on holiday stays on holiday and we won't mention names but someone asked why our Masai Warrior had strips of leather standing up on his shoes.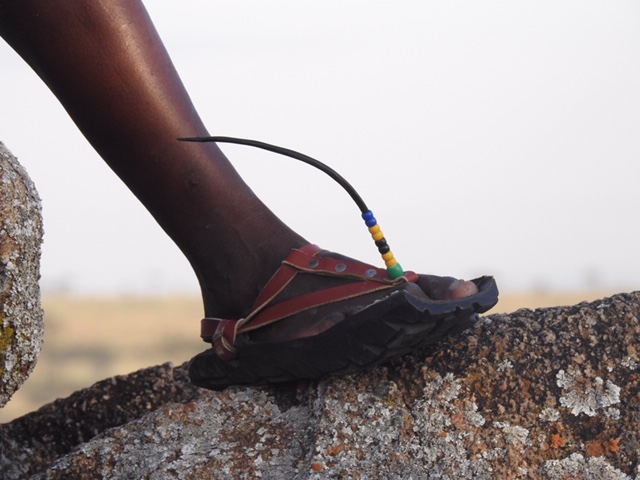 I guess the only way to answer a 'kak vra' is with a 'kak answer'.
Solly replied, 'It's an antennae for his WiFi'!
You see ….. Solly knows everything!
Swahili words learnt: Jumbo means 'hello'. Asanti means 'thank you'. Hakuna Matata means 'no worries'. Simba means 'lion'.